It is common for deer hunters to not want to wear a wedding ring after the wedding. But when they can wear their passion, they tend to think otherwise. This deer head ring is a perfect ring for an outdoorsmen. It looks rugged and manly, and is also super comfortable to wear with detailed deer heads all around it.
Plus, it comes with a FREE black silicone ring that is great for swelling, sweaty, hardworking hands (a $25 value) and a FREE engraving inside the deer heads wedding band to make it one of a kind (a $25 value). Wow what a deal!
About the Deer Heads on this Ring
This deer wedding ring for men features a cool deer head pattern.
The design is laser engraved to show incredible detail.
The deer heads go around the entire outside of the ring and you have the choice -- deer antlers all up, or alternating up and down?
Deer head pattern goes around the entire ring, but rather than repeating the same design over and over, there is some great alternating patterns regardless of whether you choose antlers all up or up/down.
Quality Deer Head Ring Titanium and Serinium Metals
In addition to choosing if you want this deer ring to be domed or flat in profile, you also have two rugged alternative metal choices. This this deer head engraved ring is 8 mm wide, the standard size for men's wedding bands and offers top choices in contemporary metals.
Contemporary metals offer a hardness and appearance that are not available with traditional precious metals like gold or silver. These metals are ultra-hard which means they are more scratch resistant for a rugged lifestyle, more manly, hypoallergenic, non-tarnishing, and safe. And they are the hottest trending metals in the unique wedding bands because of these amazing properties.
Let's dive deeper into your metal choices.
Titanium - a Grey/Silver Lightweight Deer Head Wedding Band
100% pure aerospace titanium
Lightweight material trusted to fly on a wedding band means no heavy metals and long lasting wear
You'll barely feel the ring when you hold it or wear it
Rugged manly grey/silver color
Serinium® - a Brilliant White/Silver Heavier Deer Head Ring
Trademarked and patented fine jewelry metal
Known as The Precious Contemporary MetalTM
Most beautiful of all the contemporary metals
Bright white silver color just like the brilliant white color of white gold
Stronger than titanium or cobalt chrome and won't oxidize
Buy this ring if you:
Love hunting, the outdoors, and deer

Want a unique wedding ring with deer heads printed all around it

You want a ring that is made in the USA

Personalize it with a FREE engraving ($25 value)

This deer head ring also comes with a FREE black silicone ring ($25 value)


Go ahead and place your order now so we can get it produced and delivered in time for your special occasion!
This ring ships in 2-3 weeks because it's made just for you!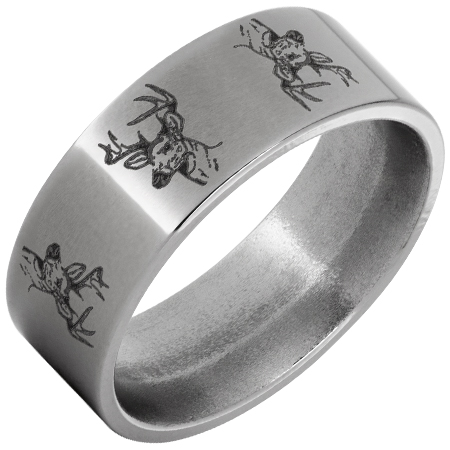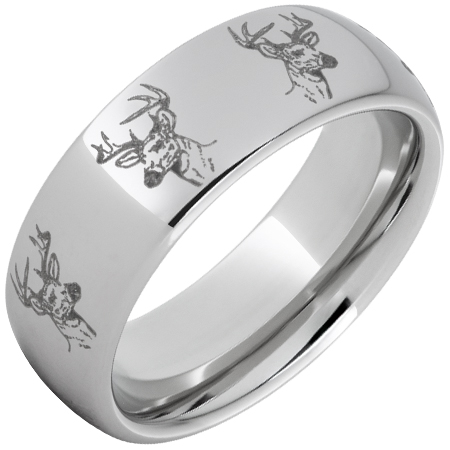 Band Width: 8 mm
Edge Profile: Flat or Domed
Color (Metal): Grey/Silver (Titanium) or White/Silver (Serinium)
Guaranteed for life! If the ring should fail structurally or show any signs of wear beyond reason, it will be replaced no charge (shipping and handling not included).