Unique Wedding Rings & Jewelry in North Carolina
Winston Salem, Mocksville, Yadkinville, Statesville, Greensboro, Charlotte, Kernersville, Clemmons, Lewisville, High Point -- If you're looking for outdoor, camo, hunting, and western themed jewelry in North Carolina and around the Piedmont Triad, your retail store destination is CAMOKIX and Partners Western Company. People come from miles around to shop styles that match their lifestyle. There's no other place like it!
Located next to Dunkin' Donuts just off 40 exit 170 for US-601:
1452 Yadkinville Road
Suite 102 Mocksville, NC 27028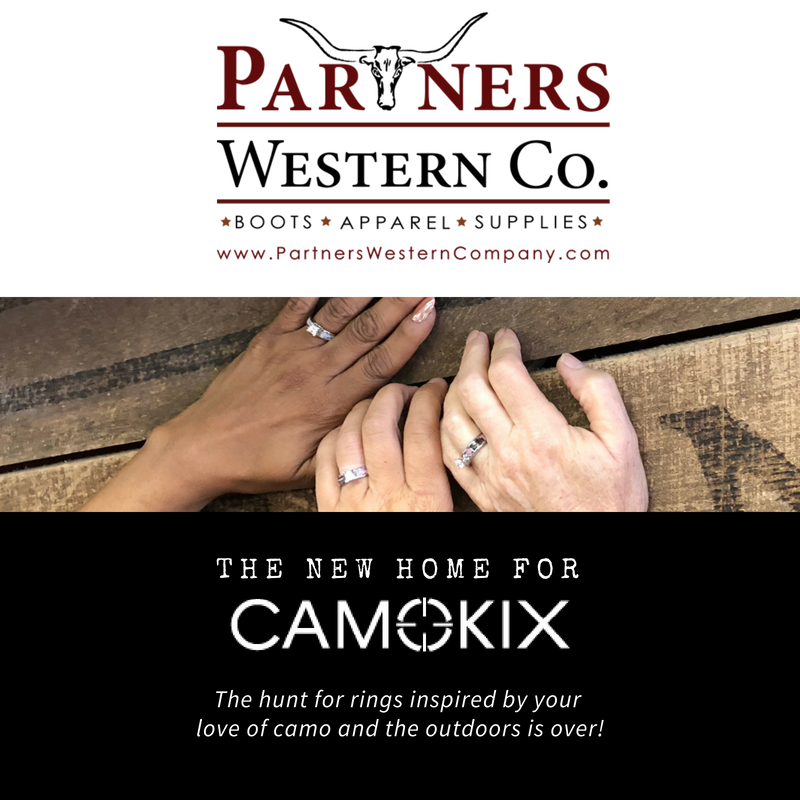 Try on our Collection of Unique Wedding Rings in North Carolina
Here you'll find the largest selection of American Made camo, hunting, outdoor, and other unique wedding rings. In fact, you probably won't find another place near Mocksville, Yadkinville, Winston Salem, Kernersville, Statesville or surrounding areas with more western wear, cowboy boots, and camo/antler/outdoor rings! Come see our jewelry collection at Partners Western Company.
Outside of North Carolina? Even as Far Away as Canada? Order Your Camo, Outdoor, and Hunting Unique Wedding Rings Online & We'll Ship to Your Door!
All over the USA and Canada, people love shopping for unique rings. We are a family-owned business local to North Carolina, but we started out as an online only business focused exclusively on hunters, country western folks, and outdoor enthusiasts. Our customers are located all over! We offer flat rate shipping to Canada and free shipping in the continental United States.