Posted by Camokix on Nov 5th 2015
A classic white dress isn't for every bride. More and more ladies want to wear what they love on their big day! We don't just mean dressing up and looking beautiful, we're talking about something that will not only turn the spotlight on them, but also allow them to incorporate a bit of who they are and what they're all about. And if you're all about the outdoors and wearing camo, you should definitely be a camo bride! Go for a camo-themed wedding!
We at Camokix love camo weddings and would like to promote other stores that cater to camo weddings too. And we think that Weddings in Camo can definitely help get you and even your whole entourage outfitted in camo!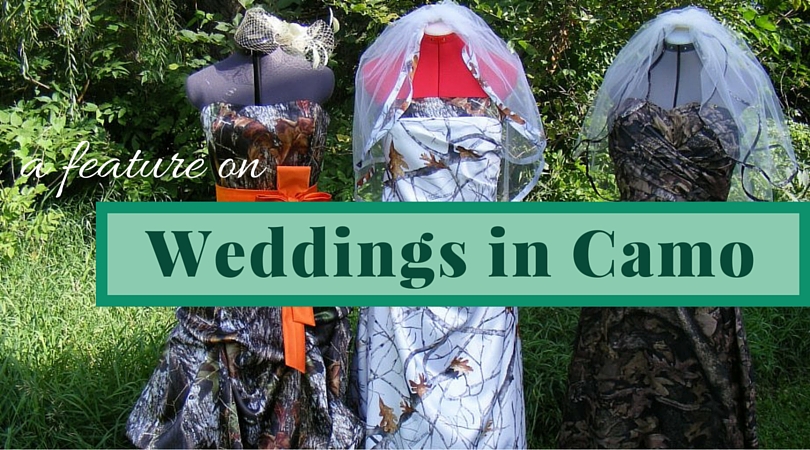 Company Background
For 29 years, Weddings in Camo has offered custom design formal attire for weddings, prom and other formal occasions. However, over the last 8 years, they saw a shift in their bridal/formal attire and started catering to camo formalwear. Now they are famous for such gorgeous and uniquely designed camo wedding dresses that can't be found anywhere else.
"It started small with a few prom girls calling and asking if we would consider designing Prom dresses for them in camo. Quickly, we learned of camo available in satin. The choices back then were limited to Mossy Oak New Break Up and True Timber Snowfall, accented with Orange. Times have really changed. Now we offer 16 colors of Camo from the trademarked suppliers--- Mossy Oak, True Timber, Camo West and Realtree." -- Brooke & Joni Van Sickle, Creative/Technical Design Team
Camo Wedding Dress Trends
Weddings in Camo always sees to it that they are up to date on the latest designs and trends for camo wedding dresses and other formals. Currently, the new rave of camo wedding dresses have smaller trains as the bride wants to have fun, dance and not be bothered with extra fabric. Also, where the venue is concerned, you can see that more and more weddings are being held in barns, outdoor venues, and wineries.
Their design team works hard to create "on trend" styles for their customers, using camo to show off the natural beauty of the fabric. They have created designs with beads, sequins and lace to give the girls more options. Currently, they are sketching and designing the ***New***2016 line to add new options for prom and weddings.
If you want to see their upcoming designs, you can visit their website often. Be on the lookout for their new items that will be added over the next 3 months.
Wedding dresses are either full camo (image on the left)...
...or you can opt for a traditional dress with camo accents (image on the right). Brides are choosing camo sashes, camo trim or corset backs that are added to a traditional wedding dress, while wearing cowboy boots.
Color and design trends incorporate burlap with lace, denim (blue denim shade), barn red (burgundy) and/or the traditional orange with any of the camo patterns like outfits seen on the image below.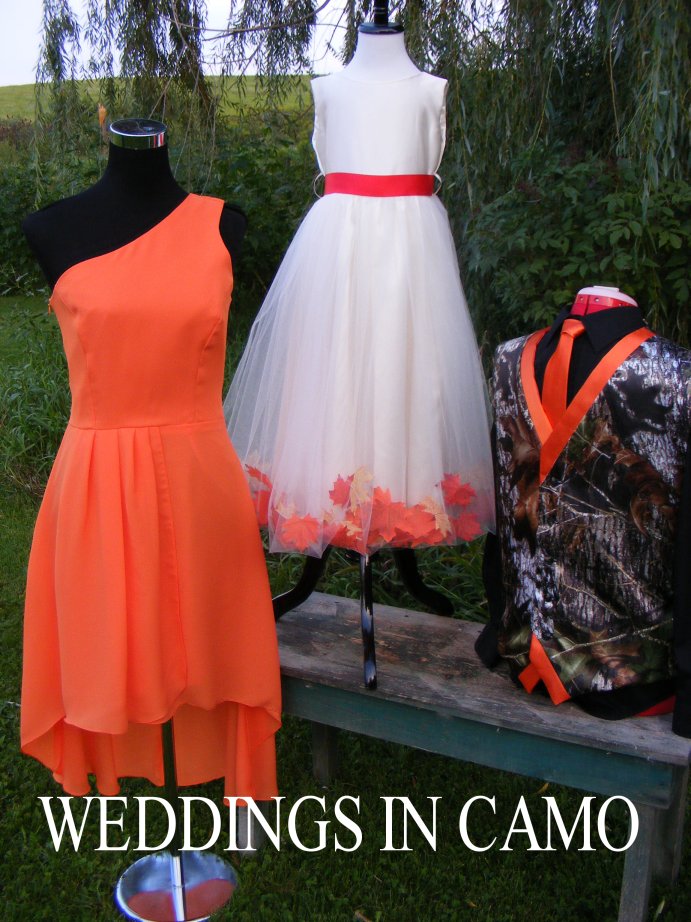 Aside from making wedding gowns, they also cater to men and boys' wedding outfits. There have been several men who decide the attire for the groomsmen. While for other parties, the bride and groom plan the details together.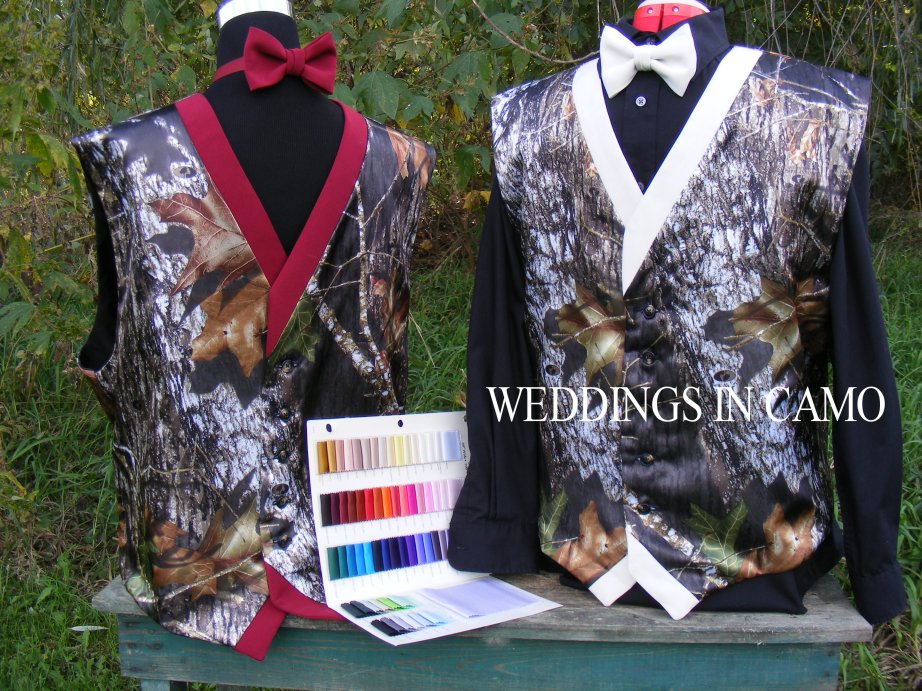 They also offer customer service to help you coordinate colors, decide on sizes for the bridal party and assist in the proper way to measure when ordering online.Their creative team, Brooke and Joni are dedicated to quality customer service and designing formal attire with style and comfort.
You're sure to be in good hands when you order from Weddings in Camo! If you're a little skeptical, go ahead and check out their customer reviews to see what previous customers think. Remember, real customers reviews are the best source of information when it comes to a product's quality and the store's reliability and workmanship. We've listed a few customer reviews together with the picture below.
Customer Reviews
1. Mossy Oak Break Up Pickups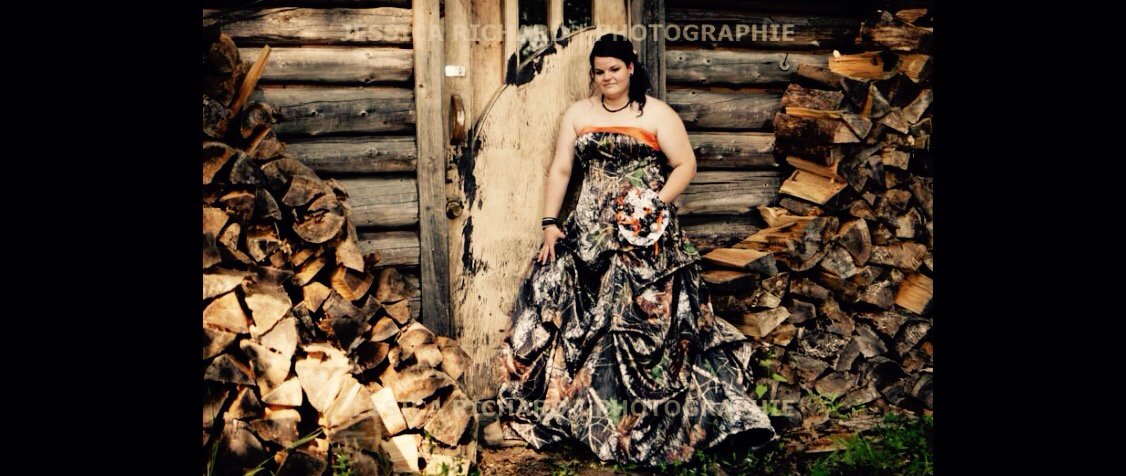 (photo credits to the owner of the photo)
"I receive friday my dress shes beautiful omg my dream dress thanks so much :)" -- reviewed by: Cyndy Pelletier-Proulx, Jan. 4, 2015
2. Advantage MAX4 Bridal Party Vests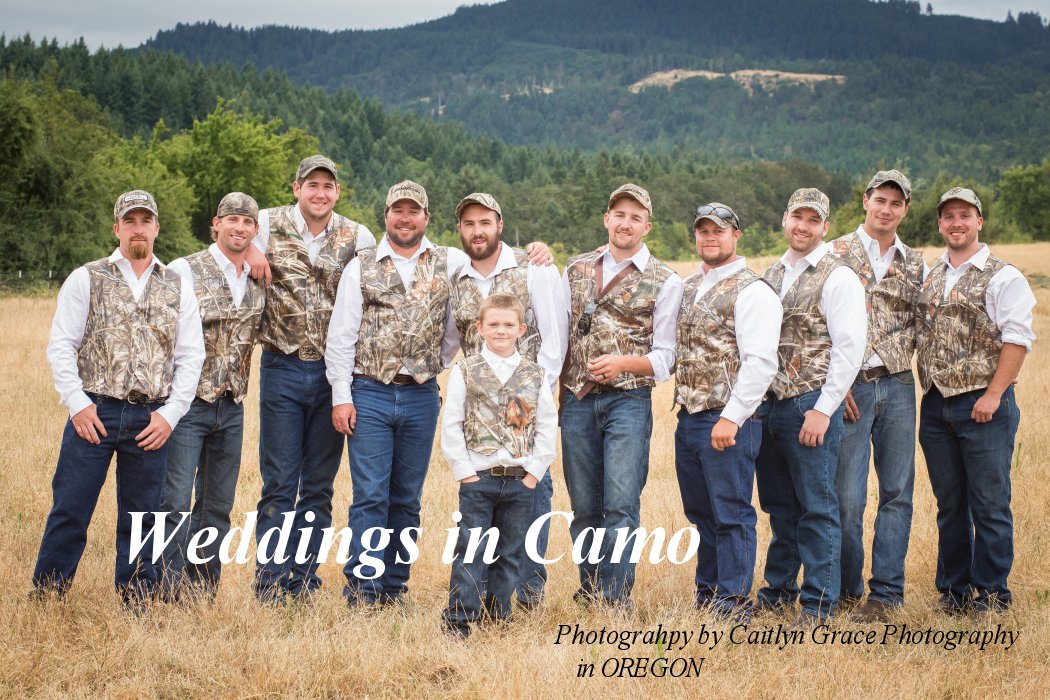 (photo credits to the owner of the photo)
"Hey Joni, I just wanted to tell you that the vests we ordered for our wedding were perfect. Thank you so much!" -- reviewed by: DIYlove509, Aug. 17, 2015
3. 2 for 1 CAMO Satin SHORT Formal Dress with Banded Top and Optional Corset and Beading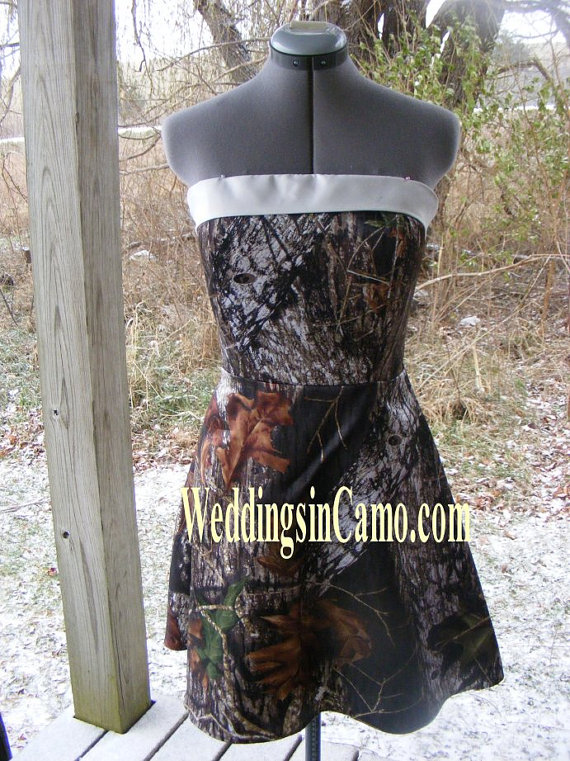 "Omgoodness! This dress was more than I ever expected! They weren't kidding when they said that u get what u pay for. They quality is outstanding. From the fabric to the durability of the sewing... An amazing job all the way around. So flattering. For being a bigger girl, they CAMO-ed me skinny. I never thought I would love it THIS much! Thank you so much ladies! Xoxo" -- reviewed by: danaejd, Sept. 12, 2015
4. VESTS for Bridal Party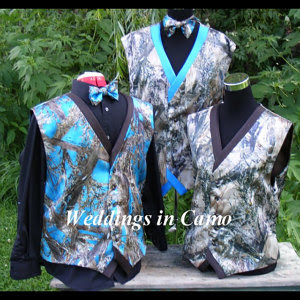 "Joni is absolutely amazing to work with! These vests are amazing and gorgeous and I can't wait to see this all come together on our big day!" -- reviewed by: Stephanie Boch, Aug. 18, 2015
5. CORSET TIES in CAMO with Accent Colors to Add to Your Traditional Wedding Dress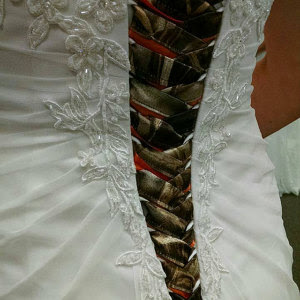 "I am absolutely in love with this! It is exactly what I was looking for and cant wait to see my fiance's response to see me actually have camo on my wedding gown:) definitely going to recommend!" -- reviewed by: Amanda Johnson, Aug. 3, 2015
If you are interested in availing of their services, they can offer you a FREE starter booklet to help you in planning your big day. Included in the booklet is 3 to 4 sample swatches of camouflage fabric of your choice (so you can see the colors in person) and tips to help you pick your wedding dress as well as the outfits for the bridesmaids,groomsmen, flower girls and bearers.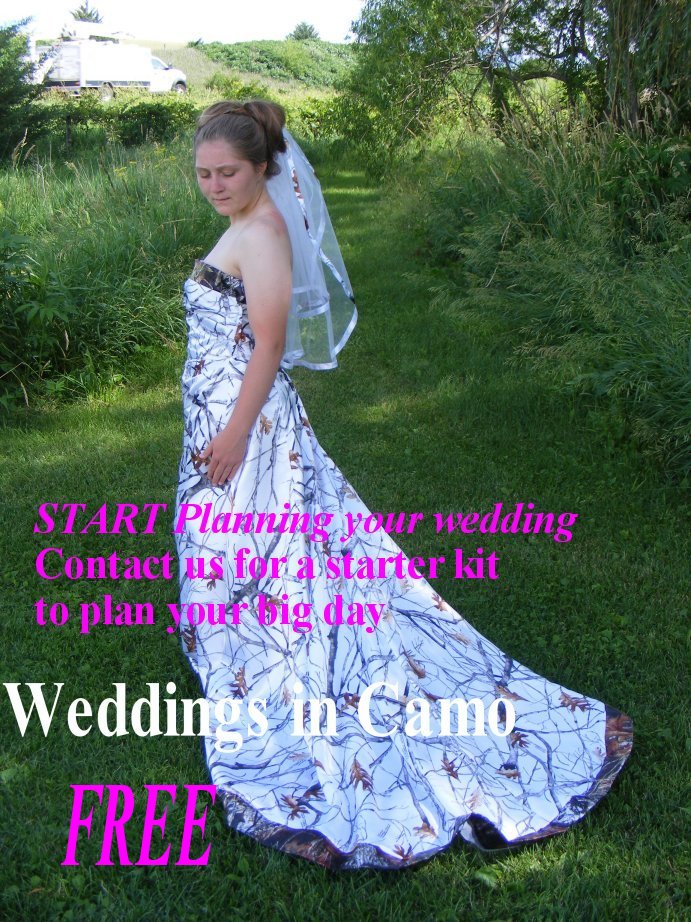 All of their production is custom and is made in Iowa. They ship all over the world, primarily USA, Canada and Australia. Weddings in Camo offers infant/children sizes, Women's 2 to 32 and Men's Small to 5XL--including Tall Sizes, so no matter what age, size or body type you have, they've got you covered.
Weddings in Camo has a physical shop located in Iowa near Des Moines. They are open Mondays thru Fridays at 10:00 am - 5:00 pm and Saturdays at 10:00 am - 4:00 pm. You can reach them at this number: 641-792-4249, or email them at weddingsincamo@gmail.com.
"Let us know your dreams and we will help you "Create the day"!" - Brooke & Joni