Posted by Camokix on Aug 18th 2015
Picking a wedding ring for your rugged country boy can be quite a challenge, especially because country boys don't usually like to wear rings. You have to make sure he's going to love it so he'll want to keep it on his finger far longer than your wedding day. At Camokix, we want to help remove the hassle of going through every jewelry shop in town just to find the perfect ring for him. We want to help you make the right choice!
First things first, you should know what he likes and what he's all about. If the outdoors, hunting, or camo is a big part of who he is, go ahead and choose a ring that represents just that! It hits two birds with one stone. Not only does it symbolize your love for each other, it will also show how much you truly know him. The ring you choose also has to be as tough as he is so that it can withstand the rugged outdoors. That's why it has to be made of alternative metals, and not your ordinary jewelry metals like gold, silver, and platinum. We also have flat, beveled, domed edges, and even square rings. If you want it shiny, there are styles with a polished finish, but if you prefer a more rugged look, there are also satin, sand blasted, bead blasted, and brushed finish styles.
We have a wide selection of camo rings, outdoor rings, hunting rings, rugged rings and much more! But we've narrowed it down to these most popular ones. Here are Camokix's top wedding bands for your country boy: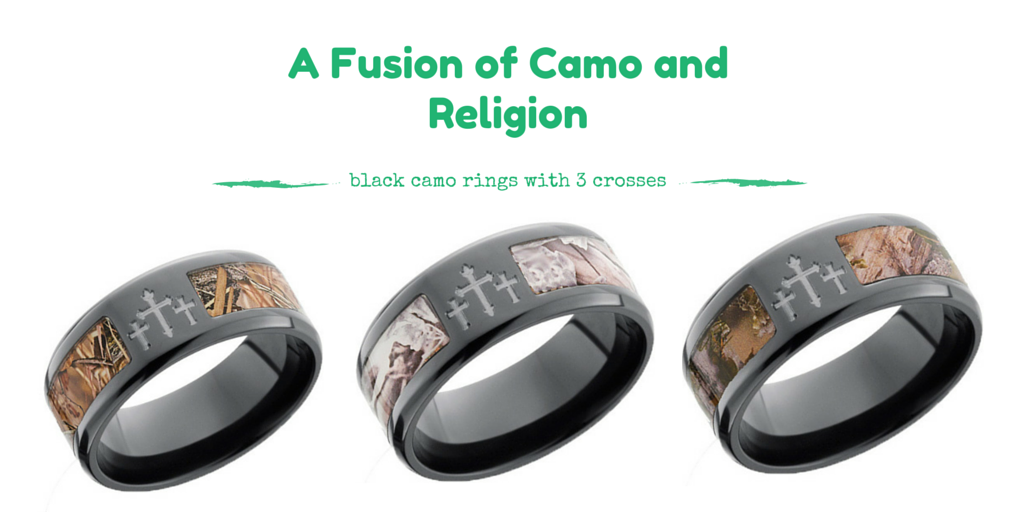 This wedding band has become very popular with country boys because of it's blend of culture, religion and tradition. The camo pattern appeals to your love for the outdoors and the crosses appeal to the "good guy" he really is. This 9 mm wide beveled metal band boasts of being super scratch resistant and super lustrous because it is made of Black Zirconium. Plus you can choose the 5 mm of camo inlay from any one of the 6 King's Shadow camo patterns.
If you're looking for a unique and durable two-toned black and camo ring that is guaranteed to withstand the roughest and toughest environment, there's no better ring than this polished Black Zirconium camo ring with 3 crosses!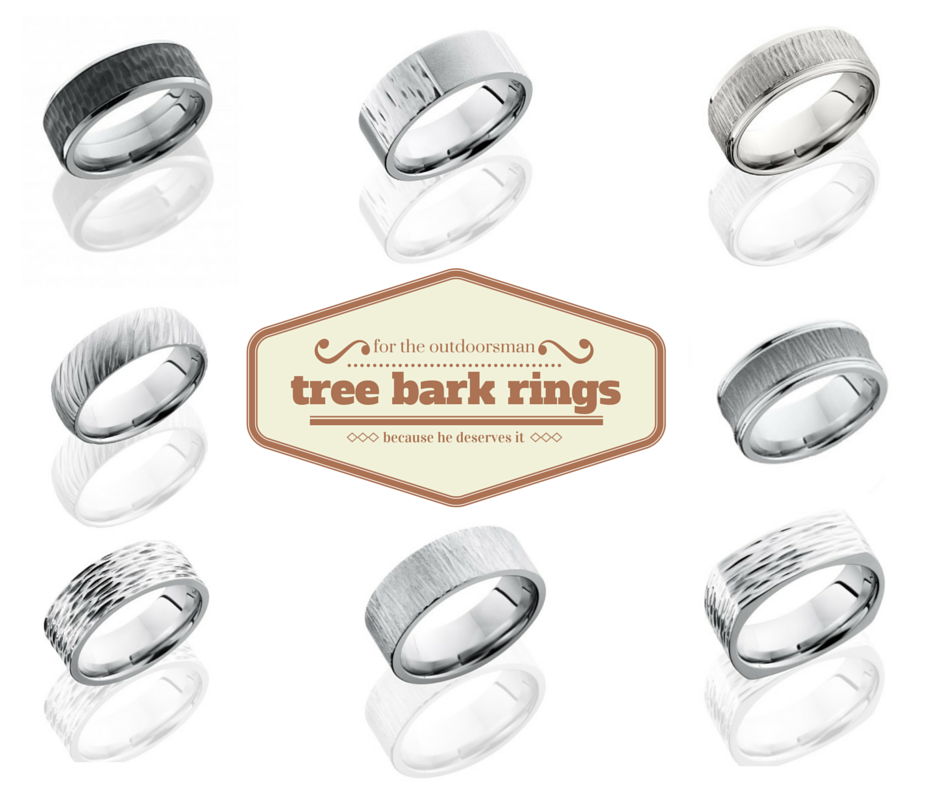 Inspired by nature, the details of these tree bark rings are so sharp, just like real tree bark. It's a unique option for a wedding or anniversary ring -- the perfect mixture of class, simplicity, and nature's beauty!
Camokix has a neat selection of tree bark rings you can choose from. The stunning and beautifully crafted details of each of these rings make them stand out! These rings are made of very durable and scratch-resistant metals like Cobalt Chrome, Titanium and Black Zirconium so you'll have a ring that's going to last forever!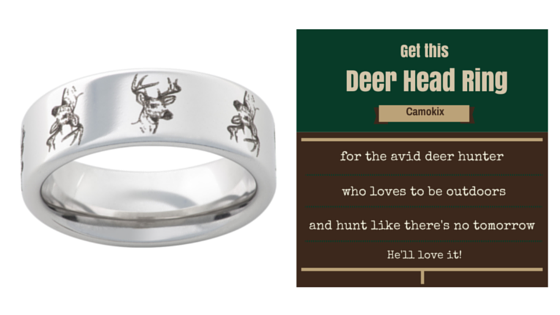 Is he into hunting deer? This wedding ring features a cool deer head pattern that shows up brilliantly against the super durable and scratch-resistant 8 mm Vitalium band. The deer heads go all around the band and are facing the same direction unless you make a note on your order to have them alternate.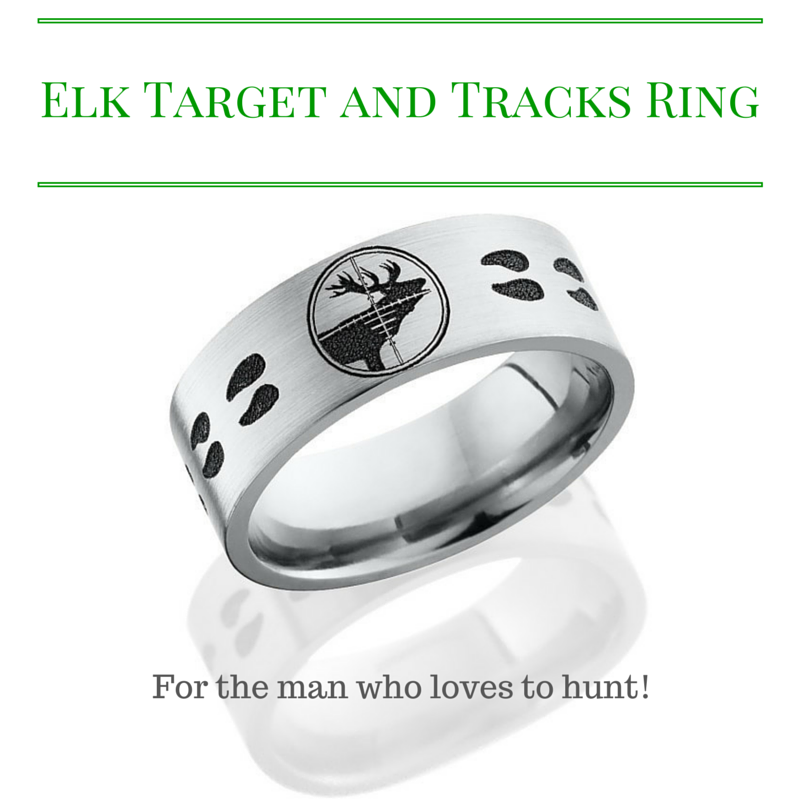 For the avid elk hunter, you'll want to get this 8 mm flat band with an elk target design and elk tracks circling the band. It is forged with one of the toughest and lightest metal, Titanium. He won't even notice it on his finger because of how light it feels.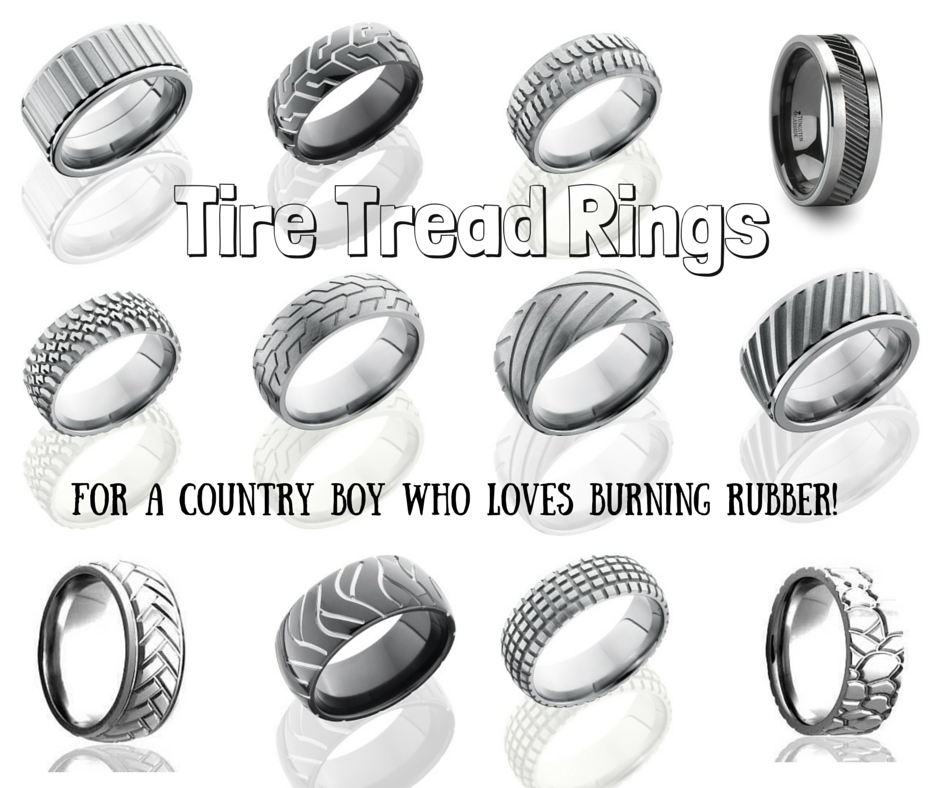 Our cool selection of tire tread rings will definitely appeal to kick-ass riders! Inspired by motorcycles, trucks, boggers and 4 wheelers, you're sure to find a style that matches his ride. These bands are comfort-fit, super durable, hypoallergenic, and super awesome! These rings may be made of Titanium, Black Zirconium, Black Ceramic, Tungsten or Cobalt Chrome, depending on the style.

This customizable beveled edge 8 mm ring with a 5 mm wide inlay of officially licensed King's camo is the ideal wedding ring for any couple with a love for camo and the outdoors. You can select from any of the King's Shadow camo patterns for the inlay and you also have a choice of metal, either Titanium, Cobalt Chrome, or Black Zirconium. Our bestseller is the one forged with Cobalt Chrome!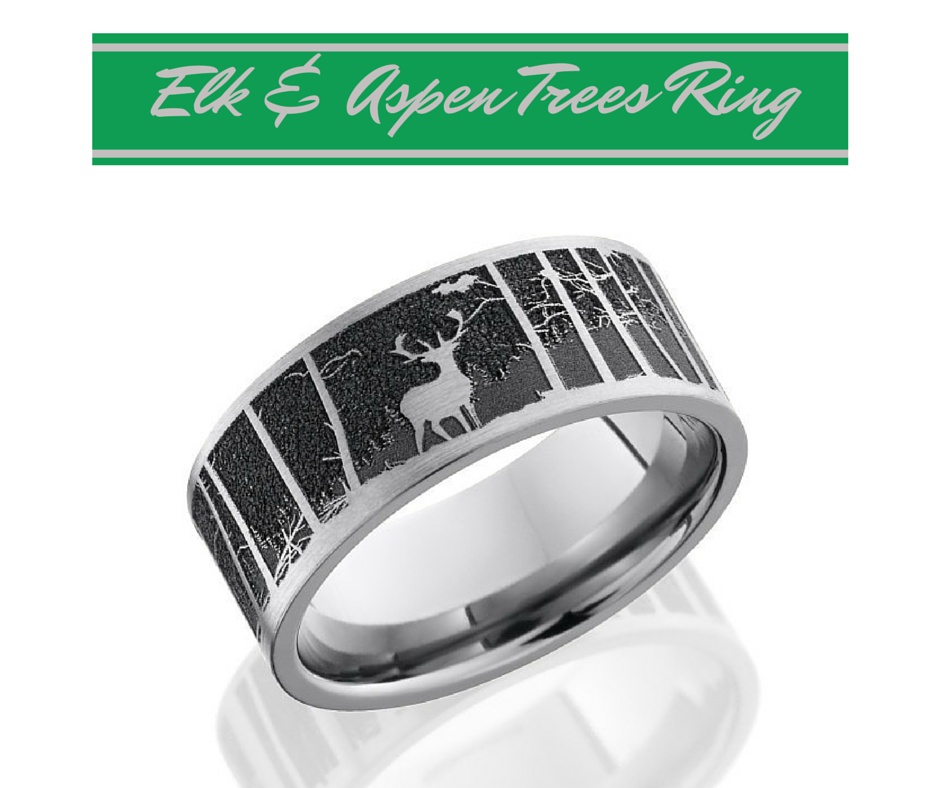 This 9 mm flat Titanium band with a laser carved elk pattern and a mountain scene background with aspen trees lined side by side is the perfect ring for your hunter! Every time he'll look at that amazing ring on his finger, he'll remember the good times he went hunting for elk.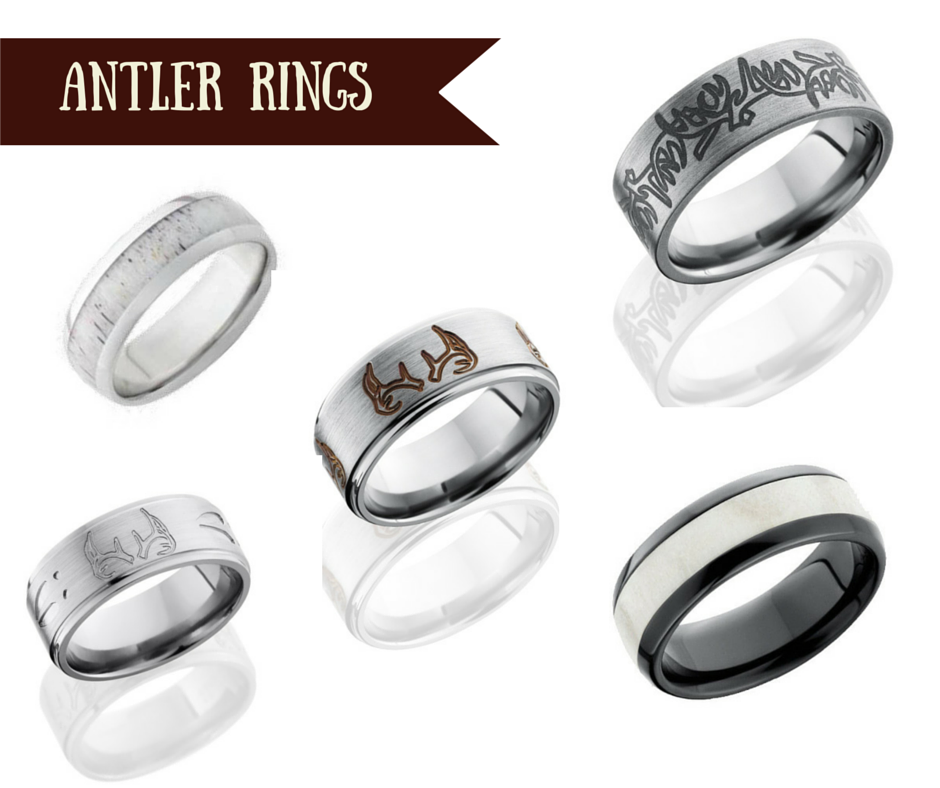 Our selection of antler rings will remind him of his passion for hunting deer. Since deer antlers are a hunter's prized possession, why not let him wear it on his finger. These rings are made of alternative metals like Titanium, Vitalium, Cobalt Chrome, and Black Zirconium. There are ring styles with real antler inlaid in it and there are also laser carved prints and patterns.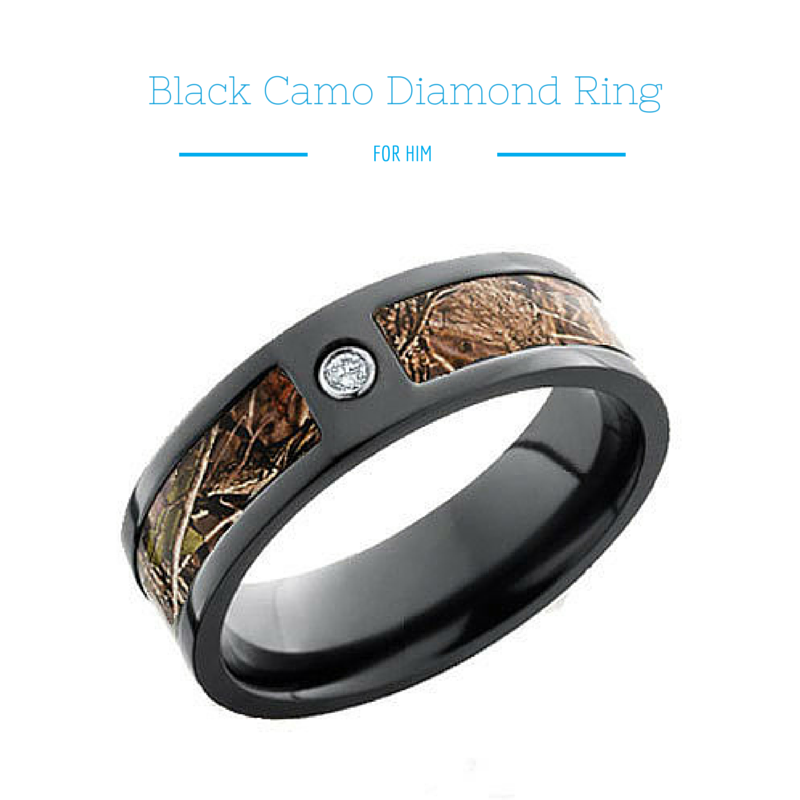 If you add a touch of camo and a beautiful 0.05 bezel diamond to a Black Zirconium ring, what do you get? You get the most awesome wedding band ever! It is classy and a whole lot country because its got a kick of camo. This 7 mm wide flat edged Black Zirconium ring has a 5 mm camo inlay, your choice of any of the 6 King's Shadow camo patterns.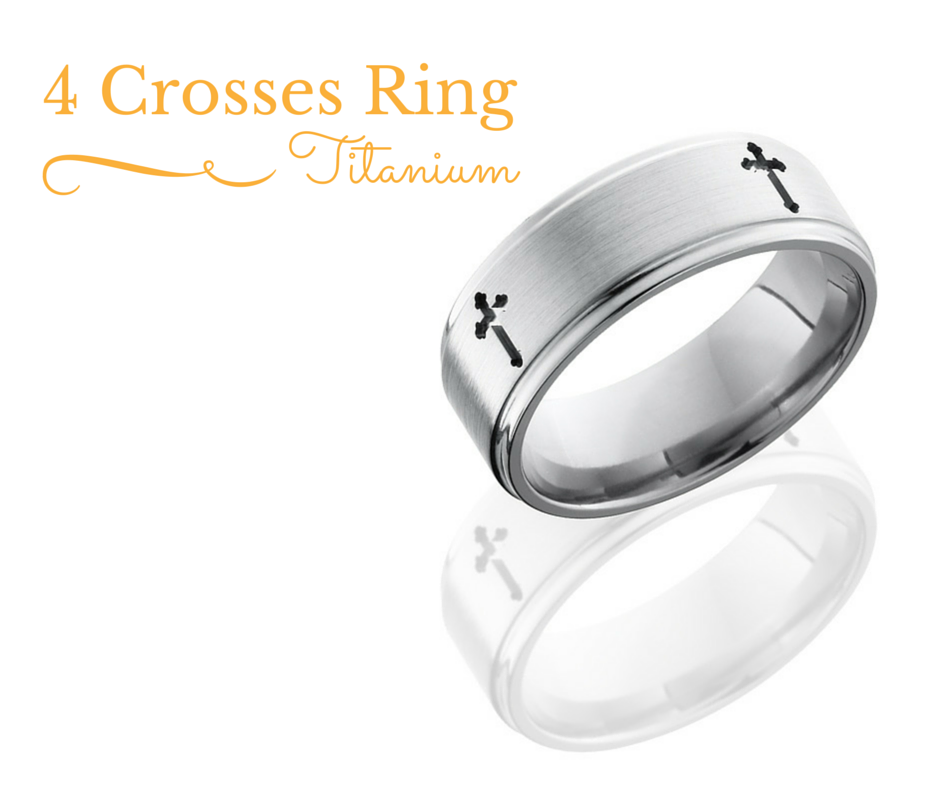 Let your man wear this ring if he's proud of his faith! This 8 mm wide classic Titanium ring, has a flat satin top profile with grooved polished edges, and 4 evenly spaced crosses all the way around the ring. He'll be close to what he believes in with this simple yet very meaningful ring.
Don't settle for less than what he truly deserves -- because you love him and you know it's in his blood!