Posted by Camokix on Dec 21st 2015
Having a hard time finding the best snow camo ring for your sweetheart? Whether it's a wedding ring, engagement ring, anniversary ring, promise ring, or just a statement ring to show what you're all about, we at Camokix can definitely help you! We're here to eliminate all the trouble of going from store to store just to find the perfect snow camo ring. We also want to ensure that you've made the right decision!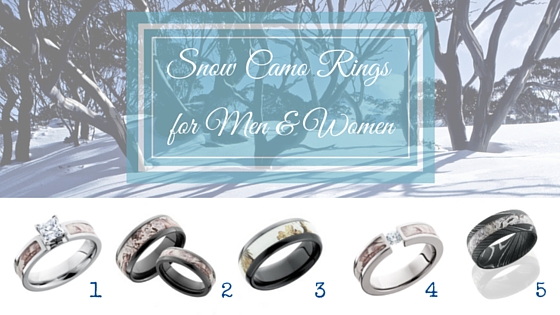 (In the picture: 1. King's Snow Camo Engagement Ring; 2. His & Hers Black Zirconium Domed Bands with King's Snow Shadow Camo; 3. Realtree AP Snow Camo Black Camo Ring Domed; 4. Snow Camo Diamond Ring Tension Set; 5. Damascus Steel King's Snow Camo Ring)
The snow camo rings found on our site are made for the outdoorsman or woman who loves nothing more than to hunt and be out in the cold and embracing nature. Or perhaps he or she's just a huge fan of snow camo! These rings are sure to impress. The snow camo patterns used as inlays are easy on the eyes so you can wear it together with anything. Not only do they look awesome, they also represent so much of who you (if you're buying for yourself) or he/she (if you're buying for your significant other) really is!
We have beautiful engagement rings for women that have either a diamond or cubic zirconia stone. They are perfect for engagements because of the soft and dainty appearance of the snow camo, plus add a shiny stone on top and voila! Any camo loving princess would love it! We also have wedding/anniversary rings for men. Below are our most popular snow camo rings. Click the images to go to the product page on our site.
---
1. King's Snow Camo Engagement Ring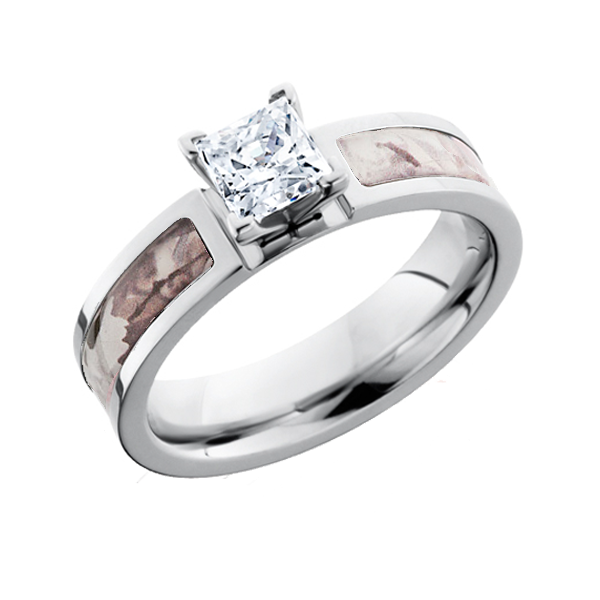 Here's the perfect engagement ring to show her how true your love is! This 5 mm Cobalt Chrome band with 3 mm of King's Snow Shadow camo sports a beautiful princess cut diamond that blends together elegance and country style in one ring!
You can select your diamond between .20 to .50 carats. Color ranges from G to H and clarity is between SI 1-2. The size estimate for the diamond ranges for 3.5 mm wide (.25 carat) to 4.5 mm wide (.50 carat).
---
2. Cobalt Chrome Thin Snow Camo Ring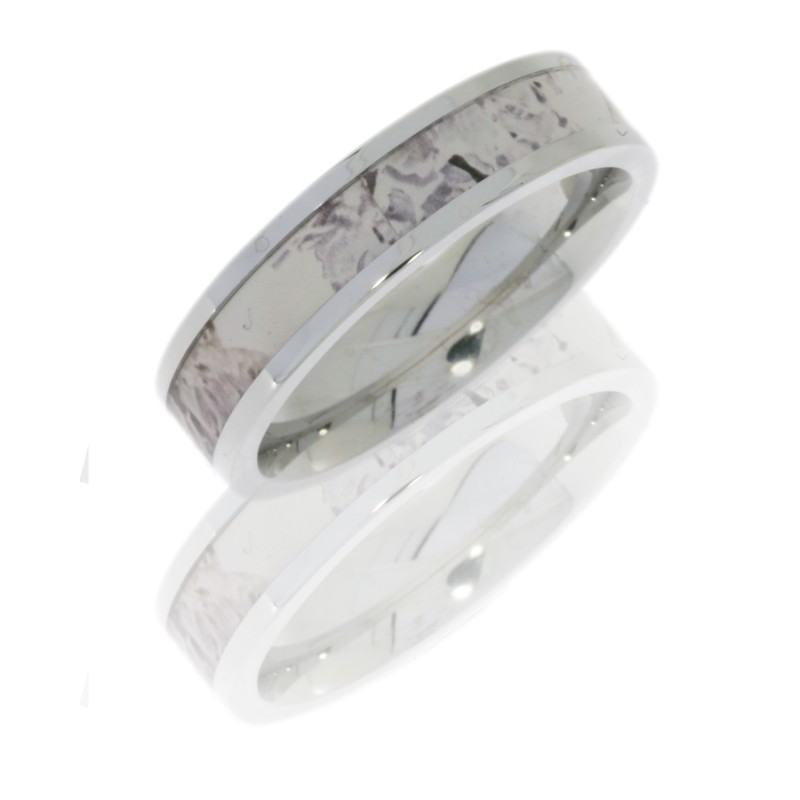 This is a 5 mm wide Cobalt Chrome flat band with 3 mm of King's Snow Shadow camo! The perfect ring to represent not only your marriage, but also your southern pride and love for the outdoors. It's a very gorgeous piece of jewelry with a touch of camo!
---
3. Damascus Steel King's Snow Camo Ring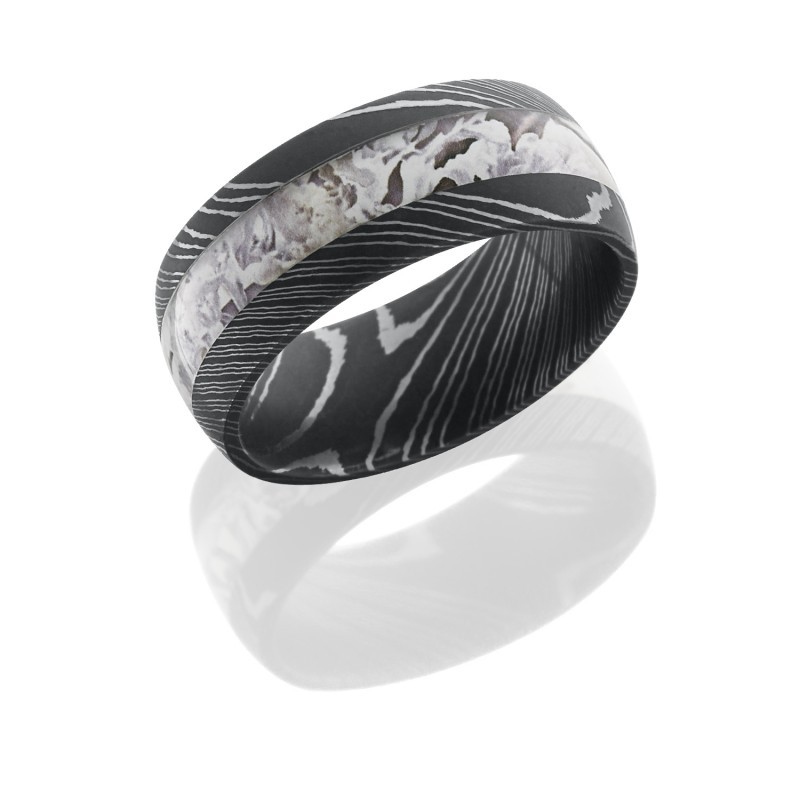 Take your wedding ring to a whole new level of uniqueness with this Damascus Steel 9 mm domed band with 4 mm of King's Snow Shadow camo pattern. It is designed to show just the right amount of camo without undermining the beauty of the metal edges. If you're all about being unconventional and unique, this ring is perfect for you! Not only does it look awesome, it's also super durable to fit the lifestyle of outdoorsmen.
---
4. Snow Camo Diamond Ring Tension Set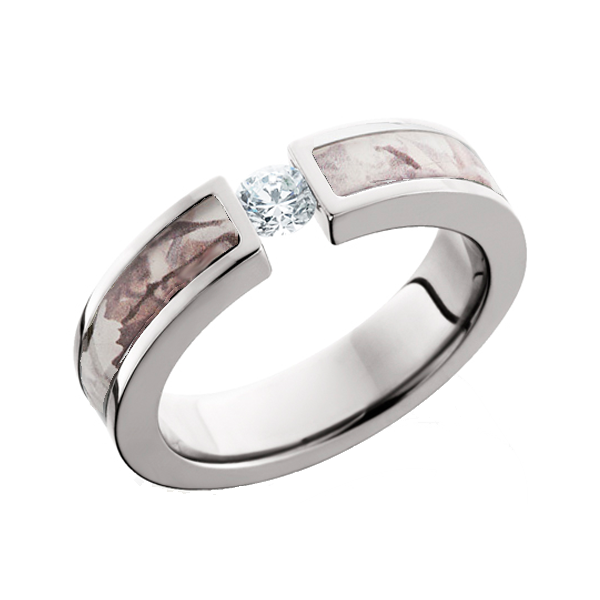 Elegance, class, uniqueness, and a touch of camo pride… that's what this ring is all about! This beautifully and uniquely crafted 5 mm Titanium ring with 3 mm of King's Snow Shadow camo inlay, has a .25 carat round diamond tension set and is perfect for camo lovin' country gal! Not only will they look great, you'll be amazed at how light they are. It is super lightweight, scratch resistant, very durable, hypoallergenic, and non-corrosive.
---
5. Ladies Black Zirconium Ring with King's Snow Shadow Camo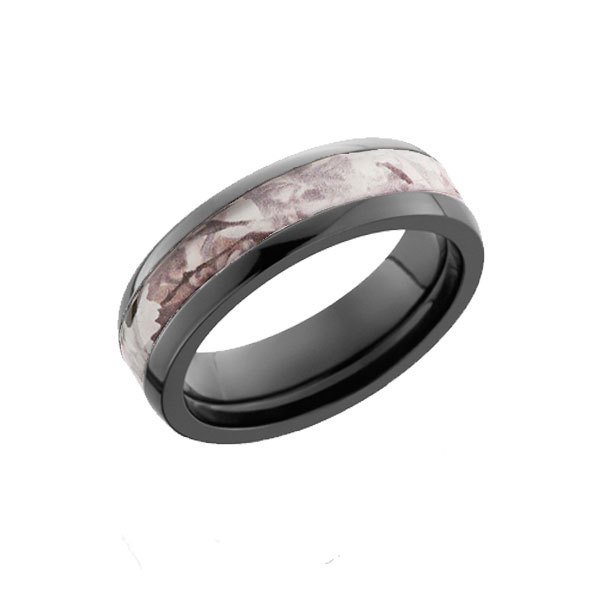 A camo lovin' country gal deserves a ring that shows off her unique style, personality, and love for the outdoors! And that's what this domed shape snow camo ring can do! It will speak lots about who she is and what she's made of! The domed edges of this 6 mm wide band gives it a more classic look. But it's far from ordinary because of the 3 mm officially licensed Kings Snow Shadow Camo.
---
6. Domed Black Zirconium Snow Camo Ring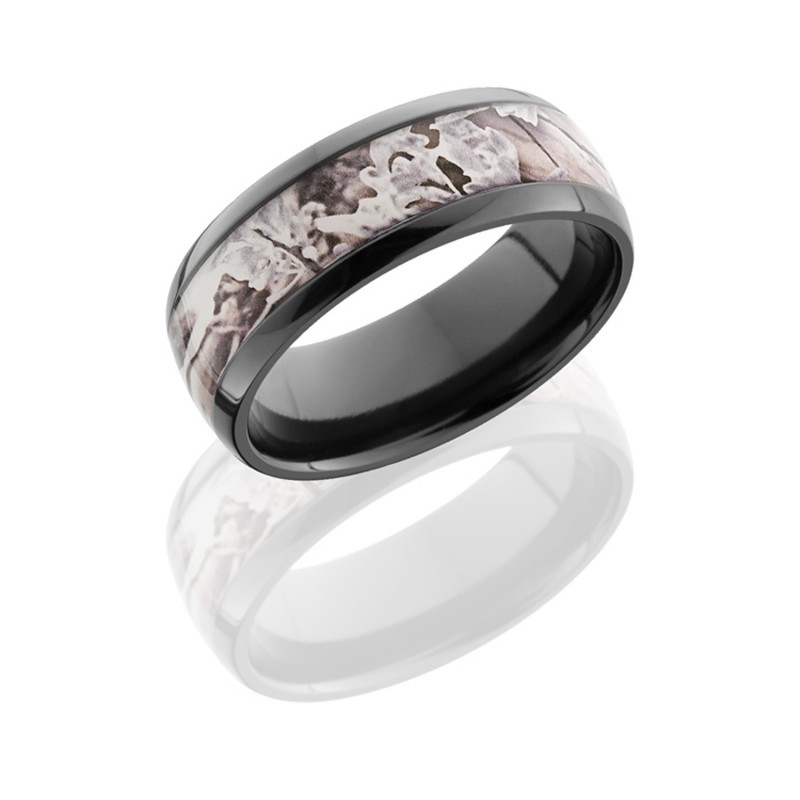 Any outdoorsman with a unique sense of style would love this Black Zirconium 8 mm domed band with 5 mm King's Snow Shadow camo inlay. It's built to withstand extreme conditions which makes it perfect for your kind of lifestyle. The snow camo inlay will contrast nicely with the black metal.
---
7. His & Hers Black Zirconium Domed Bands with King's Snow Shadow Camo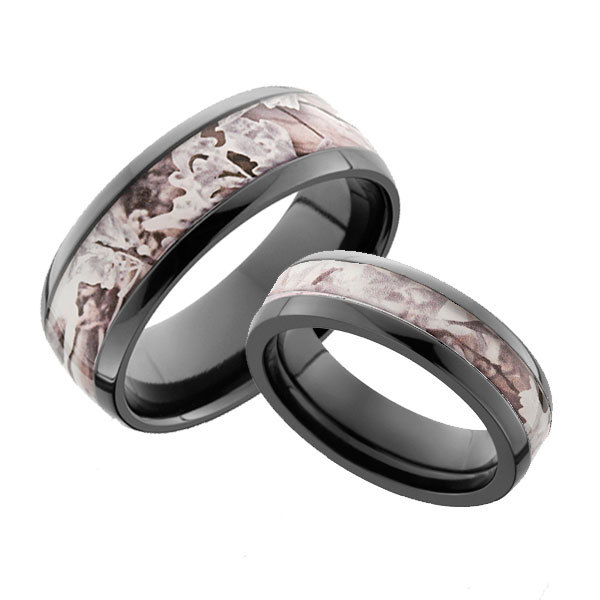 Couples who love the outdoors and aren't afraid to show their unique camo style should choose a ring that best represents who they are. Get this matching set of wedding bands inlaid with King's Snow Shadow camo. The band for him is 8 mm wide with a 4 mm camo inlay and hers is a 6 mm band inlaid with 3 mm of camo. Both rings have a deluxe comfort fit because of its domed profile.
---
8. Tungsten Snow Camo Ring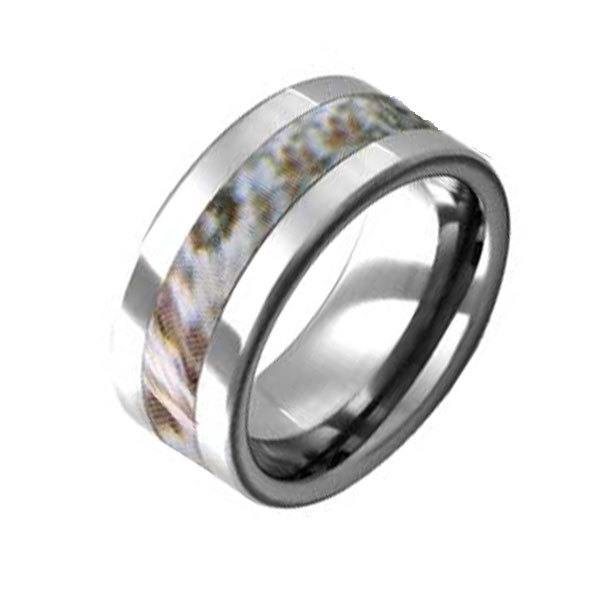 Here's one of the hardest, most durable wedding ring with a snow camo pattern in it. It's appearance is so cool and stylish, perfect for outdoorsy guys. With its comfortable deluxe fit, he'll surely want to wear it all the time!
This snow camo ring is 8 mm wide with a 3 mm wide snow camo inlay and a brilliant polished finish. Your choice to have it with a beveled edge or a flat edge. You can also choose whether you want it in Tungsten or in Black Ceramic.
---
9. Snow Camo Ring for Her - Domed 5mm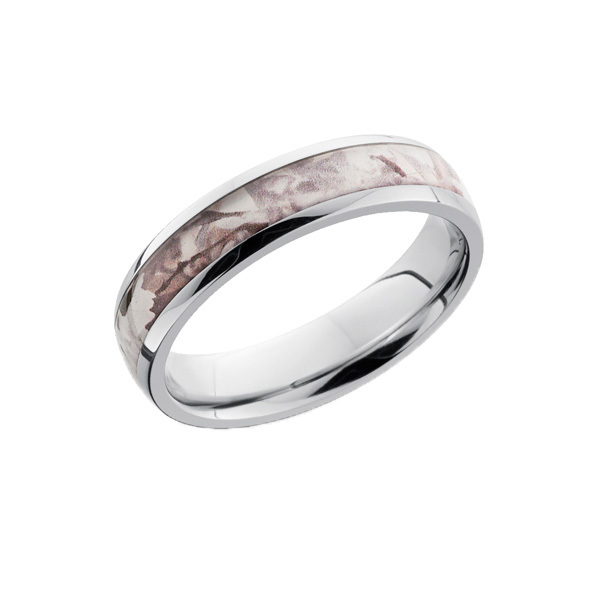 If your country gal loves the outdoors and wants to wear camo every day, Here's a pretty snow camo ring for her that's only 5 mm wide. This beautiful and dainty ring has a brilliant polish and shine accented by 3 mm of King's Snow Shadow camo. This ring is scratch resistant, comfort fit, hypoallergenic, and more affordable than traditional metals.
---
10. Realtree AP Snow Camo Black Camo Ring Domed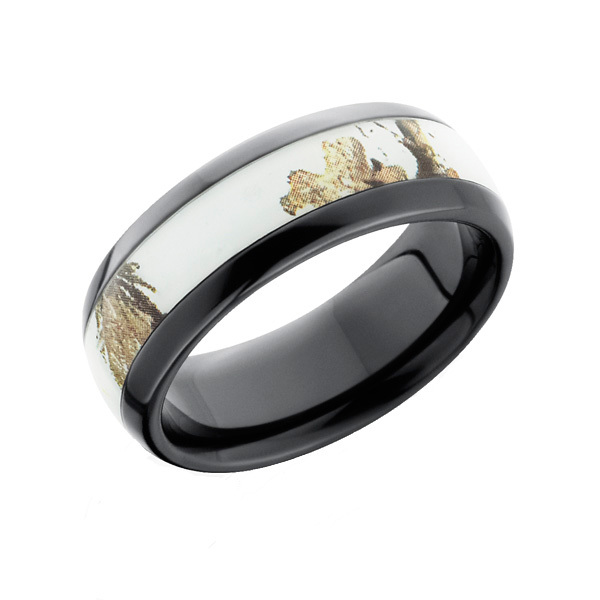 This 8 mm ring with a 4 mm inlay, is an officially licensed Realtree AP Snow camo ring. It has a domed, half round style with a nice polished finish. This kind of design makes it very comfortable to wear. Not only is it comfortable, the metal used to make them are super strong and able to withstand wear, scratches, chips and cracks.
---
11. Snow Camo Ring with Flat Edge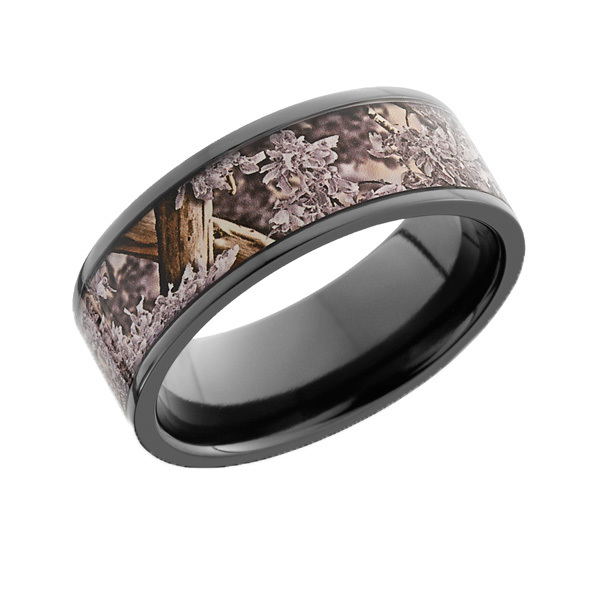 For the rugged outdoorsman, here's your ring! The camo in it and the strong metal used will make you want to keep it on your finger at all times. It is rugged enough to wear on your hunting, fishing or outdoor adventures.
This flat edged 8 mm ring with extra wide 6 mm of officially licensed King's Snow Shadow Camo offers a choice of one of 3 heavy-duty alternative metals; Cobalt Chrome, lightweight Titanium, or Black Zirconium.
---
The selection of various snow camo rings can either come in King's Snow Shadow Camo or Realtree AP Snow Camo. You can also look at other rings available on the site that come in King's Camo. All rings offer a choice of any of the King's Shadow Camo patterns, so you can select King's Snow Shadow Camo for the inlay. The same goes with the rings that offer either Mossy Oak or Realtree. Just choose Realtree AP Snow for the inlay. Here are some links you can check out. For even more options, go ahead and browse through our camo rings on the site.
http://camokix.com/mossy-oak-or-realtree-camo-ring-beveled/
http://camokix.com/gold-camo-ring/
http://camokix.com/diamond-black-camo-wedding-ring-his-and-hers-set/
http://camokix.com/camo-wedding-band-with-grooved-edge/
http://camokix.com/black-camo-ring-crosses/
http://camokix.com/titanium-flat-camo-band-with-two-antique-inlays/
These camo patterns are licensed and are guaranteed to have stunning detail because of the manufacturer's high definition process and proprietary protective layer. Keep in mind that the camo inlay will not be the same as seen on the pictures because we can't control the camo section you will get.
If you like a particular style but the image doesn't show it in snow camo, try to see if there's a dropdown box that allows you to select the camo pattern. For the metal, depending on the style, it can come in Titanium, Black Zirconium, Cobalt Chrome, Tungsten or other alternative metals. Most styles will have an option for the camo and the metal. If there's none, you can contact us, leave a message on Facebook, or email us and we'll see if we can have one made according to your specifications.