Posted by CAMOKIX on Sep 20th 2018
We're so excited for you! The best part of a wedding or anniversary is picking out rings. It can also be a little overwhelming with all of the metals.
When picking a ring metal for your wedding band, each has it's own considerations:
Color varies
Weight varies
Hardness and durability varies
Scratch resistance varies
Hypoallergenic vs irritant to skin
Different emergency removal requirements
Ring Metal Comparison Chart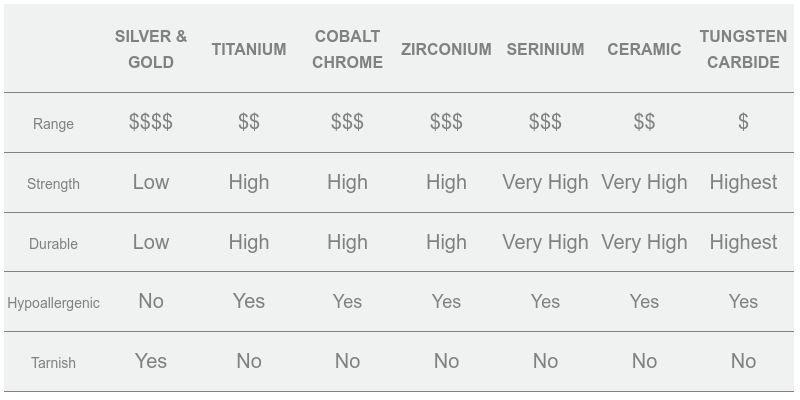 To recap the chart above, here are the key take aways:
All metals above from titanium to tungsten carbide are really hard and durable
That's what makes them so scratch resistant--unlike gold and silver that will bend, scratch and tarnish
These rugged metals are often referred to as contemporary, high-performance, modern metals
And these metals are all hypoallergenic so they won't irritate your skin
The Differences Between Alternative Jewelry Metals
Only a few of our rings styles can be ordered in traditional metals like platinum, gold or silver. Since most of our customers like to hunt, fish, defend, and explore, these precious metals won't cut it for their lifestyle. Men and women who want more rugged metals are looking to take advantage of the tremendous scratch resistant properties of these metals. The activities they like require you to take and comfortable wear of these metals.
These metals were made for abuse so you can hunt, go into combat or be a weekend warrior with your wedding ring. The Mohs scale pictured above is more or less a "scratch test" but the point is -- durable metals are a great choice for a rugged outdoor enthusiast. And you have lots of design choices from outdoor inspired engravings and inlays like deer antler, camo, and wood.
Titanium is a popular metal for wedding rings because it's durable, light weight, hypo-allergenic, scratch resistant, and long-wearing. Titanium is a very hard metal around 6.5 on the Mohs scale and is typically used in aerospace and sporting goods. We call titanium a space age metal because it resists corrosion from sea or bleach and so strong and lightweight it's used in jet engines and spacecraft.
Cobalt Chromium is highly scratch resistant, similar to tungsten carbide, but has the look of white gold so it's platinum look differentiates it from tungsten and titanium. Cobalt chrome rings will not chip or crack, and are extremely scratch resistant.
Zirconium is the best option on the market if you are looking for a black ring and want to get creative with metal or two-tone designs. Zirconium is a natural element which begins with a silver color and extreme heat causes oxidation and turns the ring black. That oxidization layer is super hard but diamond tooling allows for the creation of two-toned designs.
Serinium is the newest metal specifically designed for the jewelry industry to achieve the most brilliant, bright white colored alternative metal band with the must ultimate strength. It's 2 times harder and more scratch resistant than Cobalt Chromium, and 3 times harder than Titanium. Unlike Tungsten Carbide, it is the about 1/3 lighter in weight and the color screams luxury, it's perfect to wear.
Black Diamond Ceramic is a state of the art material and it's not metal. Apart from jewelry, ceramic is used to make space ships and jet engine turbines. Ceramic will forever retain its color and shine and is as scratch-resistant and light weight. Since it isn't a metal, it's a great alternative if you have allergies or you're looking for an active duty U.S. military-approved material that doesn't conduct electricity or reflect light.
Tungsten Carbide is the heaviest metal for wedding rings. Tungsten is hard, very hard. It ranges from 8 to 9 on the Mohs scale. Commonly used to build weapons and tool parts, it is the heaviest and strongest of any metal jewelry. Tungsten camo rings are popular because they are durable, light weight, hypo-allergenic, extremely scratch resistant, and long-wearing. It's darker in color (grey to gun metal) and 5 times harder than tool steel and two times the weight. Because tungsten rings are so heavy, they often feel more expensive than lighter metals.
Emergency Remove of Ring Metals Comparison Chart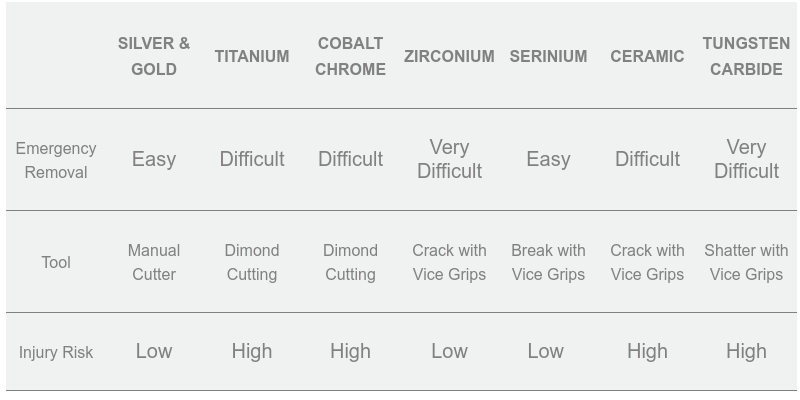 If you're having trouble deciding which type of ring to select we hope this helps your research process. You may be just starting to weigh the pros and cons of each or been struggling with the decision for weeks.
A little advice. Go with your gut. The choice is unique to your situation and preferences. Most people find their decision comes down to one or two deciding factors that outweigh all other differences.
Hey, we know it's tough. That's why the team here at CAMOKIX, the home of unique rugged rings for men and women inspired by the outdoors, have put together this comparison chart. It should greatly help you to compare ring metals and make a decision.