Posted by Camokix on Aug 10th 2015

The Love Story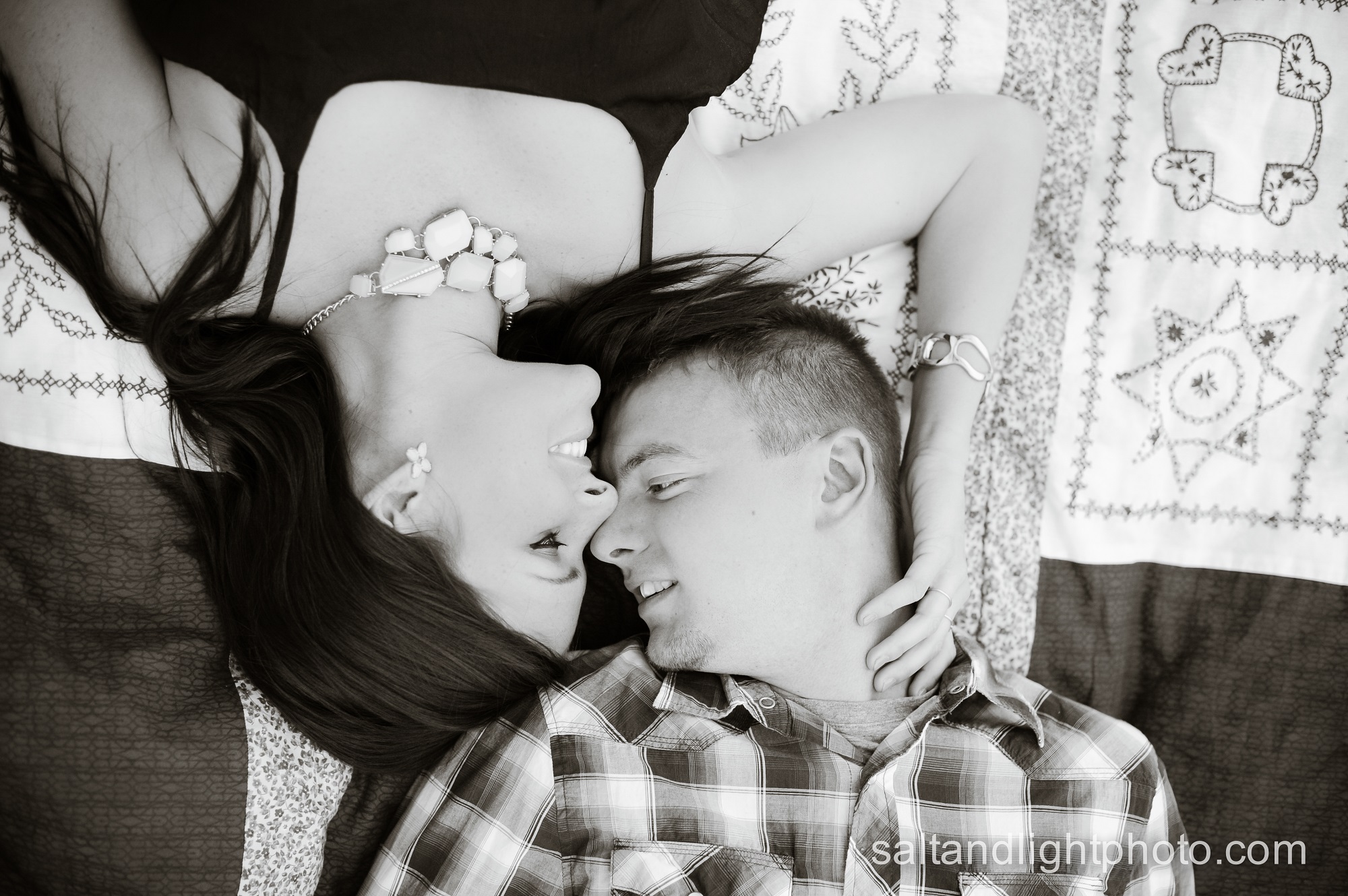 When a rugged country boy -- whose all about the outdoors, hunting, and camo -- meets an amazing country gal that loves just about the same things he does, it's a match made in heaven! This is so true for Nathan, who hit the jackpot and found a lover, best friend, and hunting buddy in Randi! There really is such a thing as destiny, and this lovely southern couple is proof of that.They found their destiny in each other's arms!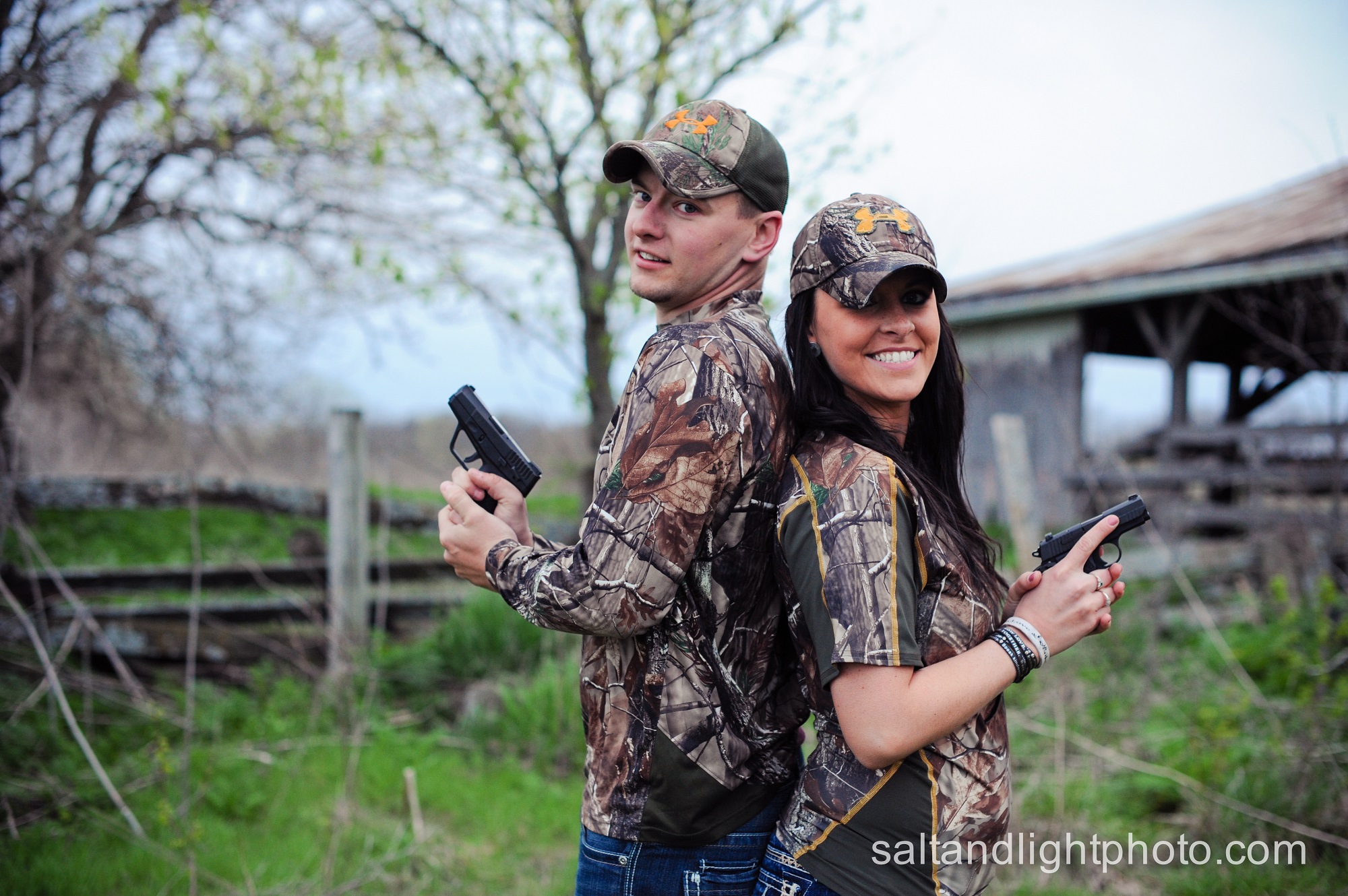 About the Couple
It took Randi and Nathan 8 long years before deciding to get hitched. These sweethearts met in high school and have been together for 10 wonderful years now.
But what is the secret to their long and lasting relationship? Why are they so good together, as if they were made for each other?
The key factor that brought them closer together is their shared passion! They both love Fall, the outdoors, hunting season, and camo!
I loved hunting before I ever knew Nathan, and I love it even more now because it is something we can share together. Our favorite things to do are hobbies we both enjoy. We both love nothing more than fall, hunting season and just being outdoors. -- Randi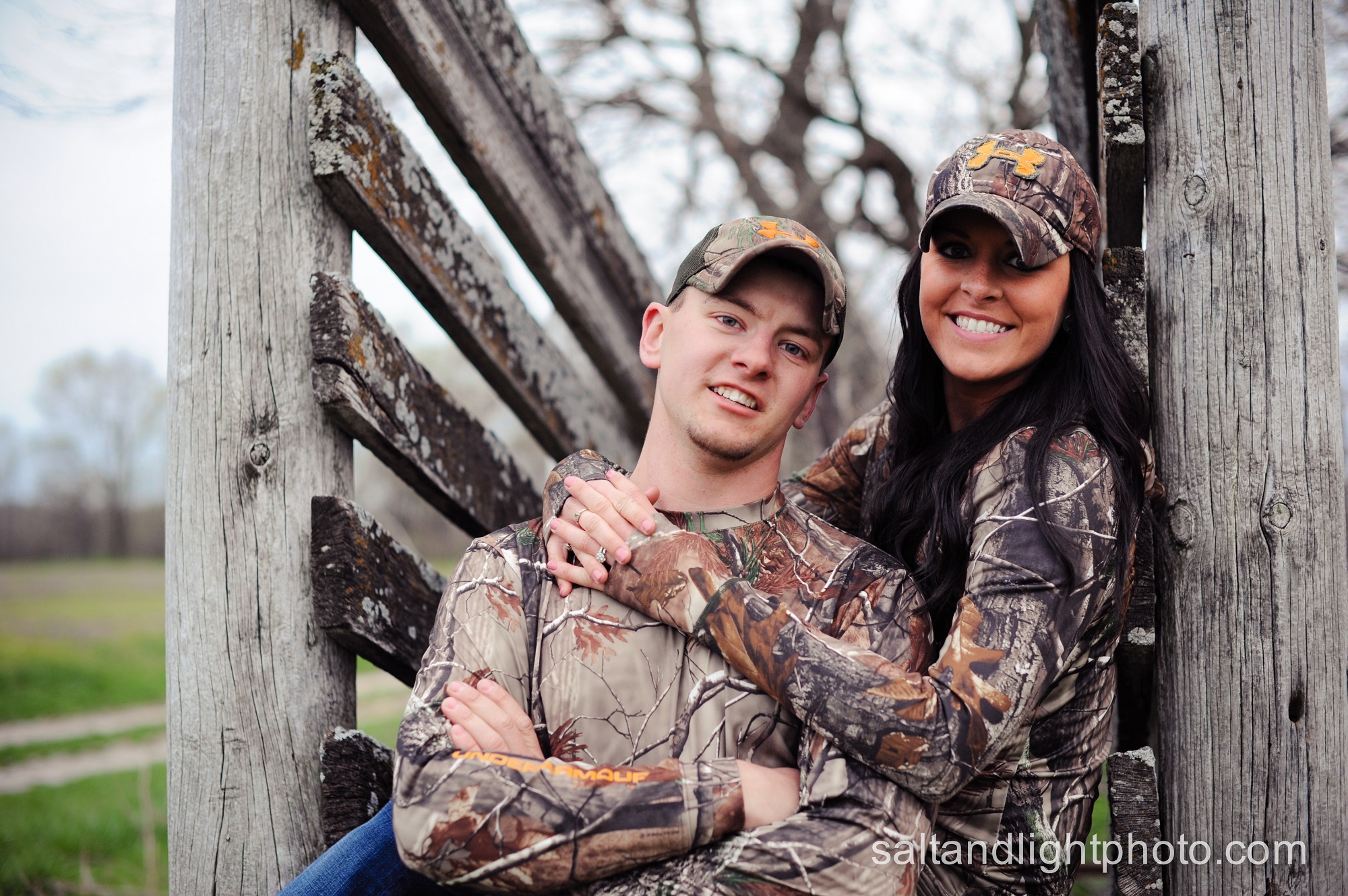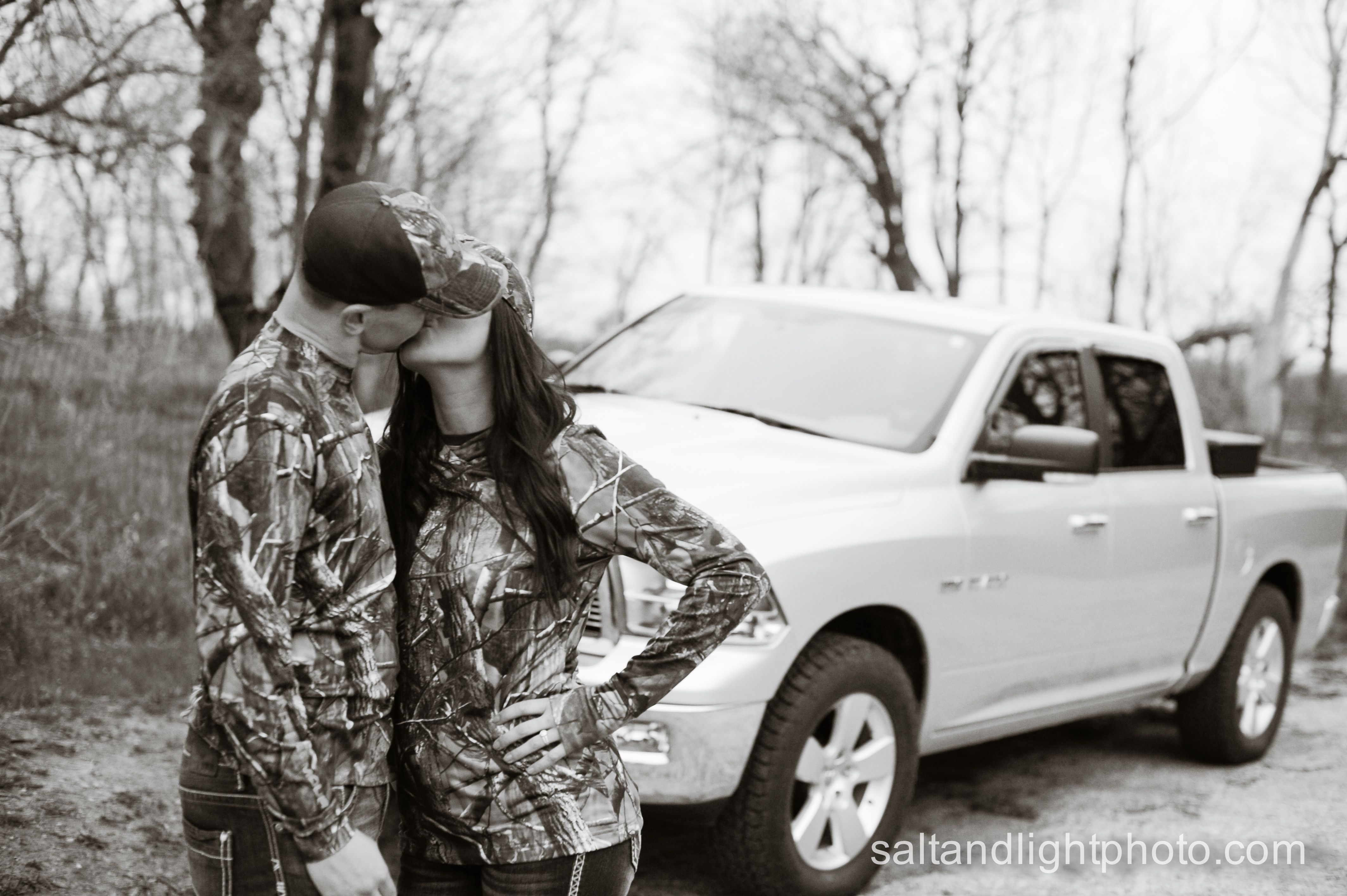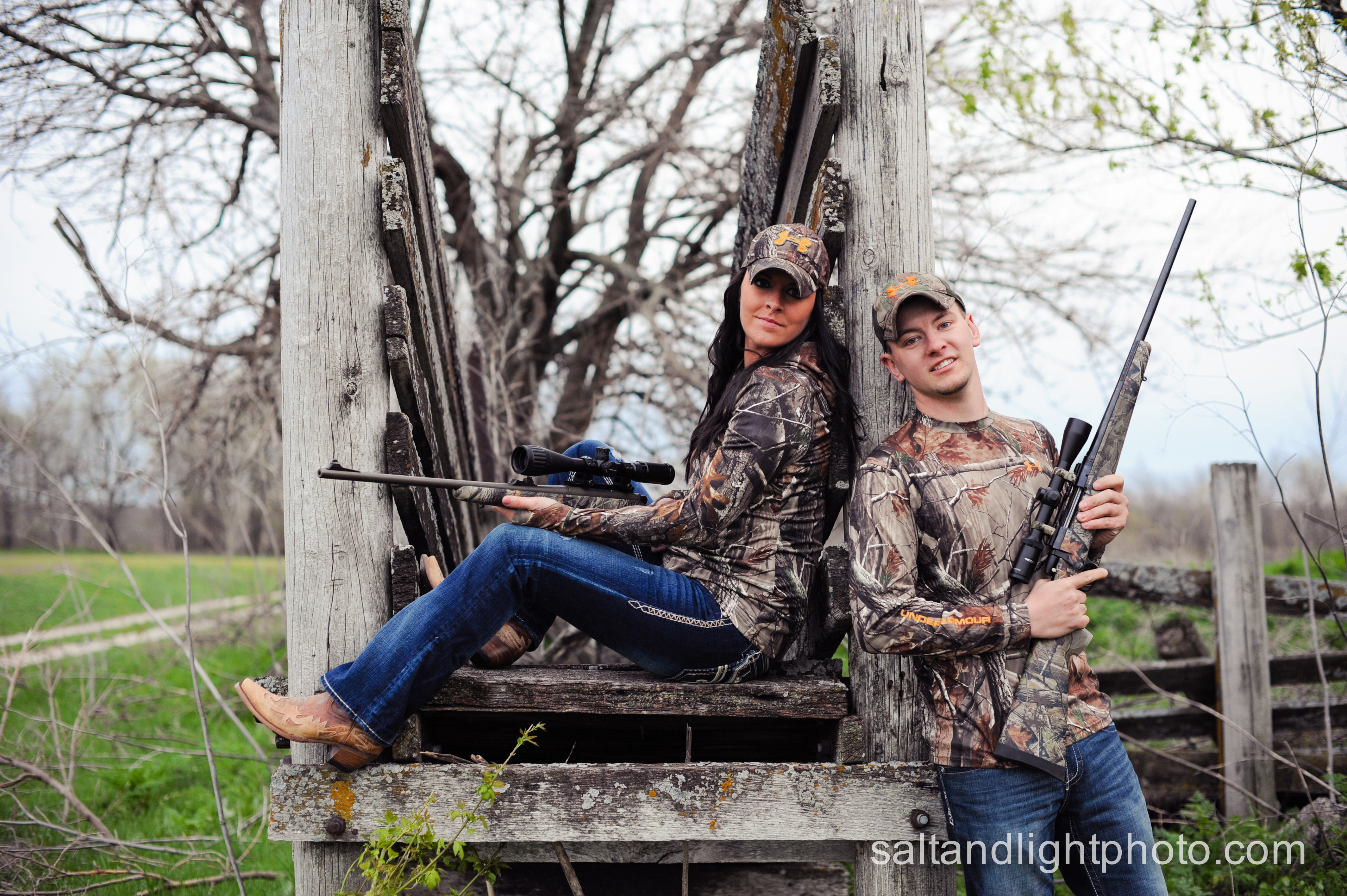 The Engagement Shoot
In a segment of their prenup, they were outfitted in matching camo long sleeve shirts, blue jeans, and boots and their props consisted of their best guns, bows and arrows, and a chalk sign that said, "the hunt is over" .
Randi's engagement ring was pictured together with bullet shells -- because that's the kind of tough girl she is! She also wore it while holding her bow.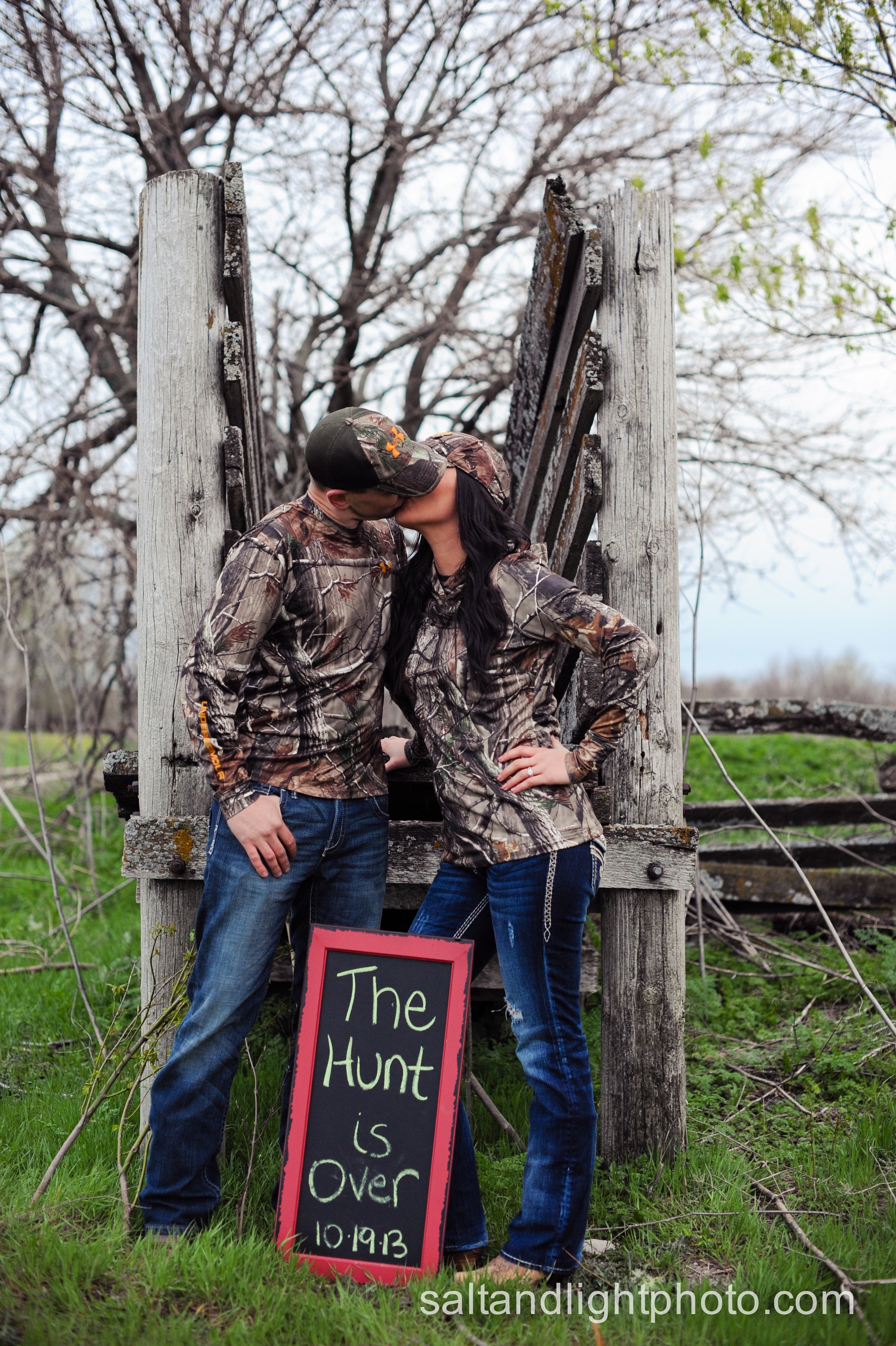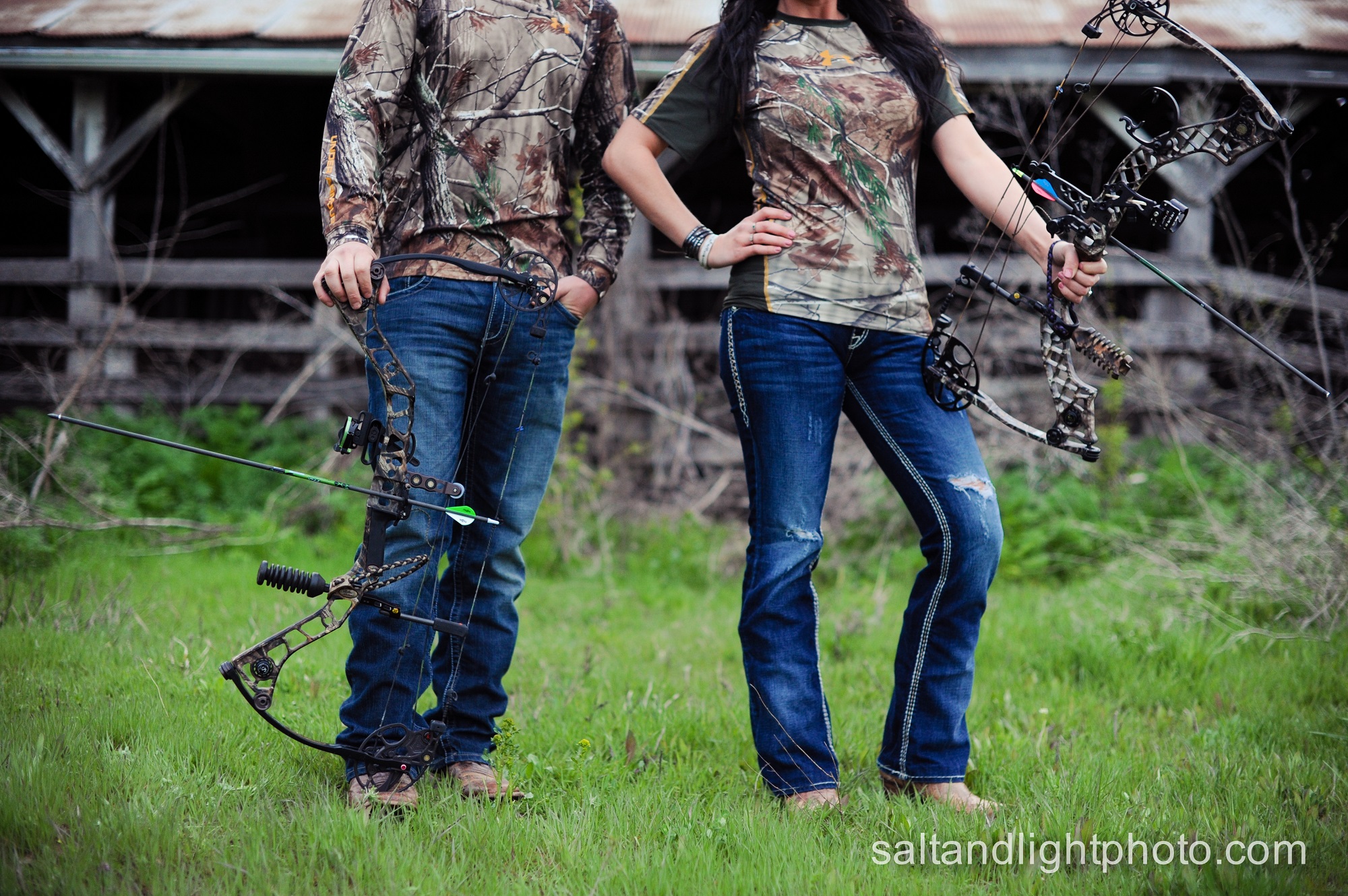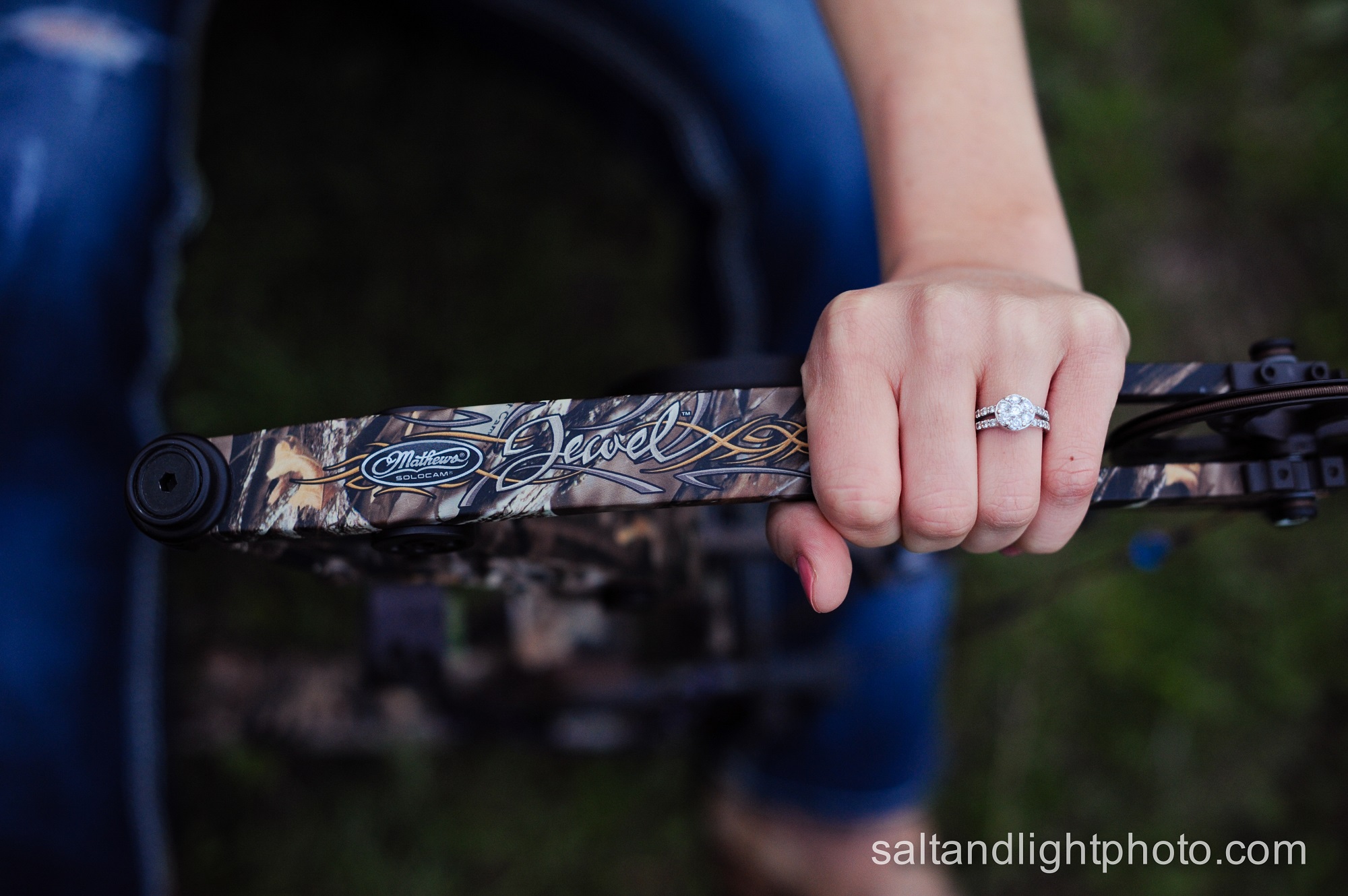 You can see their passions clearly in the prenup shoot done by the amazing Austin and Rachel Holt of Salt and Light Photography. It showcases what they love and what they're all about.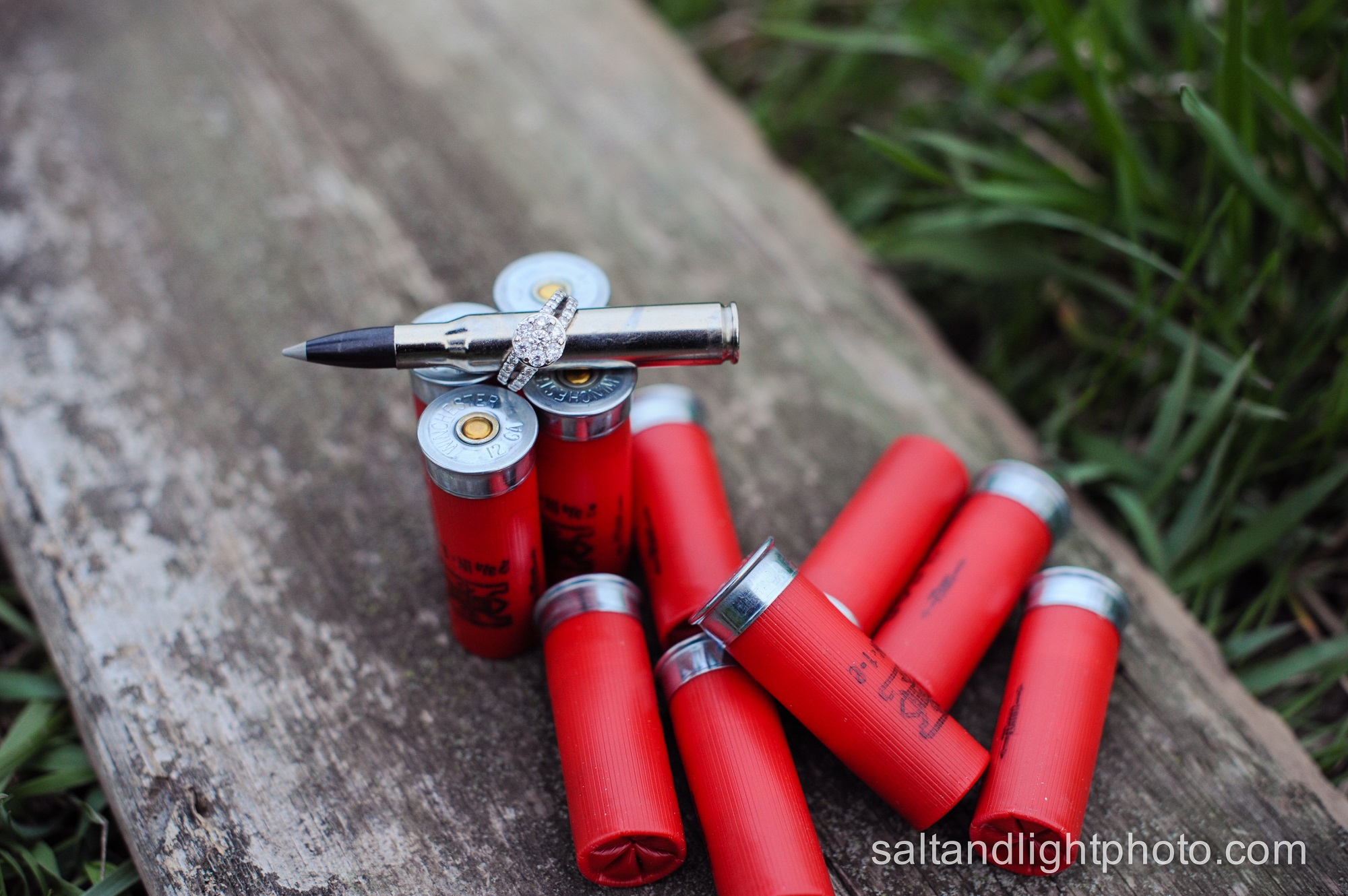 In another segment, the setting was in a barn with hay bales. They wore cute and casual country clothes with their cowboy and cowgirl boots. As props, they used a wooden sign that said, "gettin' hitched".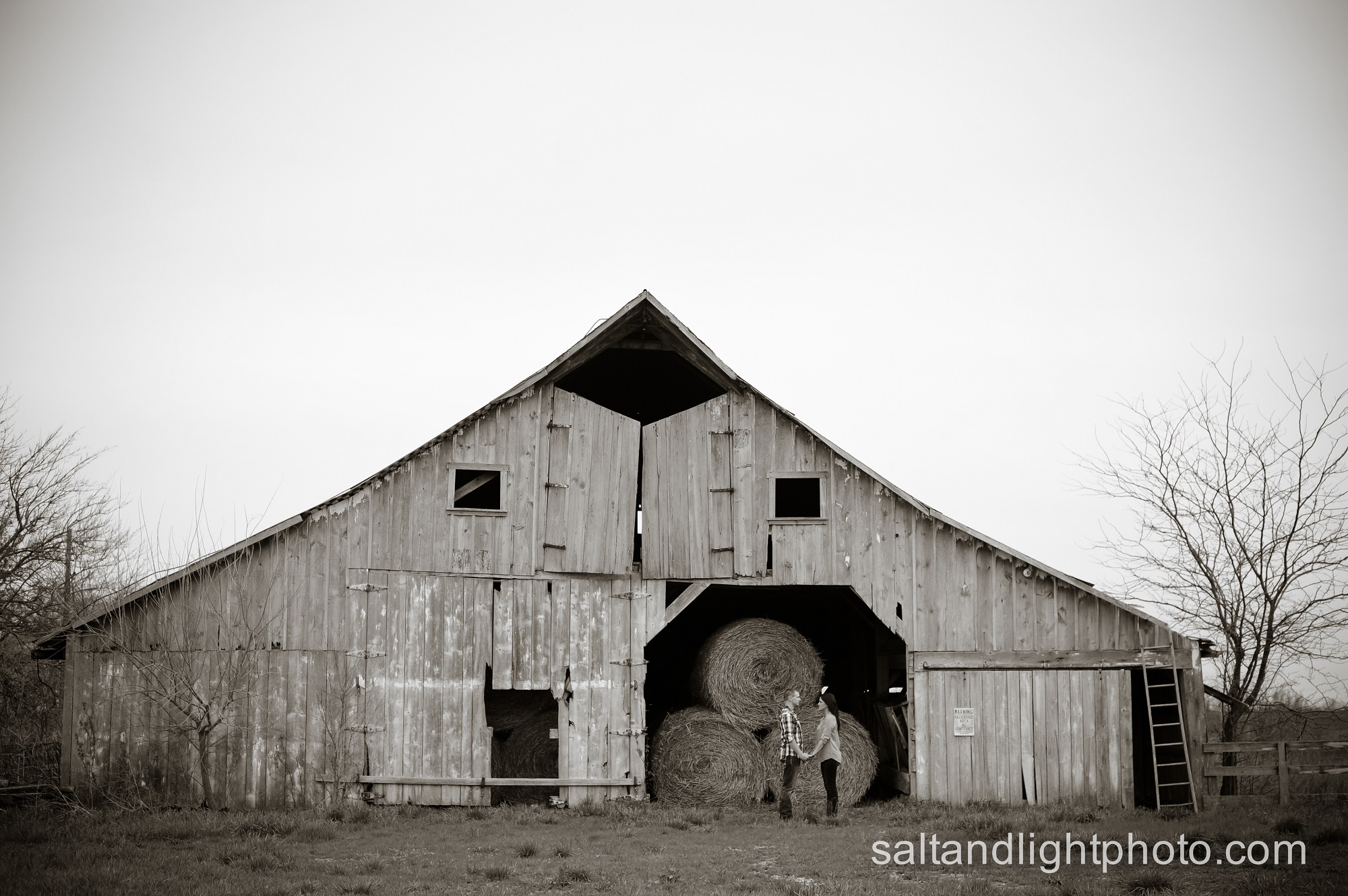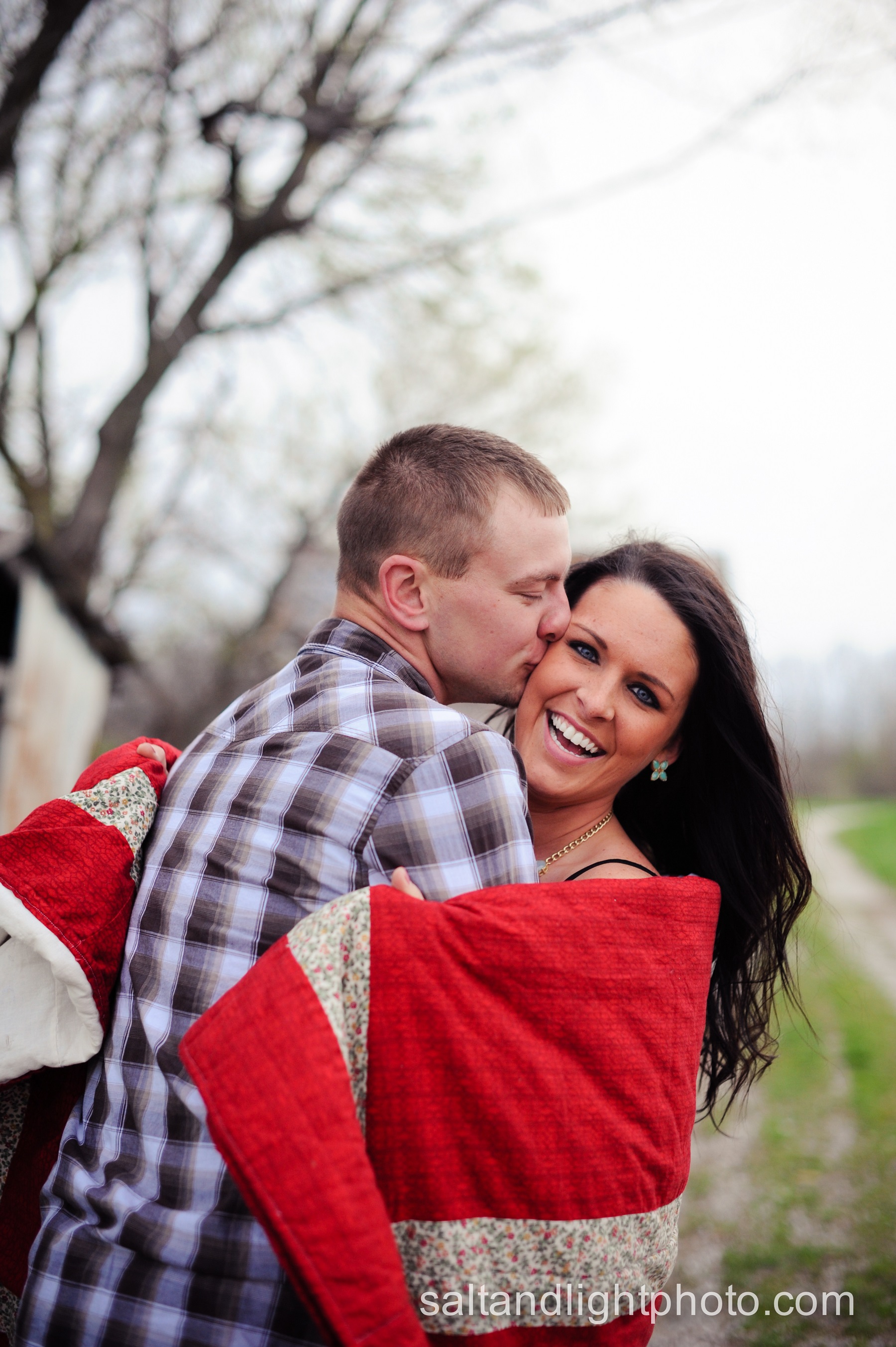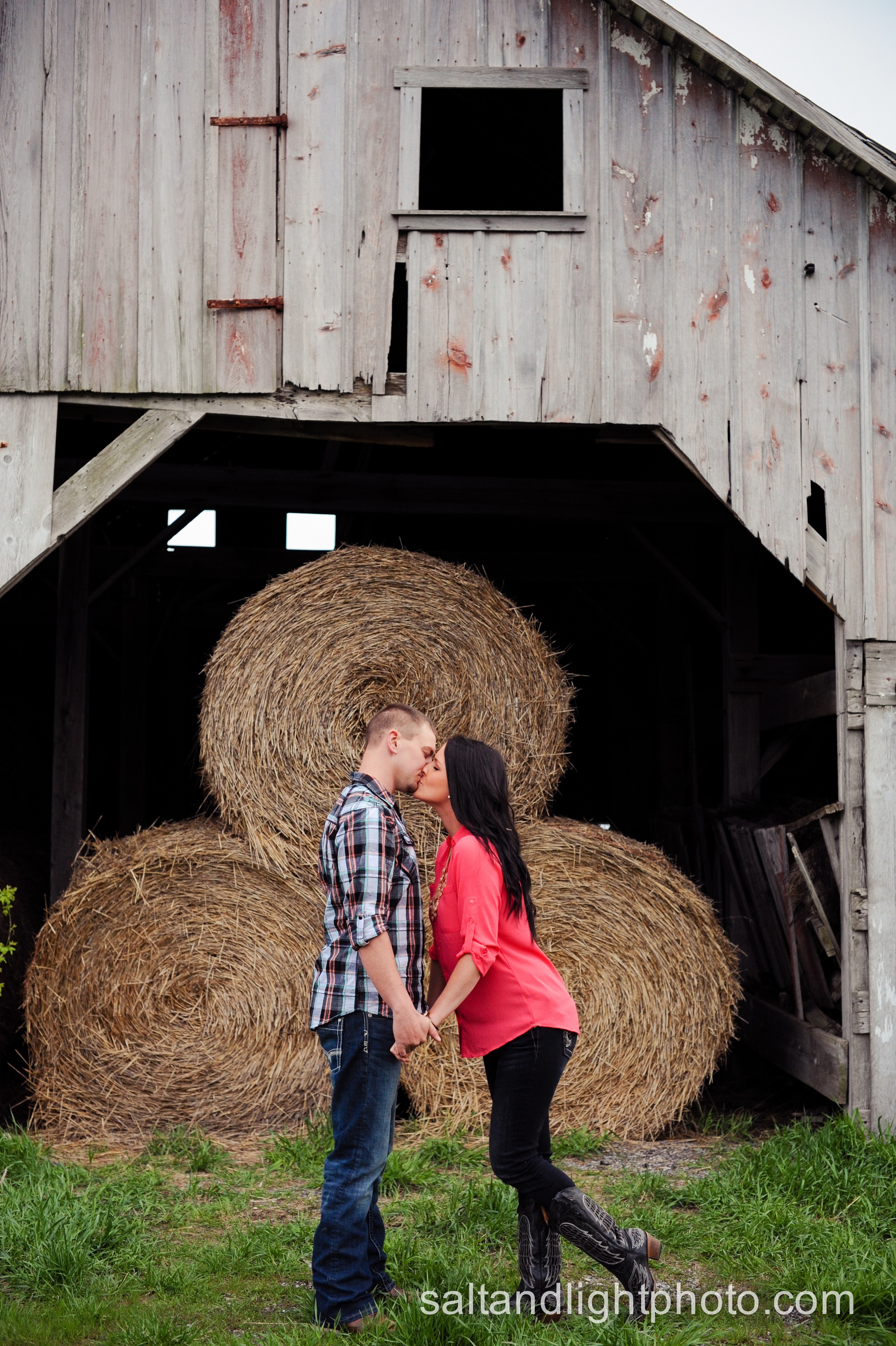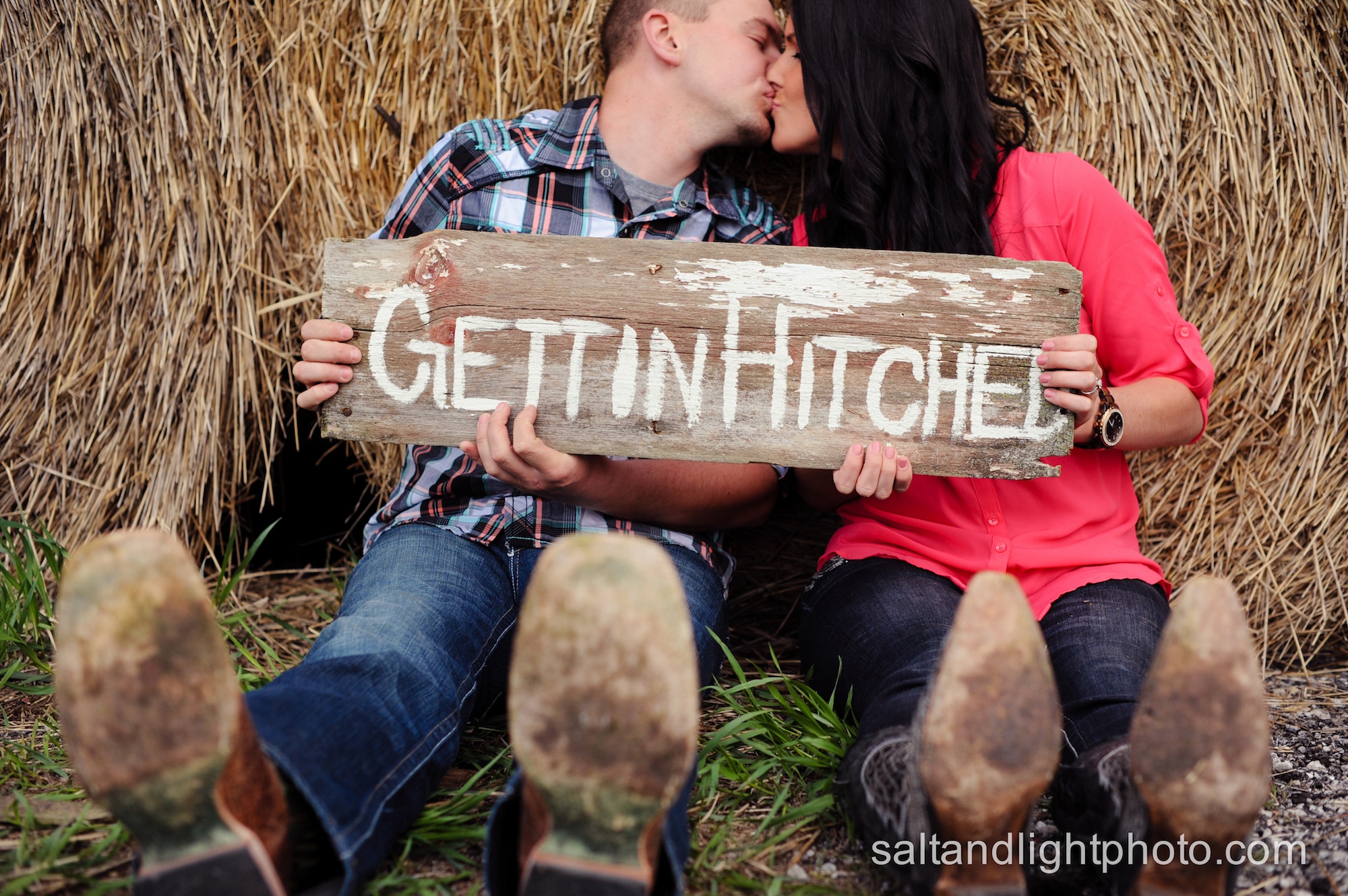 The Wedding Day
The 19th of October, 2013, was the beginning of Randi and Nathan's forever. It was the day they said their "I Do's", pledging their eternal love and devotion for each other. It was the day they became one.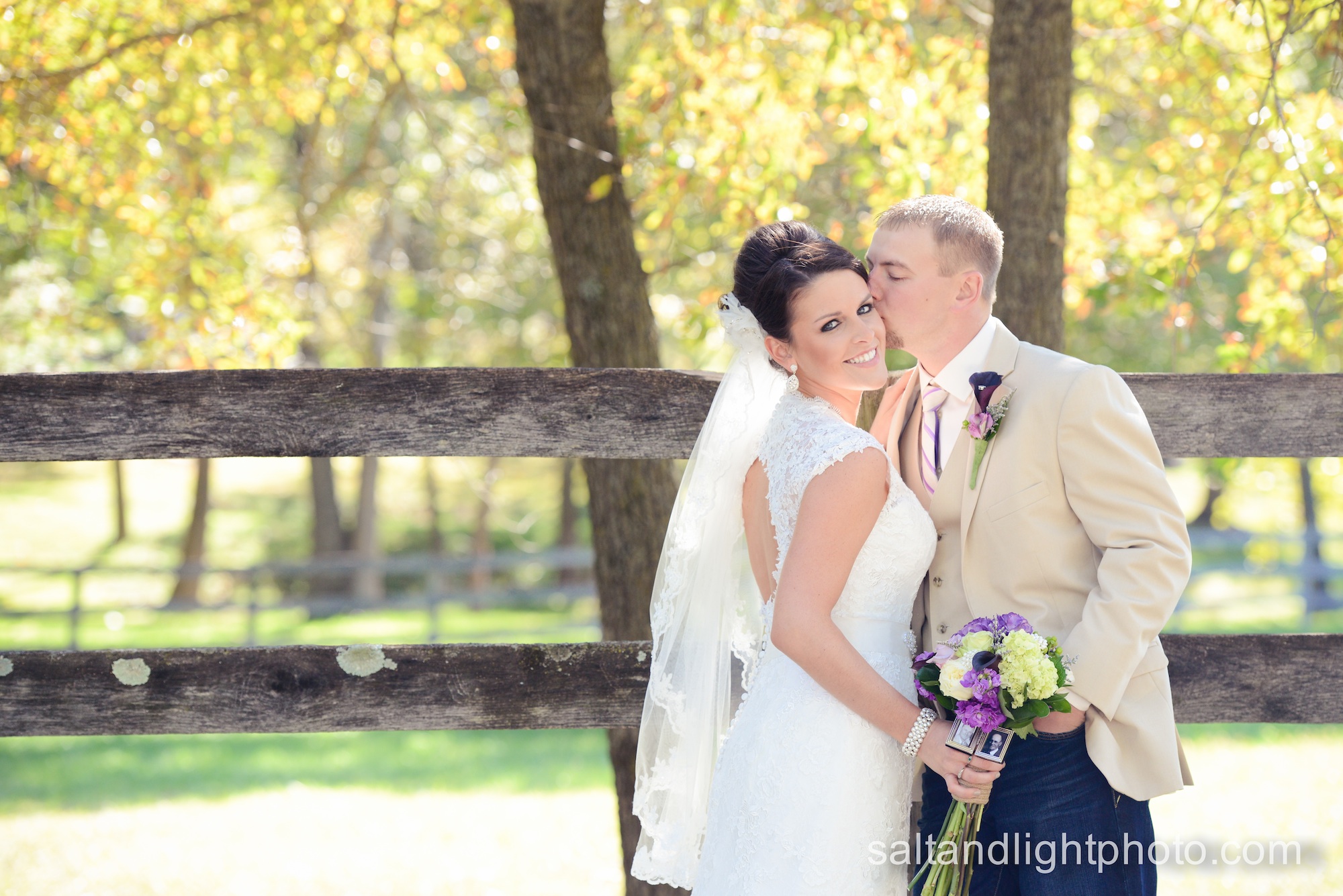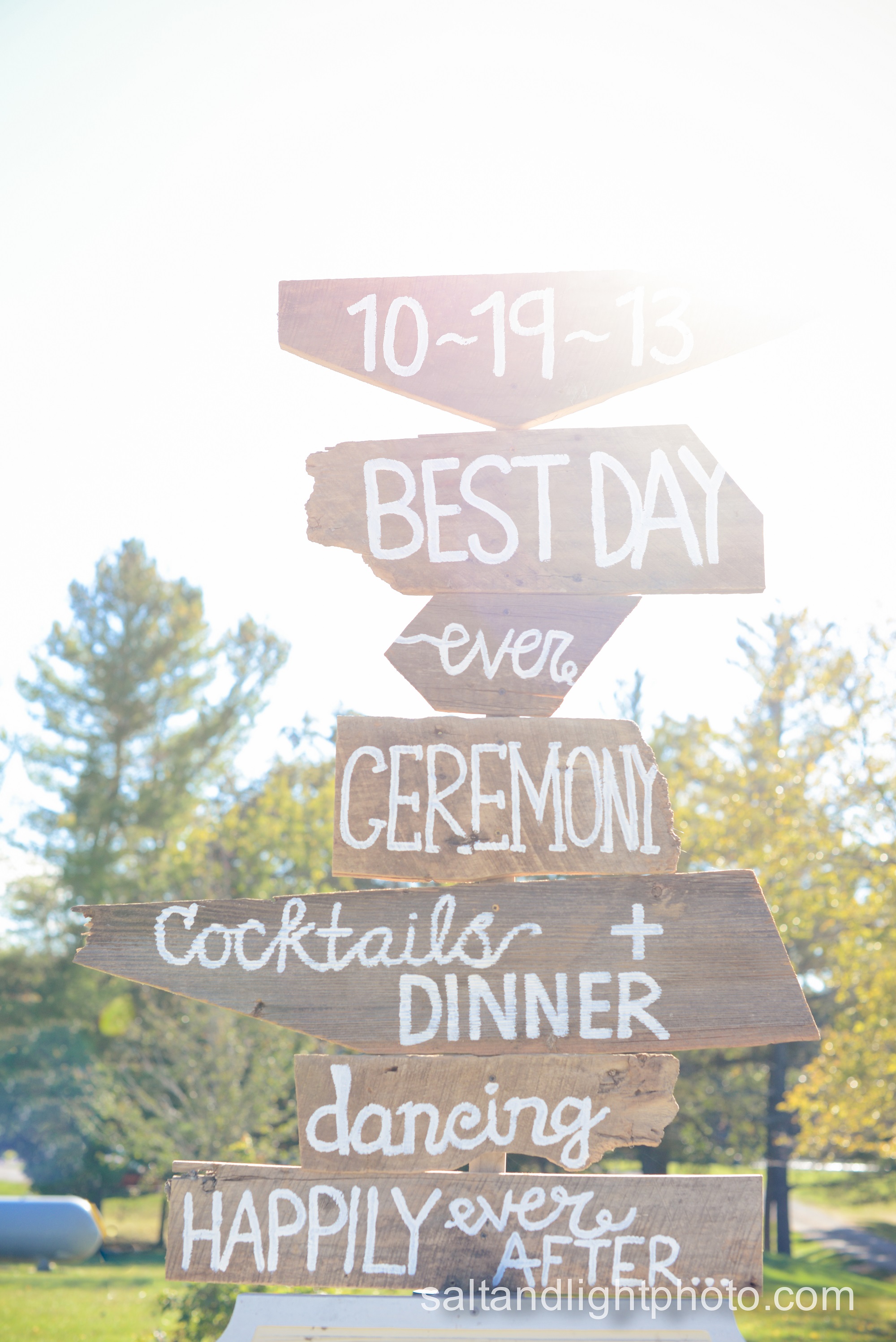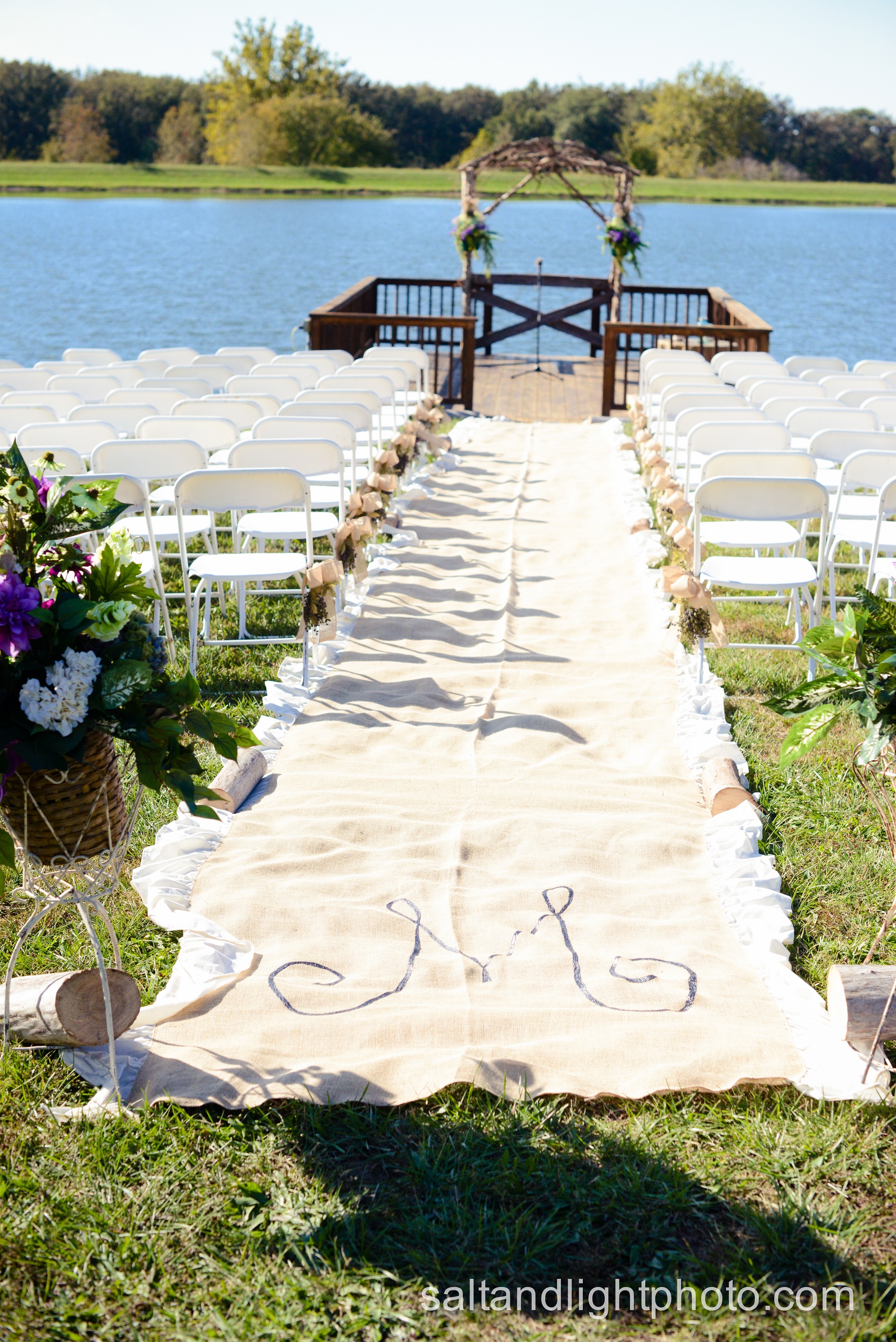 The weather was perfect - beautiful, warm, and sunny - perfect for an outdoor wedding. And there was no better place to make it all happen than the Cedar Creek Resort in Columbia, Missouri.
We chose Cedar Creek because it fit the rustic style of my wedding perfectly. There are many options throughout the resort to hold the wedding and reception. With six guest cabins, a large A-frame cabin and the main lodge, there are places for the wedding party and close family to stay as well. -- Randi
They chose to have their ceremony at the waterfront that had a gorgeous deck which decorated with burlap ribbons, baskets, tree stumps and green, purple, and lavender flowers.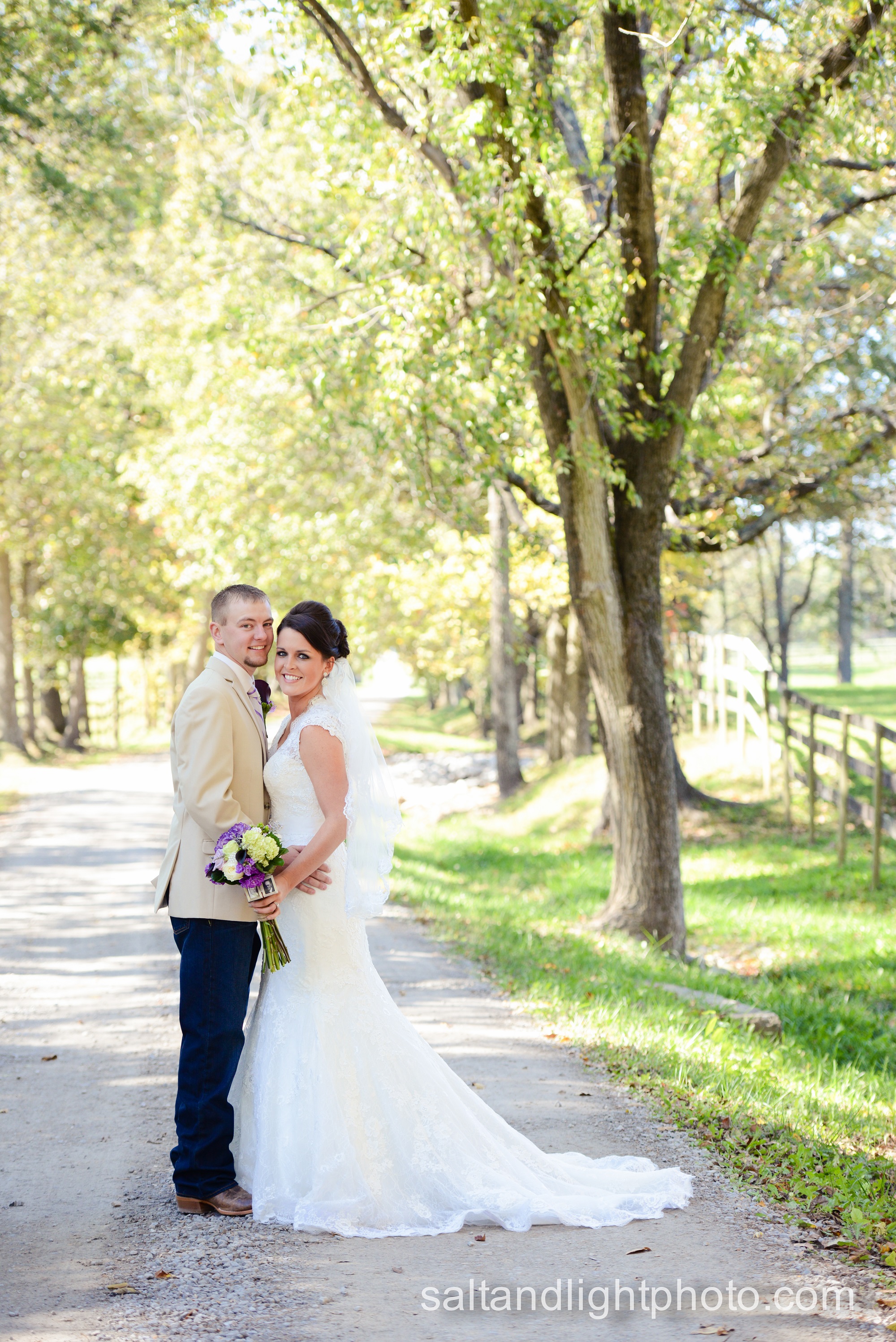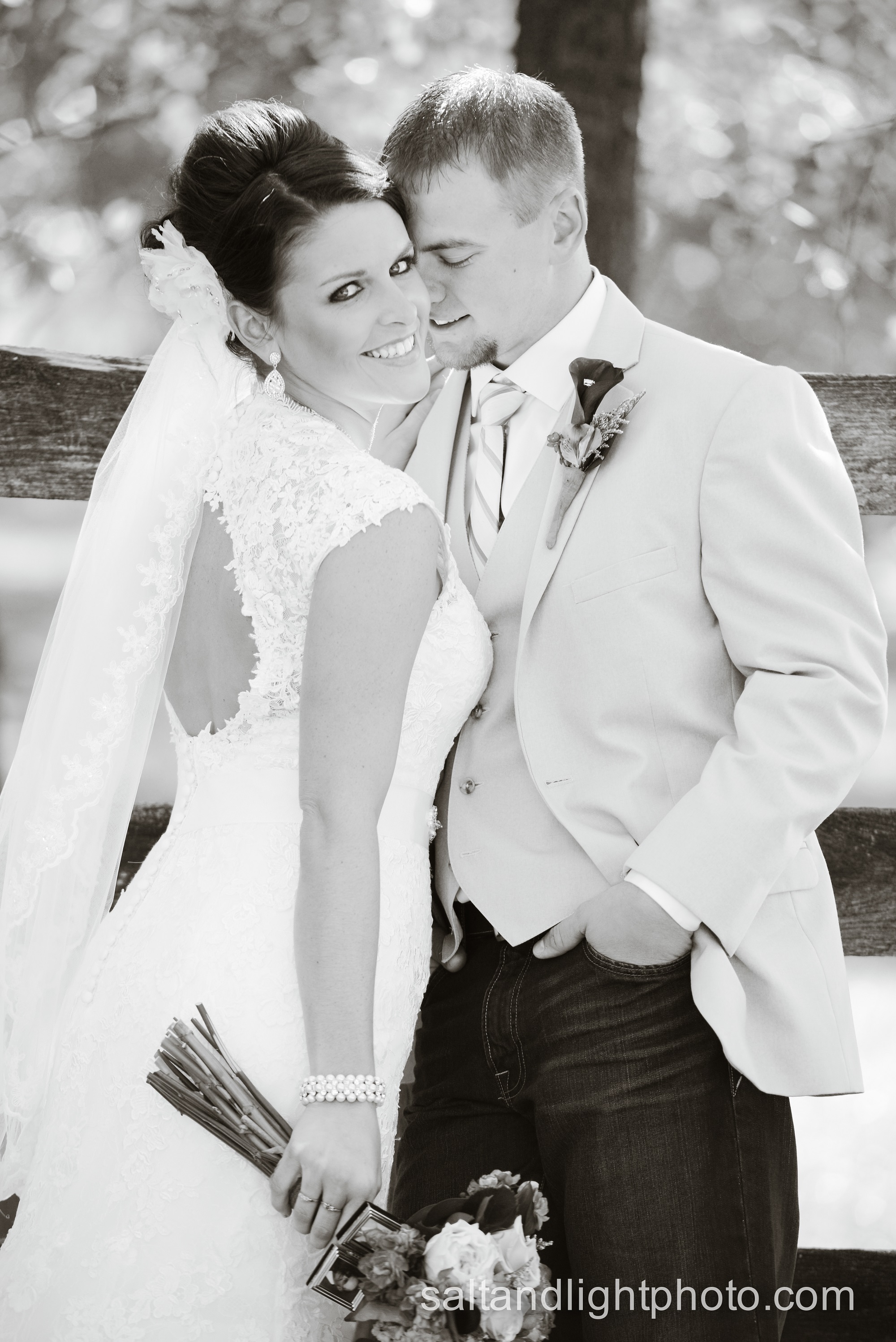 What made that day even more meaningful and special for the couple was the fact that they were married by Nathan's own brother who is ordained. Randi also surprised her dad by choosing Sweet Child of Mine by Guns N' Roses for their Father-Daughter dance. She said her father didn't know anything about this beforehand.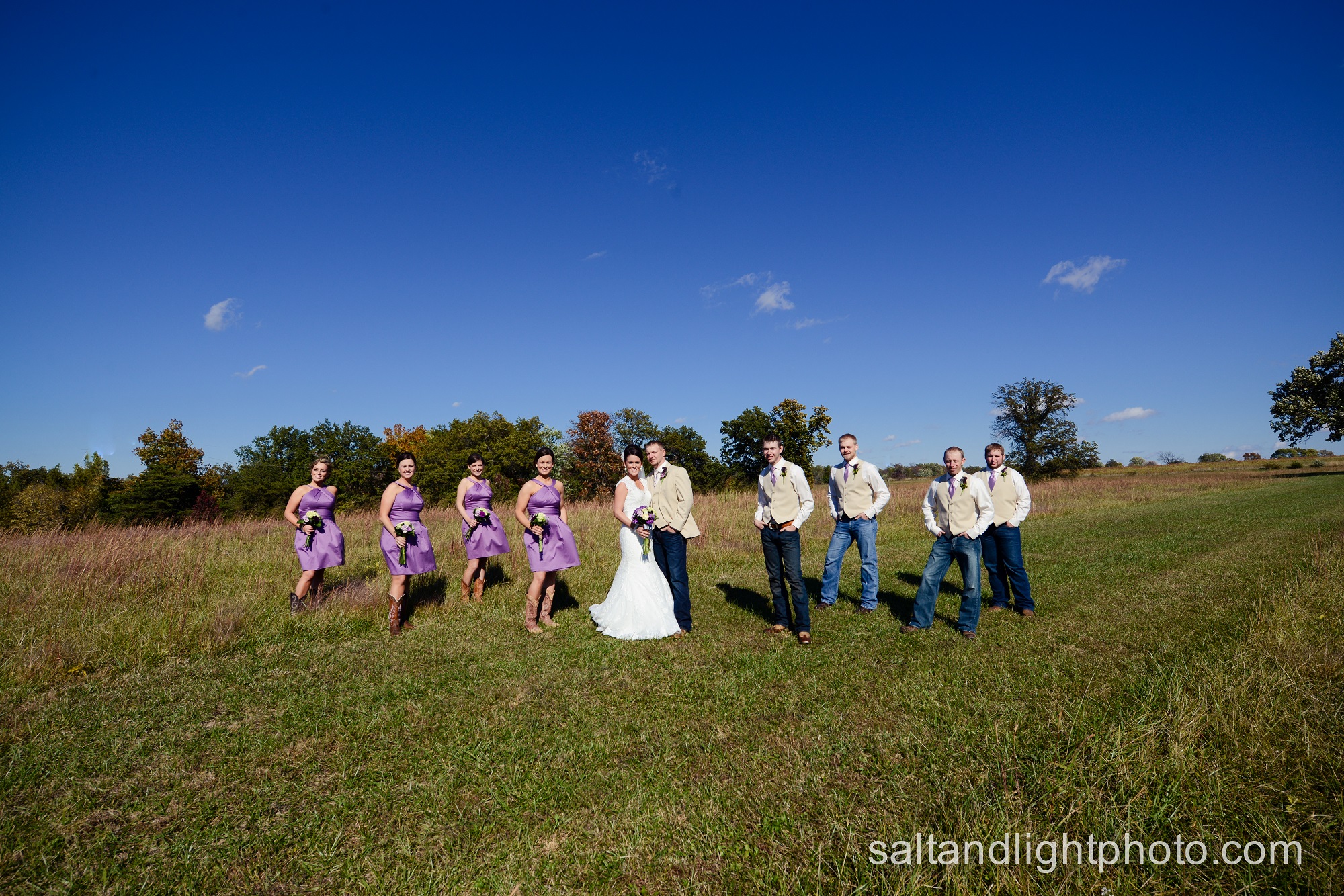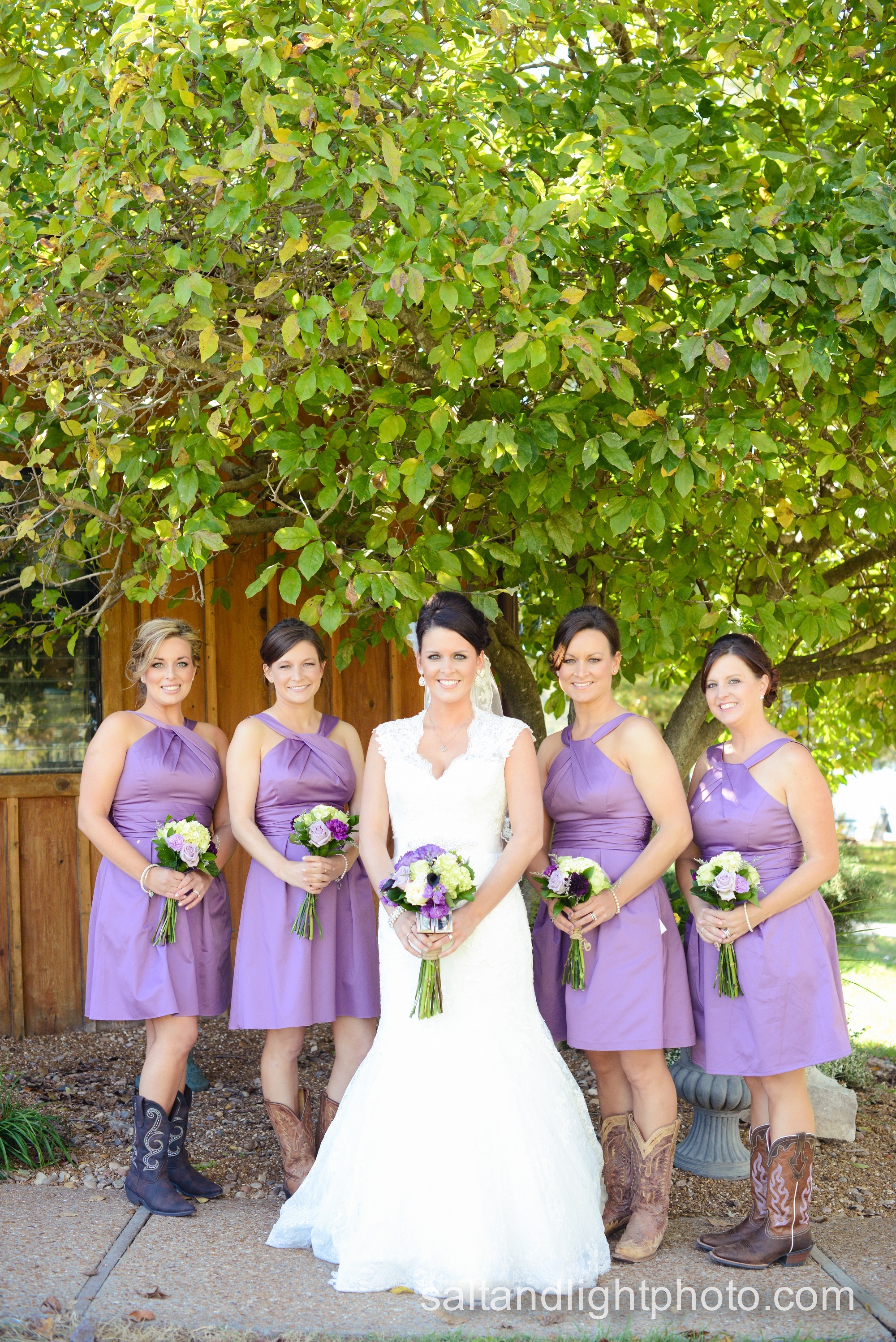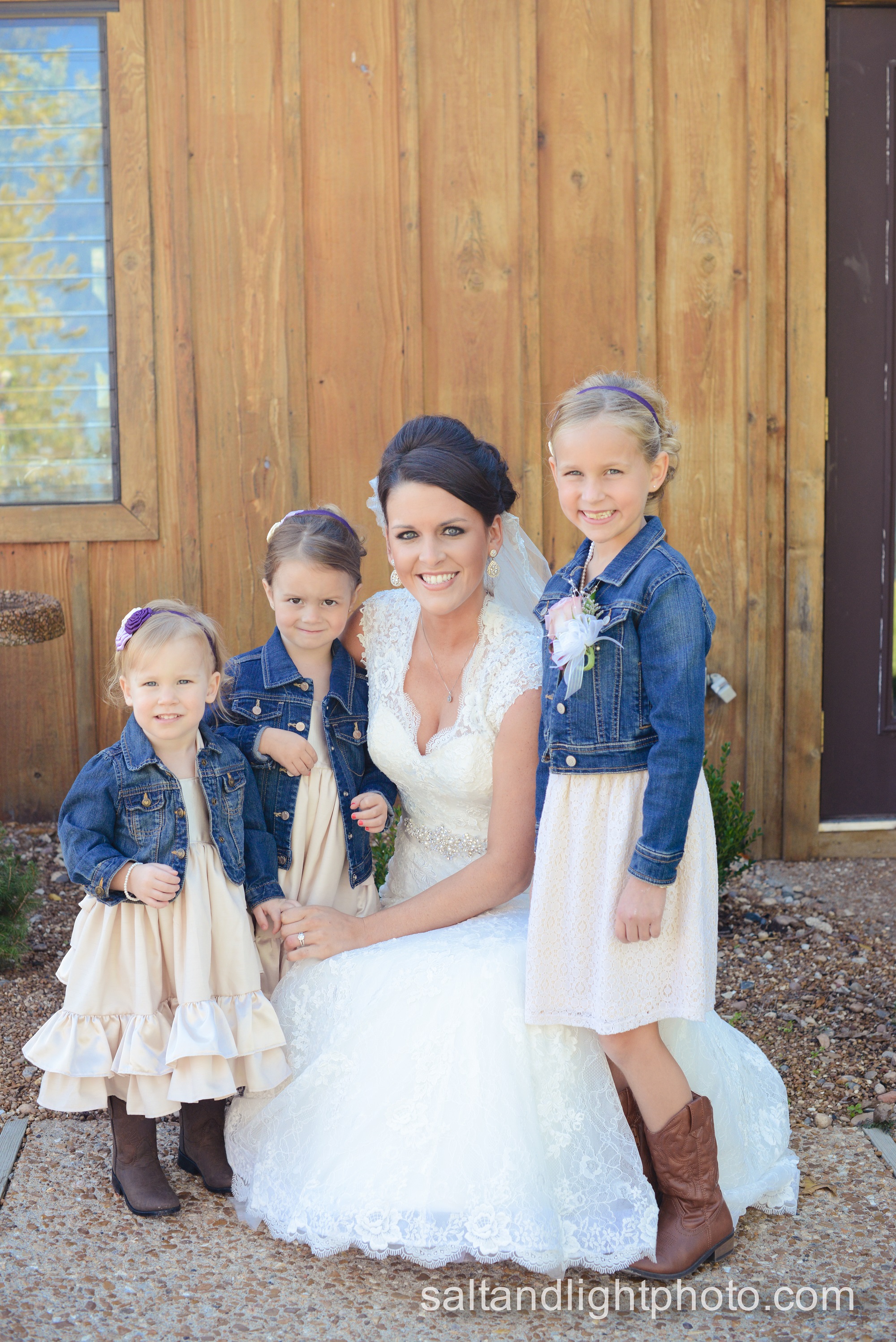 The groomsmen wore their rugged denim jeans, cowboy boots, and beige vests on top of their white long sleeve shirts. The bridesmaids wore lavender halter dresses together with their best cowgirl boots. And their flower girls were as cute as ever with their cream colored dresses covered with denim jackets, and their little cowgirl boots.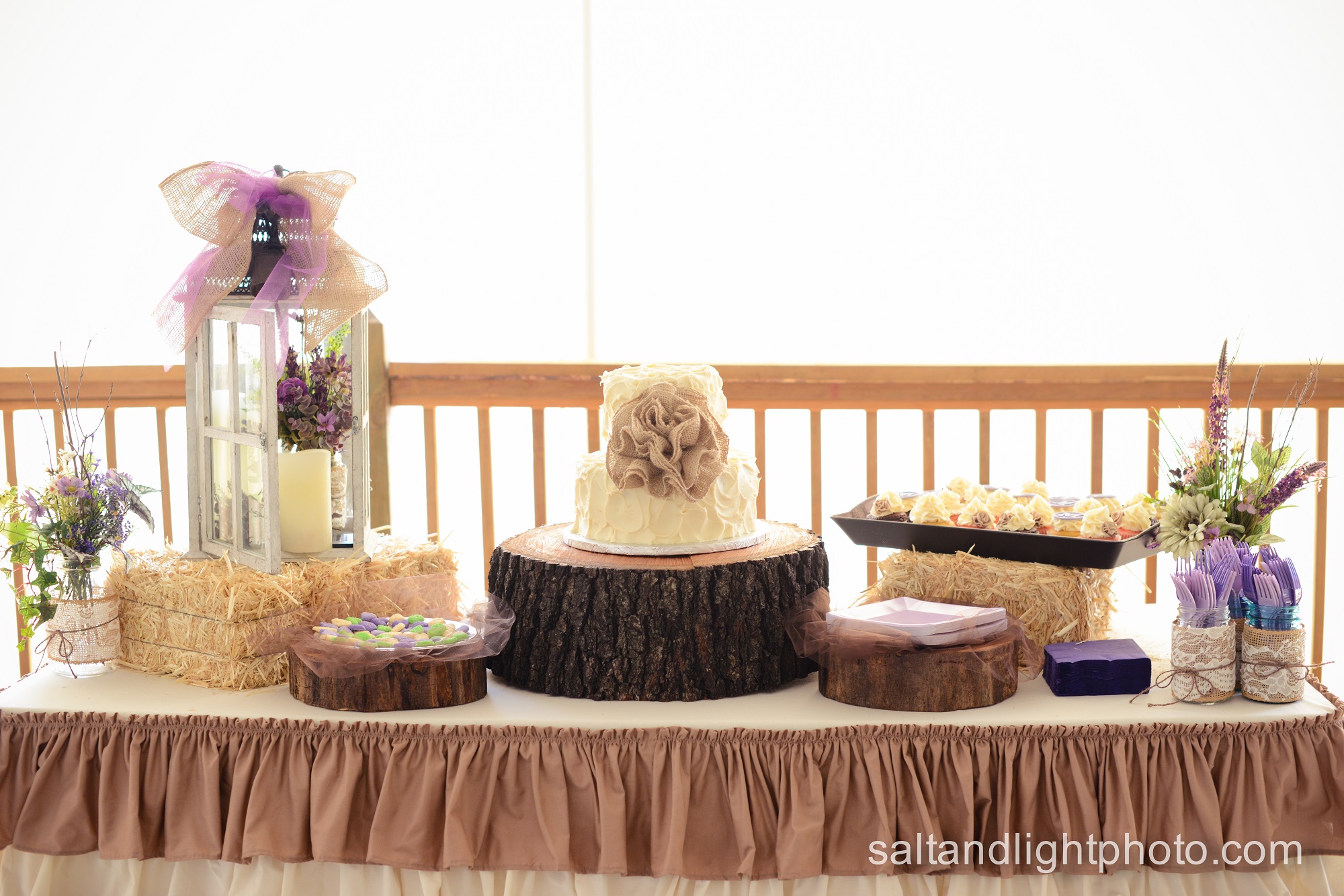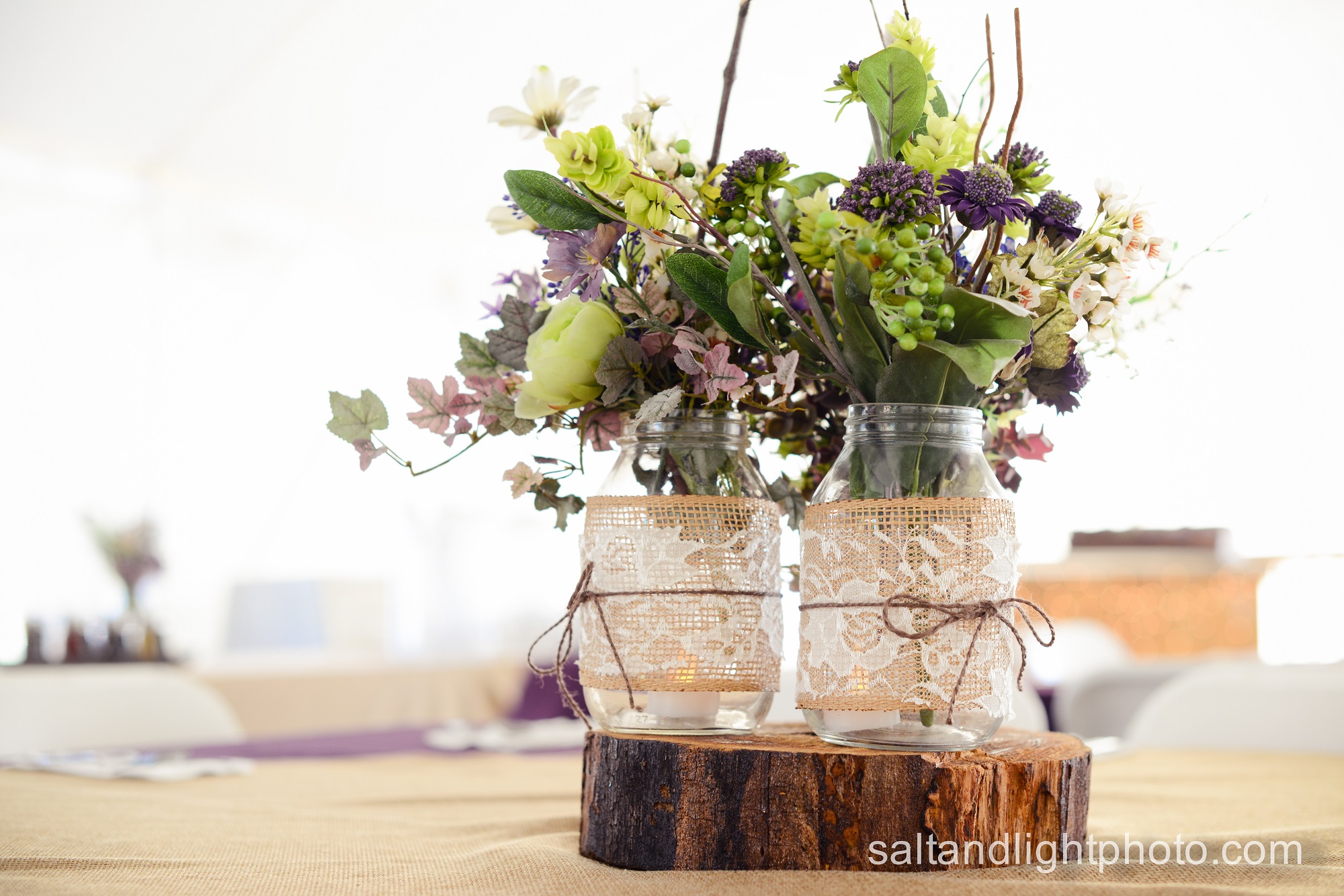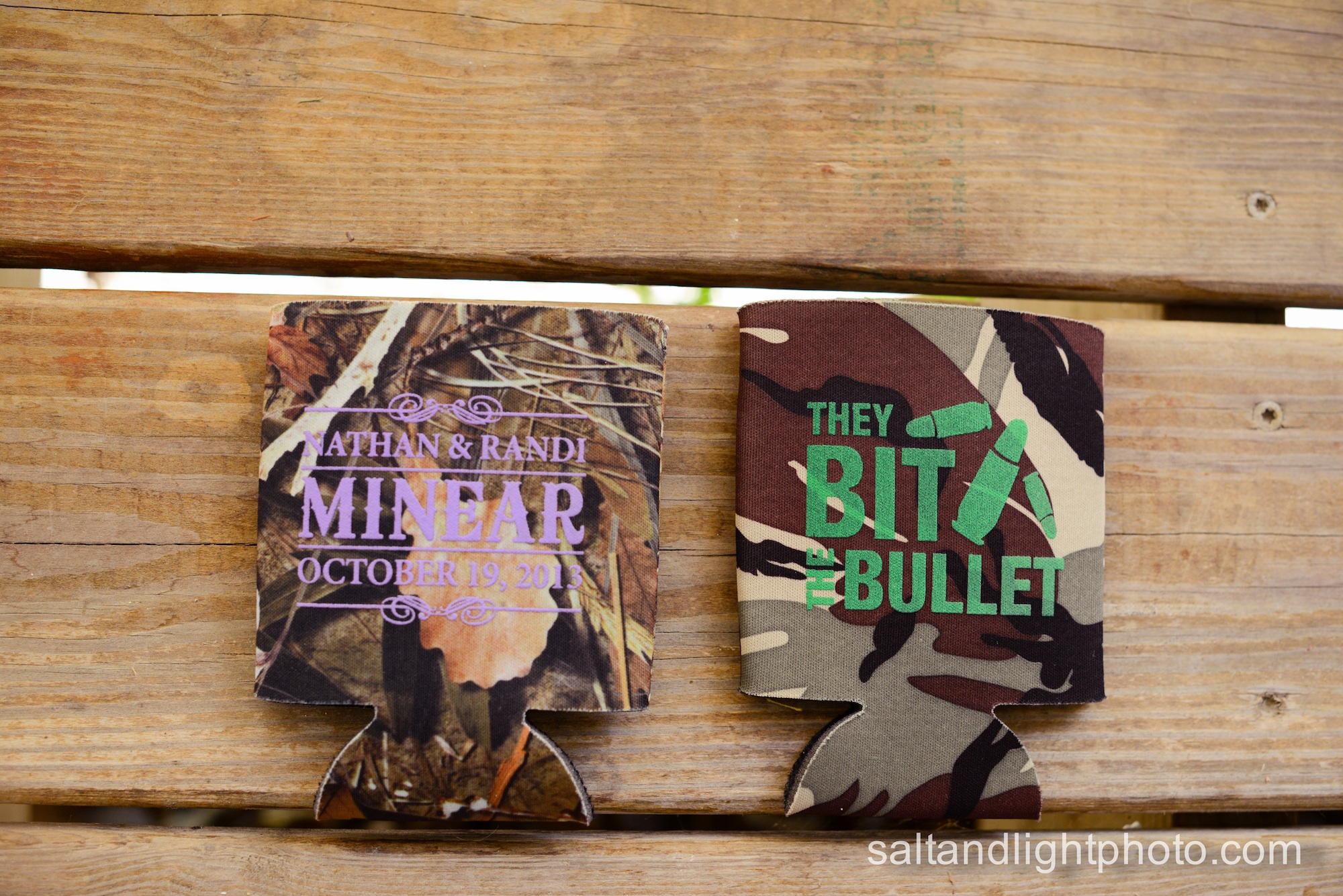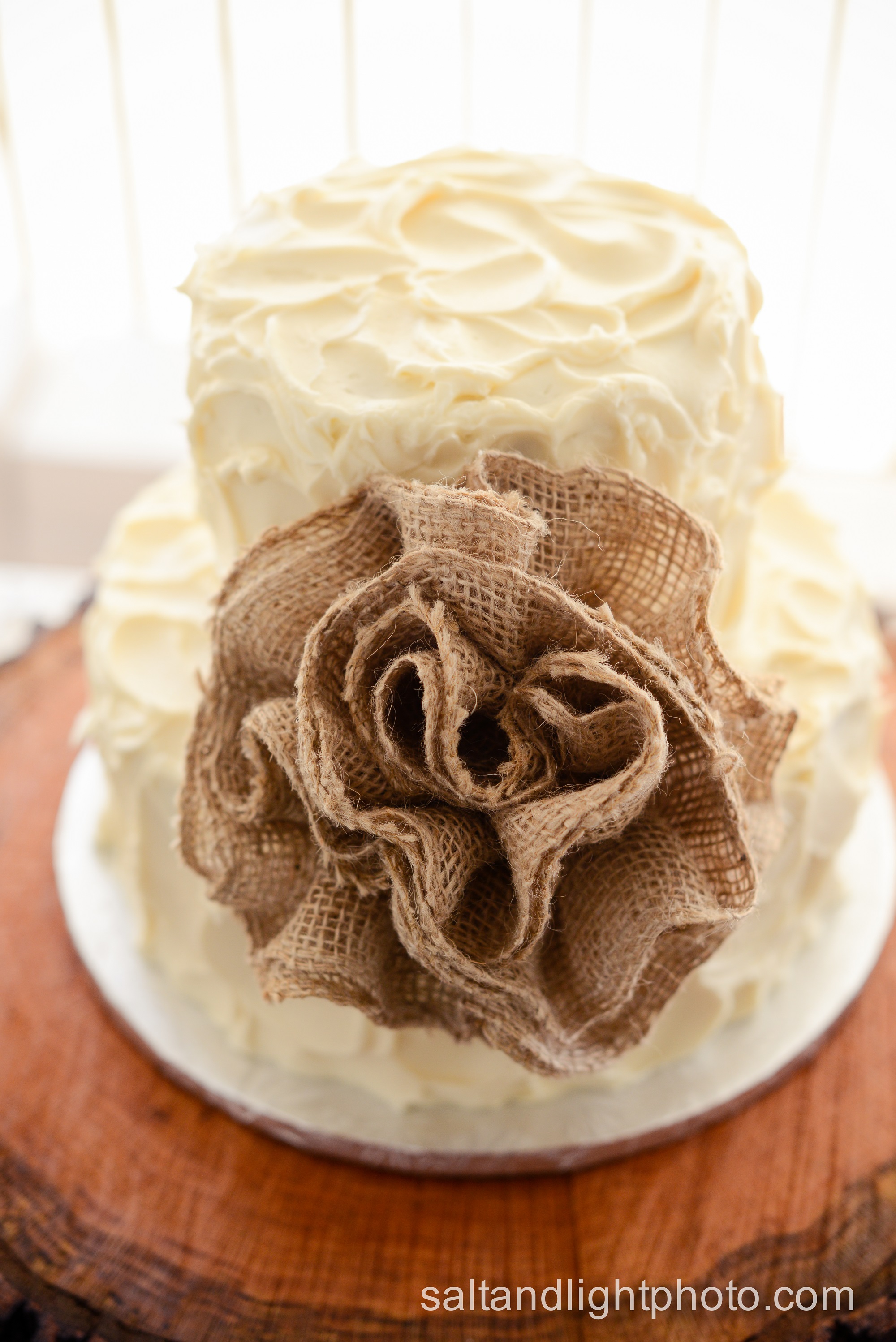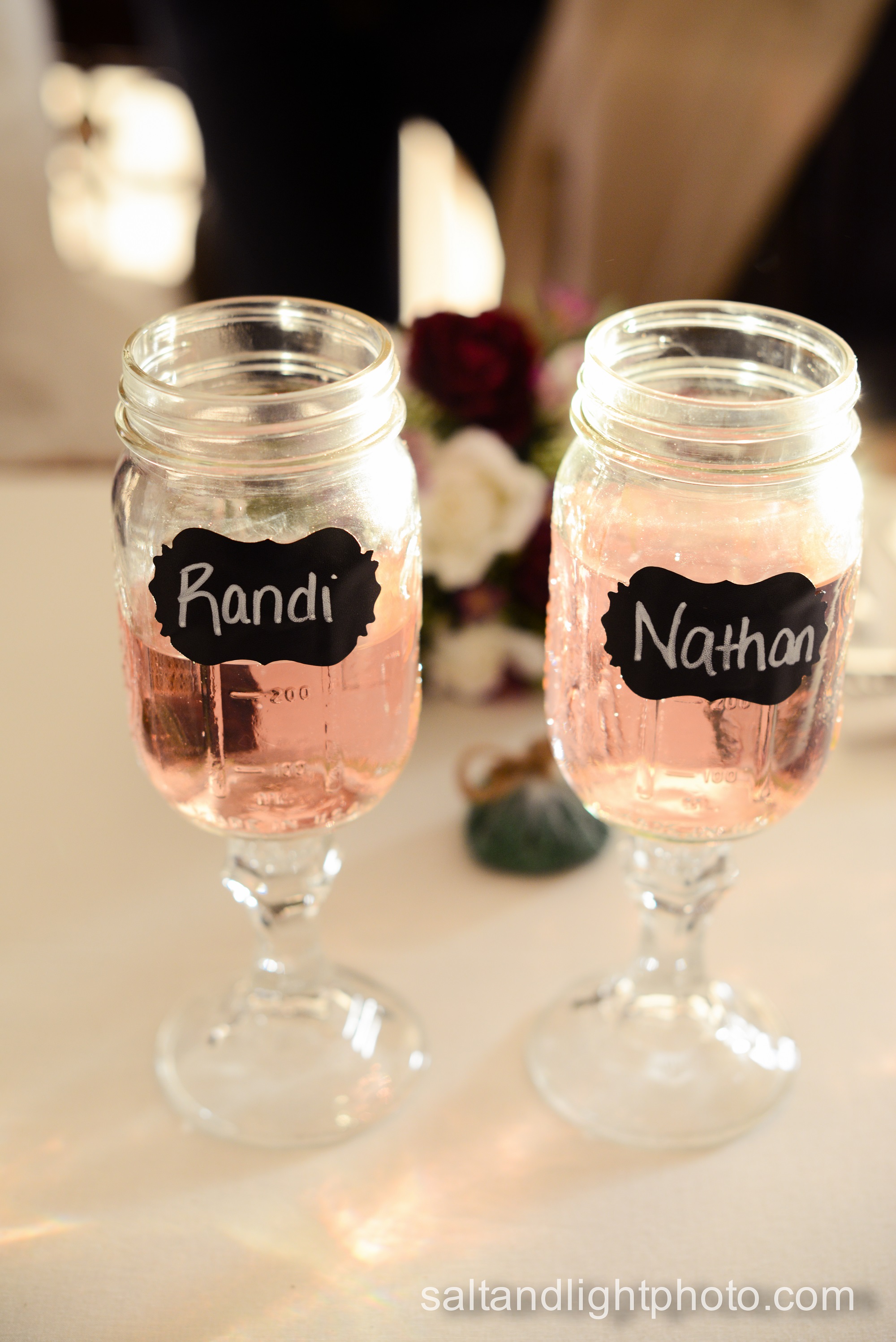 Our wedding theme was rustic with a lot of burlap, lace and mason jars. The colors were different shades or purples, greens and tans. -- Randi

She added a very special trinket and laced it into her bouquet.. It was the photos of her two grandfathers!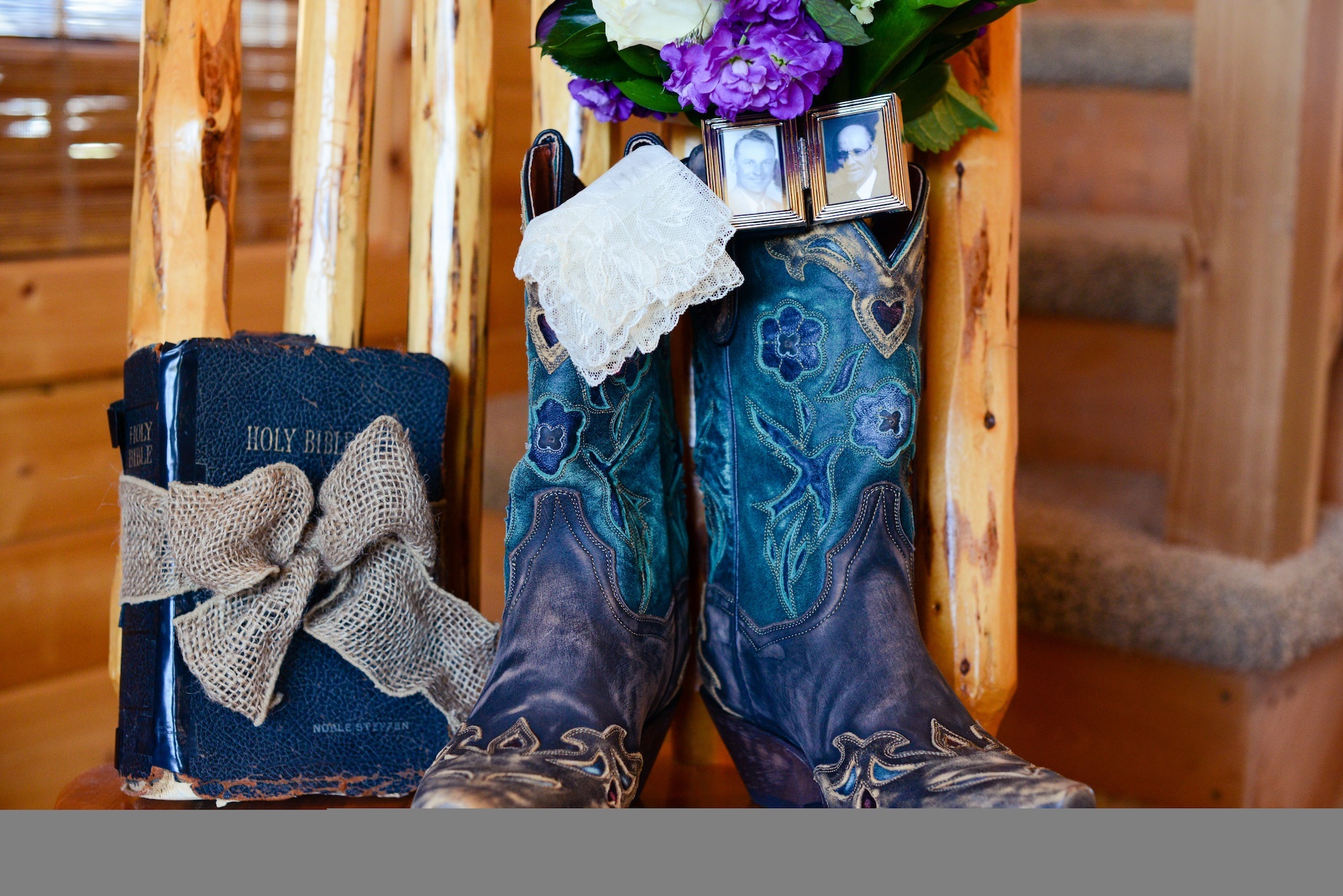 We asked Randi what she thought was the biggest challenge was in preparing for their wedding. She mentioned two things:
Keeping everything matching the theme without going overboard with it.
Trying to keep everything rustic and true to ourselves without being tacky and unorganized.
This is Randi's advice for those who are thinking of having a themed wedding...
Do not overthink everything. You can stress yourself out over every single detail and let it ruin the planning process. In the end, everything will work out exactly the way it was meant to and you're still married to your best friend.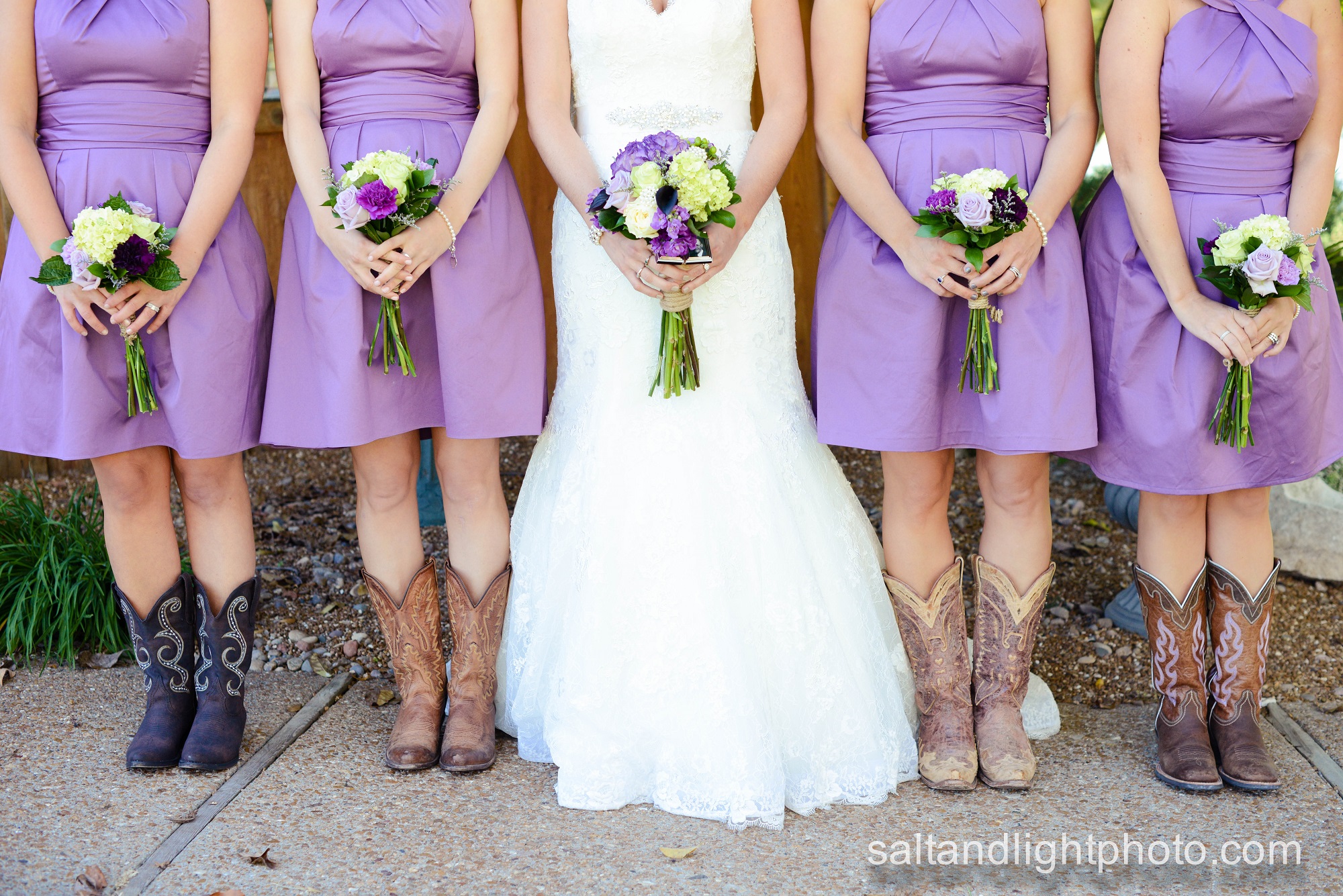 We hope Randi and Nathan's chic country wedding has inspired you to have a wedding that represents who you are and what you're made of! Camokix would like to specially thank the bride, Randi for sharing the details of their beautiful engagement and wedding and also to their excellent photographers, Rachel and Austin Holt, for submitting these very beautiful photos to us.
Some vendors and services the couple used:
* Dress: Carolina -- www.maggiesottero.com
* Venue: Cedar Creek Resort -- www.cedarcreekresort.org
*Photography/Videography: Salt and Light Photography -- www.saltandlightphoto.com