Posted by Camokix on Oct 15th 2013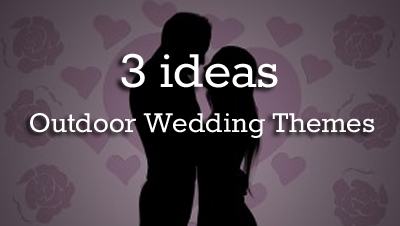 Perfect for Outdoorsy Couples
Pulling off a successful wedding ceremony and wedding reception are crucial to ensure the beginning of a long, happy life together, not to mention ensuring that the couple's family and friends have a good time. This is one reason that outdoor weddings and wedding receptions are gaining in popularity.
Personalizing the Ceremony & Reception
Planning outdoor ceremonies and receptions should consider and reflect the couple's personality when together. Outdoor weddings and wedding receptions offer the loving couple and wedding guests a variety of interesting activity and catering options, plus a chance for everyone to let loose in a way that might not be possible when holding the ceremony and reception indoors. With that in mind, we've put together a few interesting ideas for outdoor wedding ceremonies and receptions, all of which are made for a couple that loves the outdoors.
Golfers' Wedding
A couple that likes to play gold may want to consider Having their wedding ceremony on the green, and then have the wedding party break into teams to play their way to the reception, which would be set up at the 18th hole. Guests could keep the iron and the golf balls as wedding favors. The wedding cake would be golf themed, of course, with green butter cream, golf ball cut outs, and golf tees as stands on which to place the bride and groom.
Wine Lovers' Wedding
Couples who love to collect great wines would love having a winery wedding just as much. Holding the wedding ceremony on their favorite domestic vineyard would add not just a modern flair, but also a touch of romantic elegance that other venues can't match. Of course wine would be served at the reception, at which a wine tasting game could ensue. Blindfold the participants, have them sip different wines, and then guess which type of wine they are tasting. Winners get to keep a bottle of those wines they get right, and as a wedding favor, guests could keep the wine glasses.
Baseball or Softball Lovers' Wedding
If the couple is athletic and loves watching, playing and going to ball games, then having a casual wedding and game of softball at your local park could be the way to go. If the local park has an actual baseball diamond, then the couple could hold the wedding ceremony over home plate. Make home plate more romantic by bringing an arch covered in baseball gloves, roses and vines. Set up the reception at the bleacher area.
When it's time for the softball game, guests can change into clothing that is more casual that they've brought with them, and they can use the baseball gloves from the ceremony arch. Make sure the wedding favors are baseball or softball related; maybe give out baseballs to all who attended, played and cheered the happy couple on, or hold a pool over who will win the game, and the winner can take home a pair of tickets to the next game in their hometown.
Keep in mind that both the weather and nature can sometimes get in the way of the most perfectly planned outdoor activities. To ensure the day goes as smoothly as possible, make sure to inform your guests of your wedding and reception plans, so that they can be prepared ahead of time for anything that could go wrong at the last minute. Just don't allow these potentially bad elements get in the way of letting creativity plan a personalized wedding and reception that fits you and your spouse-to-be perfectly.
What is your idea of a perfect outdoor style wedding and reception? Let us know in the comments!