Posted by Camokix on Nov 5th 2015
Getting hitched anytime soon? If you want something that makes you stand out from the rest, go for a camo-themed wedding! At Camokix, we believe in wearing what you love, even on your wedding day! This is why we love Lady Camo Bridal! Like us, they cater to brides who want to rock camo and show off their unique country style and genuine love for the outdoors.
What is your ideal wedding dress? Imagine wearing a beautiful camo gown customized and accented with pink, hunter's orange (or any of the other many colors) as you walk down the aisle, does that sound like you? If your answer is yes, then Lady Camo Bridal can definitely help you out.
Brief Description
Lady Camo Bridal specializes in camo bridal dresses, camo bridesmaid dresses and men's attire featuring a wide selection of camouflage patterns on satin. Two of their most popular patterns include Mossy Oak New Break Up™ and True Timber Snowfall™. The men can be outfitted in the Men's Camouflage Tuxedo vests and ties. They also customize camo dresses for your flower girls and cute little camo vests for the bearers too.
Aside from weddings, they can also make formalwear for other occasions like prom and other formal events. Many options are available on each formal, including the option to completely design your own wedding, bridal or prom dress.
And they don't stop there! They will have most of your wedding essentials covered since they offer many wedding and reception items such as garters, pillows and jewelry. And for your wedding flowers, they have mastered making customized silk flowers that are just gorgeous. With Lady Camo Bridal, planning for a camo themed wedding is going to be a breeze! What's more, they keep you updated on your orders and send pictures via email as they progress.
All orders can be shipped all over the United States and Canada. If you're short on time, you can opt to have it rushed to your doorstep via rush delivery service.
Camo Wedding Dresses
Let's take a look at some of Lady Camo Bridal's best and most popular styles. We picked out a number of dresses from their website and these are among our favorites!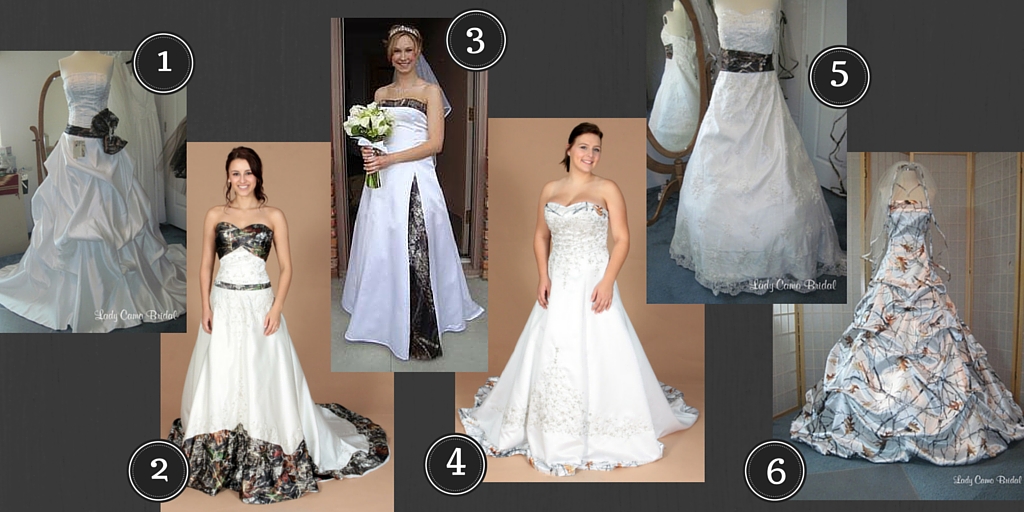 In the first picture, you'll see white wedding dresses with just a hint of camo - either the sash, the trimmings, the ribbons, the train, or in other parts of the dress. These styles are very popular since a lot of women still want that white dress, but also want to incorporate a bit of camo in it.
1. Angela - This gown can be white or ivory, has subtle pick ups and a cathedral train. Bodice also has subtle beadwork. The sash is camo and can be any pattern you want.
2. Anita - This gown can be white or ivory, has beautiful embroidery and beadwork on the front of the gown. The gown has camo on the bodice, and train along with a belt in the middle, train is chapel length. Camo can be any pattern.
3. Heather - This gown can be white or ivory, has a camo insert along with trim on the bodice. No beadwork on this gown, train is chapel length. You can choose any camo pattern.
4. Elizabeth - This gown can be white or ivory, the trim on the bodice and on the bottom of the gown is camo, the back of the train has full camo and buttons adorned along the train in camo. It can be any pattern you want. Train is chapel length.
5. Ashley - This beautiful lace gown can be white or ivory. The sash is in camo and can be any pattern. Train is chapel length.
6. Stefani - Full camo in any pattern of your choice, has subtle pick ups with a chapel train.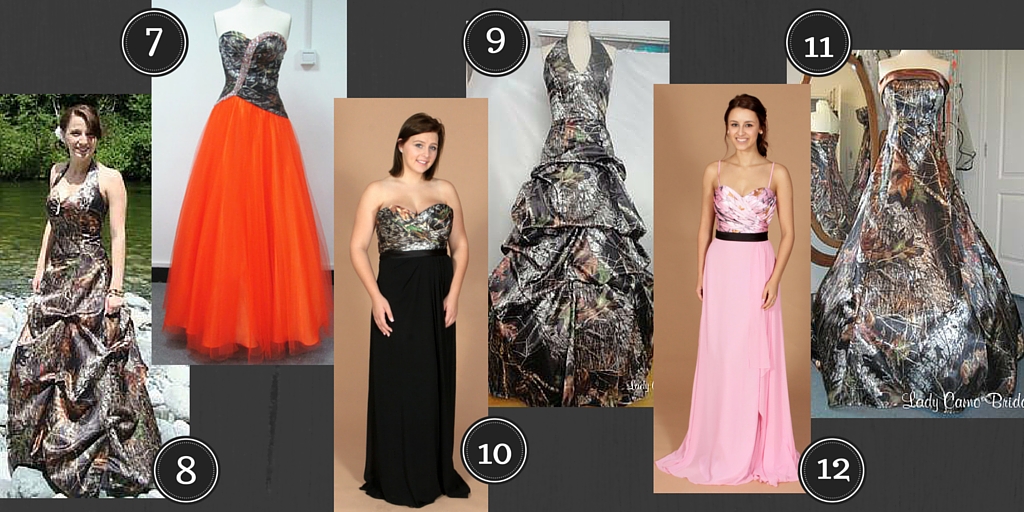 In the second picture, the camo dresses are more unique, colorful and unconventional! They are actually meant to be bridesmaid and/or prom dresses but we think they can be great wedding dresses, that is, if you truly love camo and want to rock it! There are styles in full camo and the other styles have camo on top and are paired with a pink, orange or black fabric to complement the camo pattern.
(insert 2nd image here)
7. LGB006 - Prom gown or bridesmaid gown, bodice is camo of your choice, adorned with rhinestones along top, with blaze orange tulle...tulle can be a different color.
8. Mandy - Halter style full camo of your choice with subtle picks ups, train is chapel length.
9. Holly - Halter style full camo in your choice, with subtle pick ups, train is chapel length.
10. LGB002 - Bodice is camo of your choice, black chiffon skirt. Chiffon comes in different colors.
11. Terri - Strapless, full camo gown in any pattern you choose. The band across the top can be a different color. Chapel length train.
12. LGB007 - Bodice is camo of your choice, belt in black, with pink chiffon skirt. Belt and skirt can be different color.
All gowns can be customized by the bride, if it's a halter, it can be strapless and vice versa, with train or no train. They can do ANY camo pattern they want… as long as it comes in Satin. They can also make hunting themed options that aren't specifically camo like animal prints. (e.g. they've done a wedding gown in Zebra print). According to Leisha, the sky's the limit!
You can find more dresses on www.ladycamobridal.net or their Facebook page.
What sets Lady Camo Bridal apart from the competition?
"My customer service is top notch. I connect very well with people. Our dresses are TOP quality!" -- Leisha Gust, owner and designer
Lady Camo Bridal goes far and beyond your typical dress shop. Leisha, the owner and designer, has been in the business for 15 years now and she never fails to talk to her customers either on the phone or personally. She makes sure all the specifications and all the customer's requests are met with utmost satisfaction. She also makes sure to answer all their questions. Lady Camo Bridal can pretty much "customize" anything the customers want. You can ask all their previous customers and they're sure to give positive feedback!
Below are a few customer testimonials for Lady Camo Bridal. You can find more testimonials on their website or their Facebook page too.
"We got the gown this morning and "WOW" and "PLEASED" and "WOW" again does not even begin to express our absolute amazement at how beautiful it is! WE LOVE IT!

We are extremely impressed with the beauty of the gown and the time and attention that was taken in making it. Please share with the people who helped with this gown that they are all special and appreciated! And Leisha, THANK YOU!!!!" -- Regina (bride)
"Leisha - (The best bridal shop owner there is!)

I just wanted to drop you a quick note to thank you for all your help this past weekend. We had a lot of fun at your shop and everyone agrees that there is no one other than you and your shop that we would like to do business with!

Thanks and again you have made this process stressless! I am so excited and am very grateful for all that you are doing for me and my wedding party! Many thanks! You're an angel!" -- Jennifer Motoyoshi (bride)
"Leisha, I have been wanting to thank you for a long time. Our wedding was beautiful. I loved my dress -- it's perfect. The bridesmaids and flower girl looked gorgeous in their dresses, and the flowers were amazing. You did a wonderful job on the bouquets. Thank you for all your help and encouragement during the planning of my wedding. You were an absolute joy to work with. I wish you all the best and will always recommend you to anyone I know getting married. Thanks so much." -- Angie (bride)
"Leisha - I mean what I say in this testimonial. You were my one non-stresser!!! The flowers were just as I had pictured them and of course, the bridesmaid dresses and my shoes were perfect. If you ever need a business reference for another bride, pass on my info!

I worked with Leisha through both her flower and bridal shops for my wedding. She went above and beyond to make sure that my wedding flowers and dresses were perfect. The personal attention was a nice surprise as I have never received the same service with any other business. I highly recommend using her for your wedding services!!!" -- Trisha Hudson (bride)
"Leisha, I wanted to thank you for being so great and so helpful throughout the whole wedding dress process. You made the whole experience so fun and easy. I will make sure I recommend you to all my friends. Our day was wonderful and my dress fit perfectly." -- Mary Romeno (bride)
If you are interested in quality camo dresses with exemplary customer service, you can personally call Leisha at 952-641-6467 or email her at leisha@pearlsandlace.net.
Their physical shop is located in the Twin Cities' (Minneapolis & St. Paul) South metro area in Burnsville, Minnesota. They are available by appointment only, so be sure to set an appointment earlier on.