Posted by Camokix on Nov 16th 2013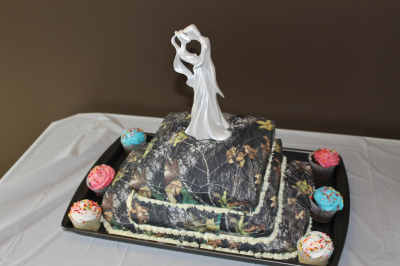 We've talked a lot about camo fashion clothing trends, camo weddings, and celebrities caught wearing camo fashion, so we thought it was only fitting to talk to you today about a different type of camo fashion trend – the camo wedding cake.
While many people will see a camo cake and think it's for a hunter's birthday, camo wedding cakes have become more popular than ever, and some have even been featured in some highly prominent food magazines.
A Camo Wedding Cake in the Making
There are so many ways to make a camo wedding cake elegant and sophisticated. Take the example below. This camo cake is white, pink and red, and uses a simple technique while icing to get the design just right. This is the beginning of a camo cake, so granted it doesn't exactly look sophisticated and elegant, but we promise the next one is.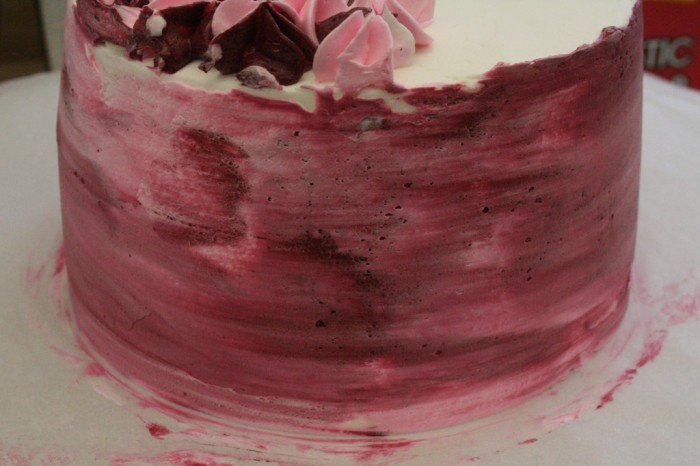 Creating Camo Icing by FoodChronicles (CC 2.0)
Elegant and Subdued Camo Wedding Cake
Camo Wedding Cake by Steelers Fan 4
A camouflage wedding cake is all about showing your true colors while tying the knot, right? Well, this camo cake on the right does just that, and more. This three tiered camouflage wedding cake tower features white and yellow flowers and lace for decoration in between the layers.
The cake itself features a rather well done blend of greens and browns that is accented by forest green piping and a natural white floral and nature arrangement as a wedding topper. This is truly beautiful example of what a camo cake can be, and not what some people think it would be.
The Hunting Couple's Camouflage Wedding Cake
The camo cakes you see featured in the photo below are two separate but equally well-done examples of what camouflage wedding cakes can look like when created by a professional, or at least by someone who knows cake decorating.
The cake tower on the left is four layers, and the epitome of a smartly done brown, green and grey camouflage icing decoration. The decorator even added texture to the brown icing so that it would appear to look like wood. A heluva good job, we'd say. To top this cake off, it is decorated with natural leaves and other bits of nature, and features a doe and a buck cake topper. The hunting couple's dream cake for sure! Read about the cake on the right of the photo below.
Camo Cake by SheldontheWonder
The Camo Wedding Cake for Nature Lovers
The camouflage cake on the above right is another camouflage featuring greens and browns. It's a three layer tower cake with chocolate ganache draped over each layer instead of piped icing. Decorated around the sides with little bits of nature, the topper is made from chocolate curls made to look like twigs and other bits. While this one is not nearly as intricate as the cake above, it certainly looks good enough to eat.
Do you have a favorite wedding cake of the three depicted here, or do you have another idea of what a great camo cake looks like? Let us know in the comments!