Posted by Camokix on Aug 20th 2013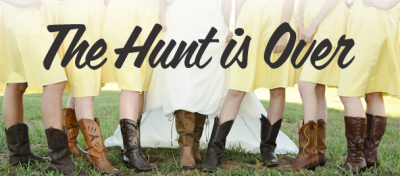 Country weddings with a splash of camo accent decorations, camo cakes and favors are all the rage. And flaunting camouflage on your wedding ring is a hugely rising trend that everyone is talking about. You either love it or you hate it and we only cater to those of you who love it! Camo wedding rings are HUGE, beautiful, carry deep meaning for you and your loved ones and are a really cool, unique style.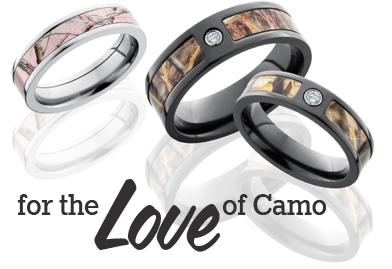 The modern patterns of U.S. military Desert camo and the Woodland pattern most commonly serve as inspiration for camo wedding rings. The Desert pattern features a tan base with larger shapes and smaller cluste
rs of various colors. The Woodland pattern consists of organic shapes in four primary colors (usually brown, khaki, green and black) and the of course, brand name hunting patterns like Mossy Oak and Realtree
This wedding ring trend is piggy backing off the widely popular camo wedding trend. Like the traditional white wedding dress and platinum or gold rings being passed over for something more unique, you can decide between a camouflage pattern that takes up the entire band or serves as a tiny decorative accent.igns for camo wedding rings. camouflage patterns inspire des
While camo wedding rings can be loaded with symbolic meaning, some peo
ple choose them simply because they like their rugged style and bold look. Others wear camo wedding rings because they love the outdoors or hunting. Due to high demand for these camo wedding sets from military and outdoor enthusiasts, there are many colors and designs to choose from.
---
Here are some more details about camo wedding rings, as well as alternative designs that can also offer a camo inspired style.
With or without diamonds, camo rings are growing in popularity because of many reasons.
For the love of camo!
It's a style that just delights you, because of your hobbies or the designs
The outdoor lover, whether you're a bird-watcher, camping enthusiast or enjoy recreational hunting or outdoor sports, these wedding sets will have double meaning.
About Camo Wedding Rings
Available in many colors and camouflage designs, from military digital camo to woodland camo to pink camo!
For all seasons and terrain, camouflage designs come in all colors depending on the need; so you'll see the same styles in wedding rings too -- blue, green, pink and basic black, brown and white
All types of metals, but most popular are the modern alternative metals. The most popular are titanium, cobolt, and black ceramic zirconium.
The camouflage colors are inlaid and covered with layers of clear finish to protect their beauty.
Additionally, camo wedding rings may be set with one or more diamonds or Cubic Zirconia
Pricing for camouflage wedding rings runs anywhere from $99 up to $500
One of the most prevalent styles of camo wedding rings is bands coated with a camo print. These rings have undergone a process called hydrographic painting, which is the same process used to coat many other items with a camouflage print, including hunting related items. A number of intricate patterns in a variety of different colors are available. These rings are dipped and coated by hand, giving each one a unique look.
Camo inset or inlay rings feature a camouflage pattern, generally inside titanium or stainless steel as a base band material. These alternative metal metals are durable, hypoallergenic and affordable.
Many people choose these rings because they, their spouse or a family member is in the military and they want to have a close and constant reminder of the strength of their commitment to both their partner and their country. These rings are particularly significant when a military spouse is deployed soon after the wedding.