Posted by Camokix on Dec 8th 2013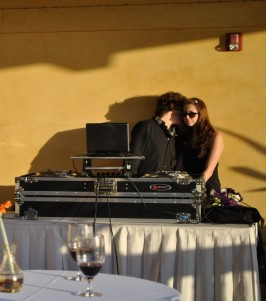 If you are planning a wedding, you need to ensure that you have only the best of everything, and that includes the caterer, florist, photographer, DJ, and other services just to name a few. We have talked about all of the above previously except for one – deciding whether to use a DJ or live music, and how to choose a DJ if that is the road you decide to take.

A wedding DJ must be able to adapt to the wedding theme and music you request. This means preparing ahead of time for your wedding. To ensure that the DJ can do this, you will want to hire him or her at least a few months in advance.
Choosing Wedding Music
One thing many couples do not realize until it is too late is that planning the type of music you want to play on your big day is just as important as choosing the DJ you want to play the music – and not just for the first dance, either.
All DJs keep up to date with the latest music and styles, and they have the latest and best equipment. Unless of course, the wedding DJ you've chosen specializes in only one or two specific themes, then that DJ would be better prepared for that theme, but might have difficulty providing music services for any other wedding.
Dancing via D Clow - Maryland
No matter what the theme is, a DJ who is experienced with providing wedding music should have no problem providing the music you want, no matter your theme of choice.
Get Advice from the Professional
If you're not sure what type of music you want, then a good DJ will often be able to make suggestions based on your theme. Every wedding DJ wants to make your wedding special, so take advantage of the expertise and tips he or she can offer about the type of music that you might want to hear during your reception, and you are guaranteed to have a great time.
Special Requests for Special Dances
While no DJ can accommodate all requests, make sure you understand what you are getting from your wedding DJ. Specialist wedding DJs offer various music themes, and often come prepared with many different types of music, even though you may have given instructions to bring or play only one type.
This is because wedding receptions often allow guests to request specific songs, or request karaoke style music at some point. The DJ should be prepared for each of the requests.
Because your wedding DJ should have planned for all contingencies – exhausted and drunk guests alike – you can rest assured that you and your guests would want to do nothing but share the good times and dance the night away.
 Don't forget to subscribe so you can receive more tips like this direct to you inbox!