Posted by Camokix on Jul 3rd 2018
Picture this: Everything around you is picturesque... with rustic and country-inspired decor that add to the southern charm of your big day. Your entourage is slowly walking down the aisle, one by one, and they're all wearing a bit of camo in their attire. Then, all eyes are on you as you begin to walk down the aisle wearing your stunningly gorgeous and one-of-a-kind camo wedding gown.
Does this sound like something you've been dreaming of for your big day? Well, we at Camokix know who can help make your dream a reality! We would like to recommend Affordable Elegance Bridal, one of the most amazing camo bridal shops that offer unique and custom-made camo wedding dresses and camo formal attires for the whole entourage!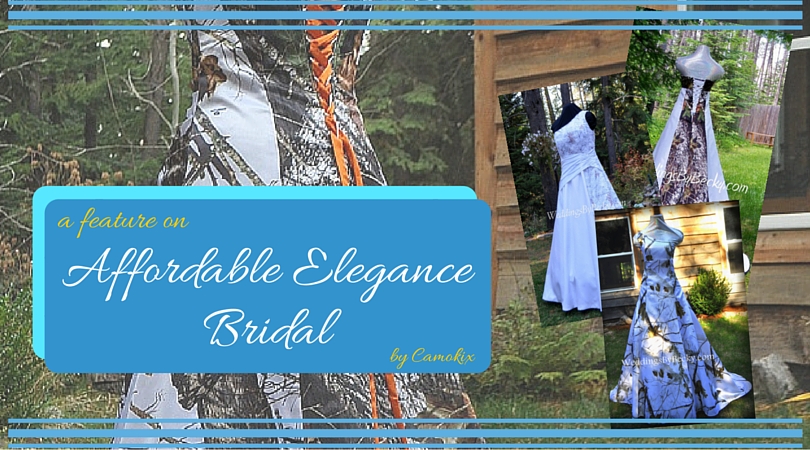 Company Background
Affordable Elegance Bridal has been in business since 1995. Through the years they have adapted to the trends and signs of the times. Becky Applegate, owner and dress designer of Affordable Elegance Bridal, has sewn for over 26 years and does all the alterations in her bridal shop.
"In 2009 we began making Camo Wedding gowns as the trend was just starting up and we had many brides asking about them. We started with a few styles to see how they would do and we were pleasantly surprised how many brides loved our product." - Becky
Camo Wedding Dresses and More!
Their dresses are completely customized to the exact specifications of the bride, thus making many of the dresses one-of-a-kind styles. Even flower girl and bridesmaid dresses are custom made and fit to the person wearing them and are coherently made to match the brides dress. Men's and boys vests are also custom fit to size and height. They can make the entire bridal party attire in camo and match all of the dresses' colors to the men's vests. The options are endless.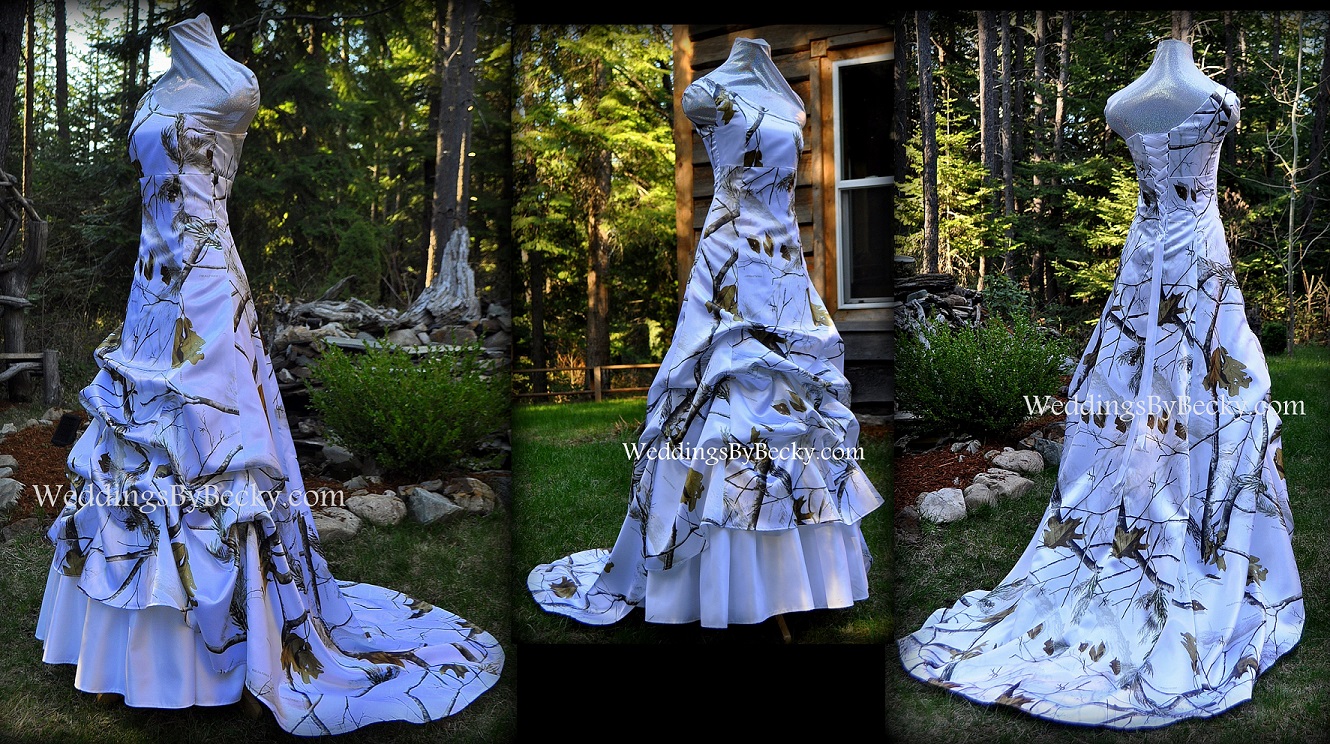 "We strive to give 'custom' style. We make every dress to the exact measurements of the person wearing the dress." - Becky
They can make any neckline like a halter style, one shoulder or strapless. They can also mix up their patterns by putting two or three different styles together. If you have a particular style in mind, all you have to do is tell them and they'll make it happen. If you're not quite sure which style you want or you don't know what looks best on you, they can also suggest a few options that are sure to flatter your kind of body type.
Becky says that the camo trend is moving towards adding lace to the dress, as well as a little 'bling' here and there. Ribbons and trimmings in orange (or any color you prefer) is also popular.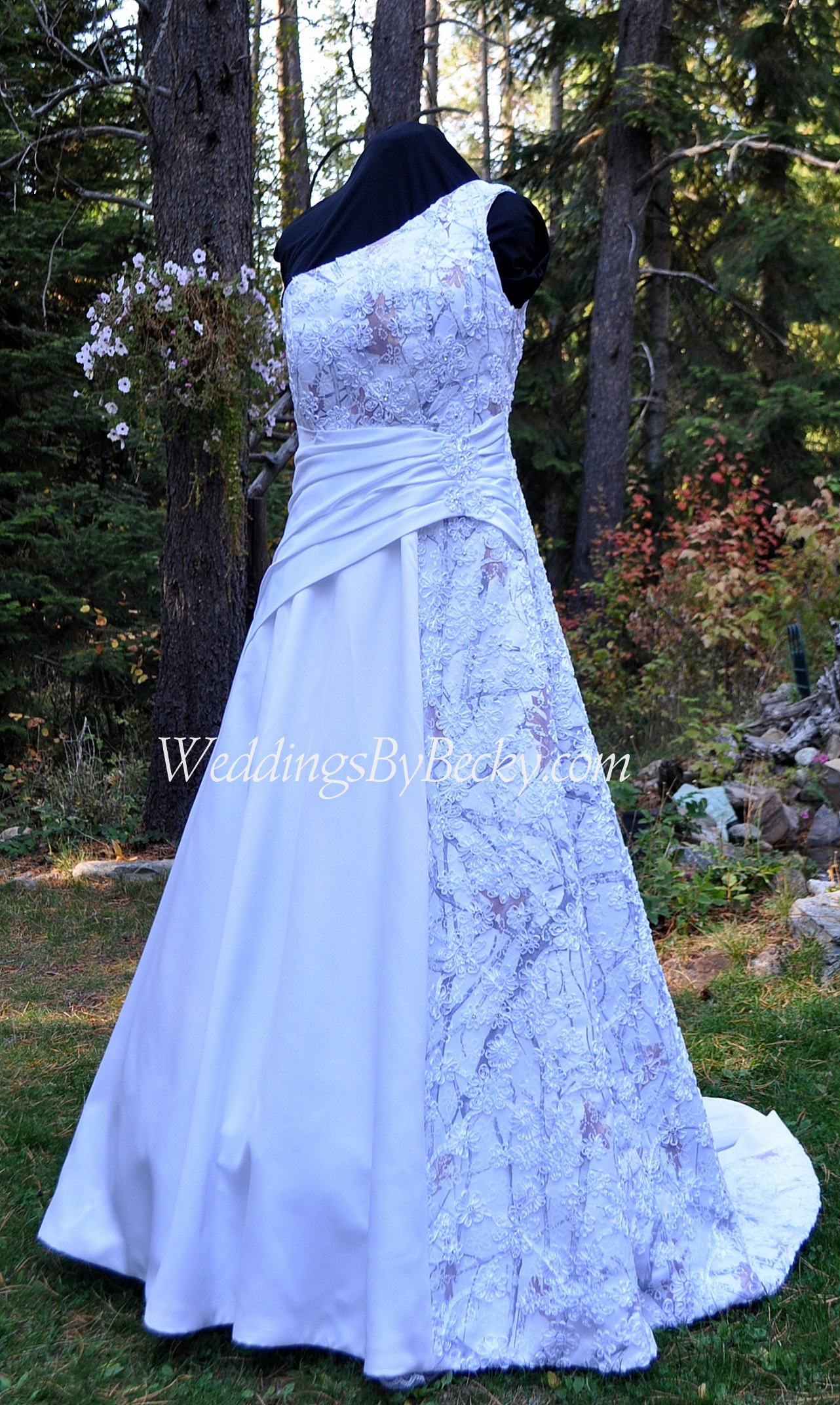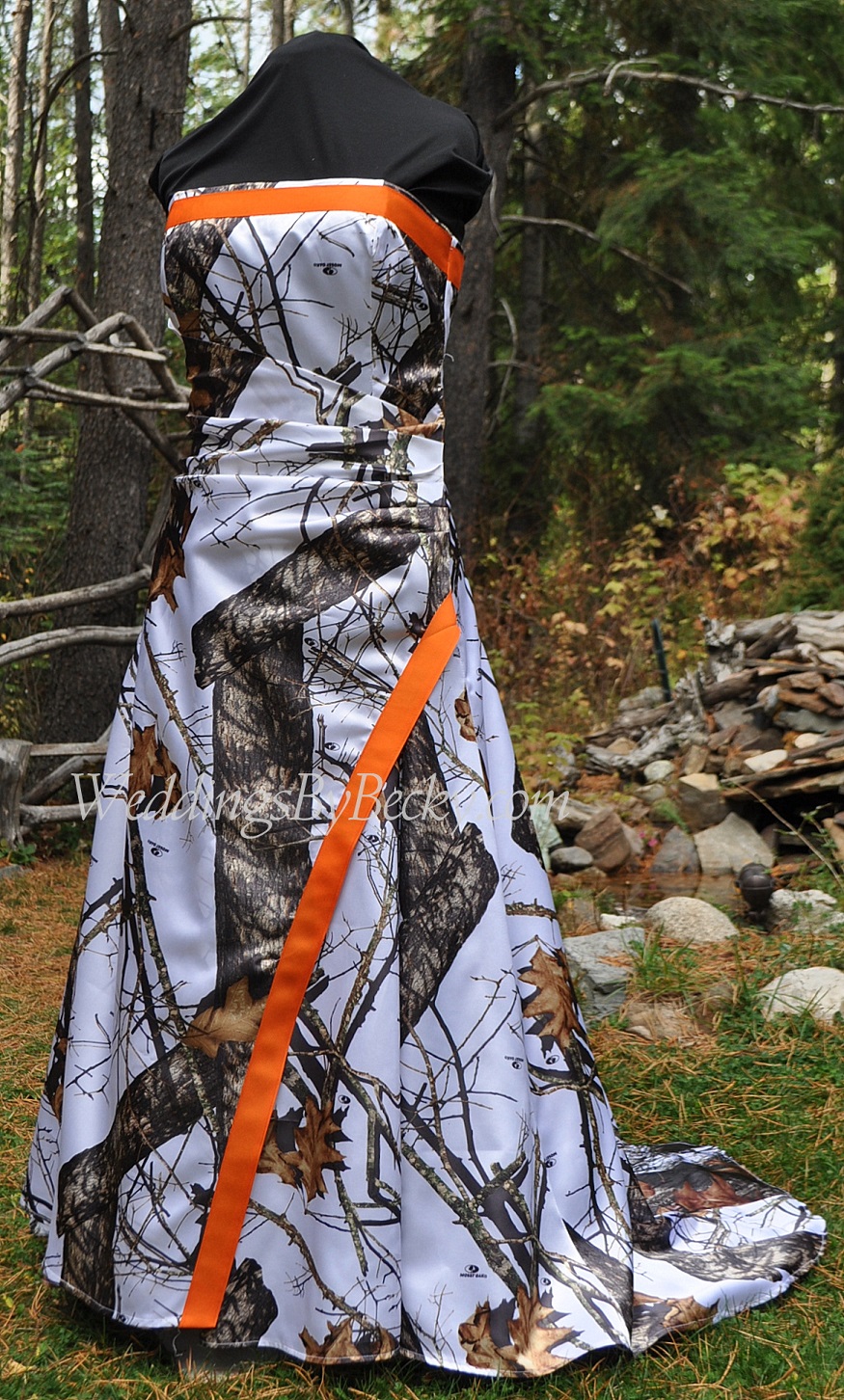 The most popular camo patterns they use to incorporate in the clothes are Mossy Oak Breakup, Mossy Oak Winter and Truetimber Snow.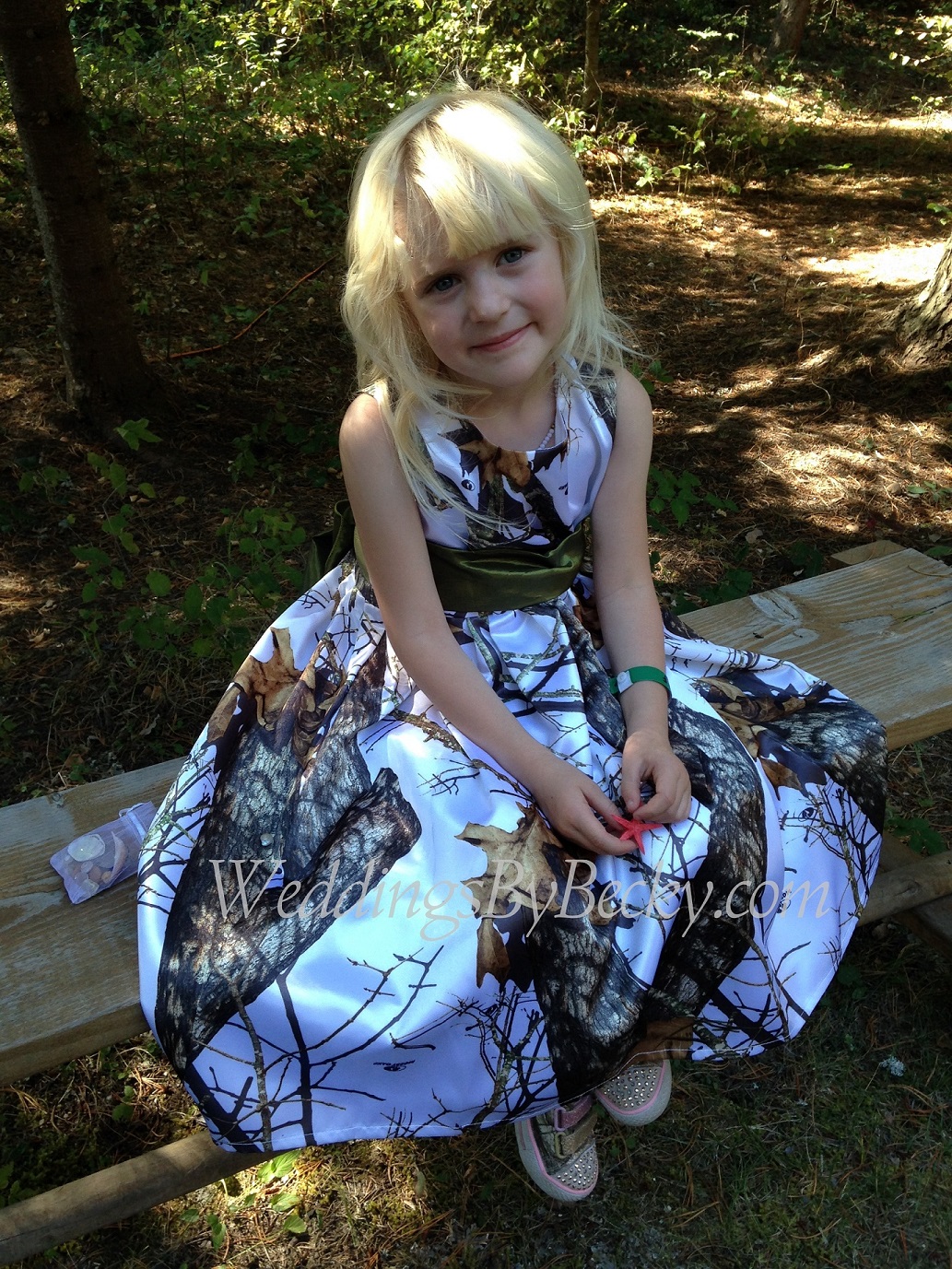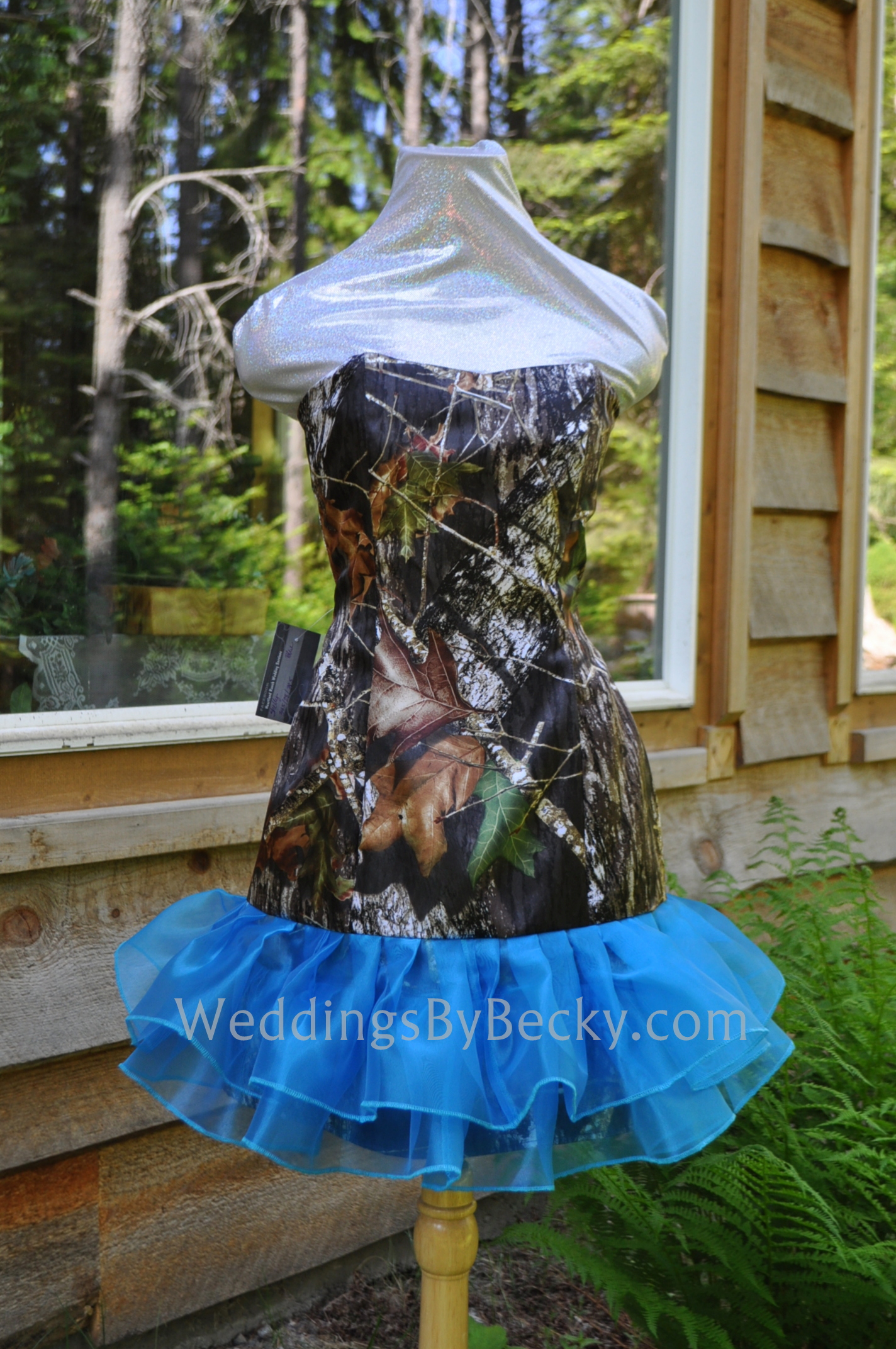 For the men's vests, they come in Mossy Oak Breakup or Truetimber Snow camo and are made with quality satin. They usually have a ribbon of camo on the back of the vest so that it can be worn without tux jackets. According to Becky, they use snaps on the front closure, which makes the vests rustic and stylish, and you won't have to worry of buttons falling off. The vests can be worn for any special occasion. They even make a great 'thank you' gift from the groom to their groomsmen too.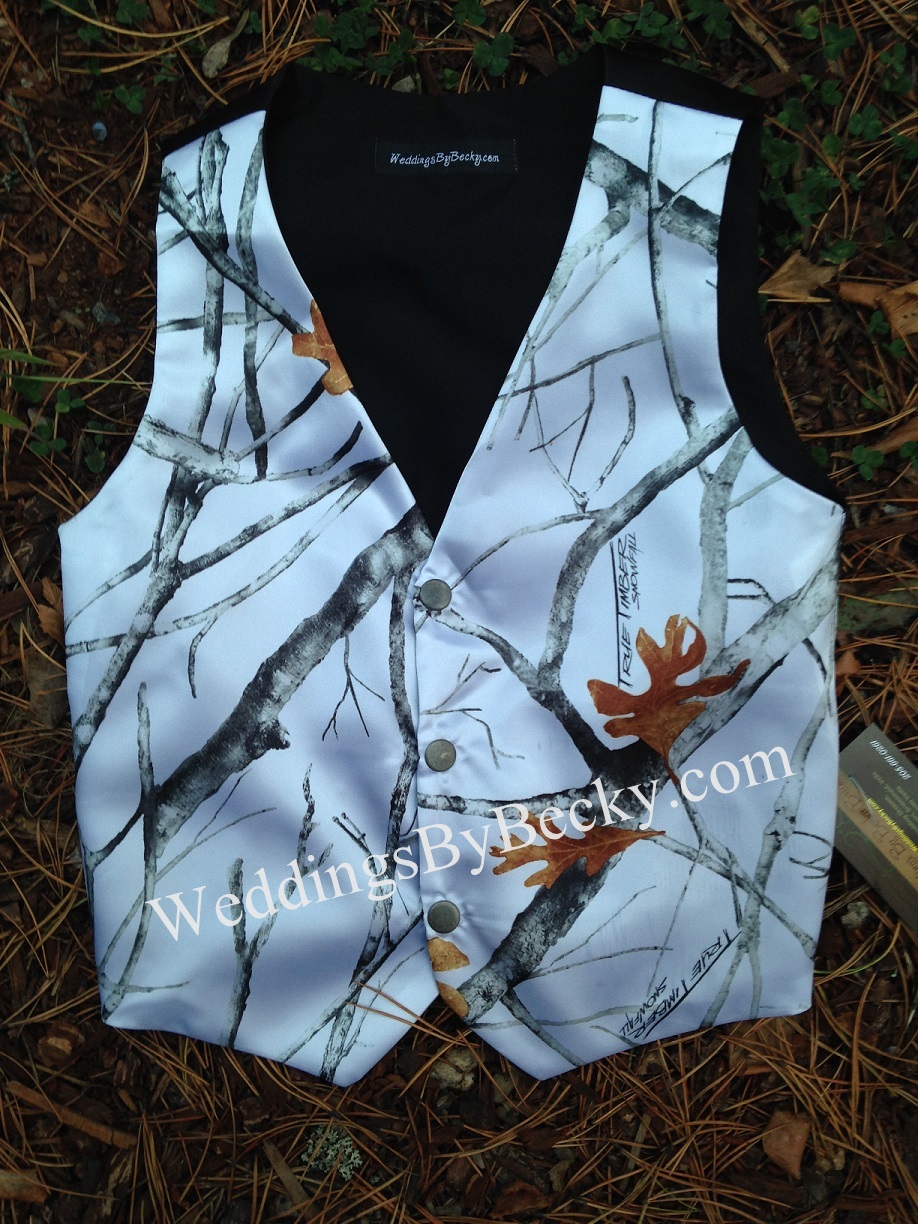 Affordable Elegance Bridal can also make custom wedding accessories like ring pillows, candle holders and lots more! These will be made to match the camo outfit of the entourage.
Customer Satisfaction
Customer service has always been their strong point throughout the years and they continue to strive to give their brides what they want. The best thing about Affordable Elegance Bridal is that they are totally open to comments and dialog from their customers for new styles and designs.
"We strive to answer all emails and inquires within a 24 hour period. The majority of times we answer within an hour. We feel keeping an open dialog with our brides is the best customer service option. We like helping with ideas to make the dress more custom to the customer's tastes, but the ultimate decision is our bride's." - Becky
If a bride requests a different kind of camo, they do their best to accommodate that request. They also add camo to wedding dresses that the bride either already owns or has purchased in their store. This is definitely a unique option that brides love, as no one else will have a dress quite like theirs.
What sets them apart from other bridal dress stores is that they make dresses or vests to the exact measurements of the person who's going to wear it. If the customers think their measurements may change before the big day, Affordable Elegance Bridal contacts that person prior to sewing up the side seams and sees to it that the dress will be made to the new measurements.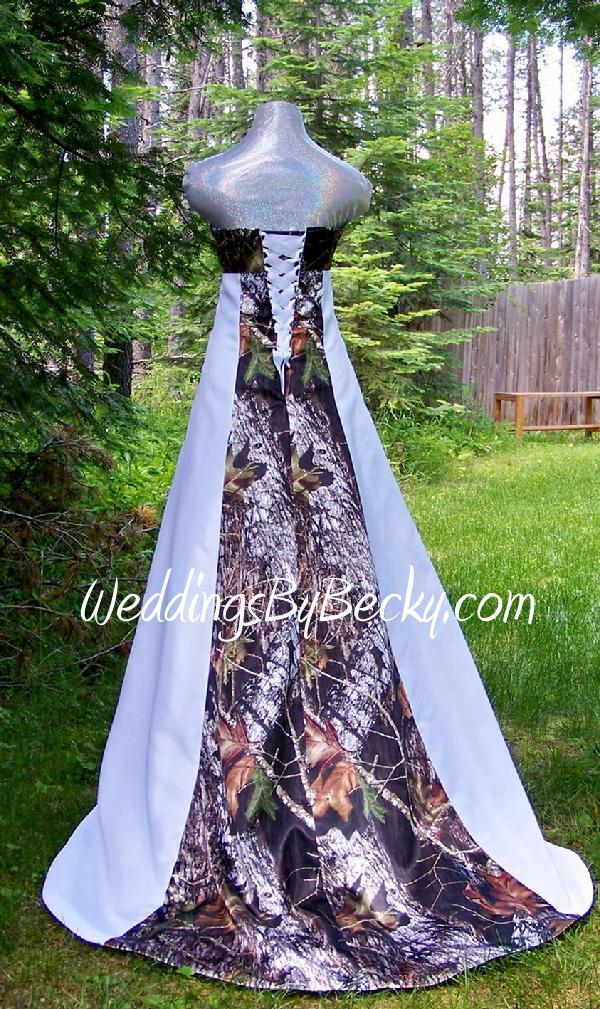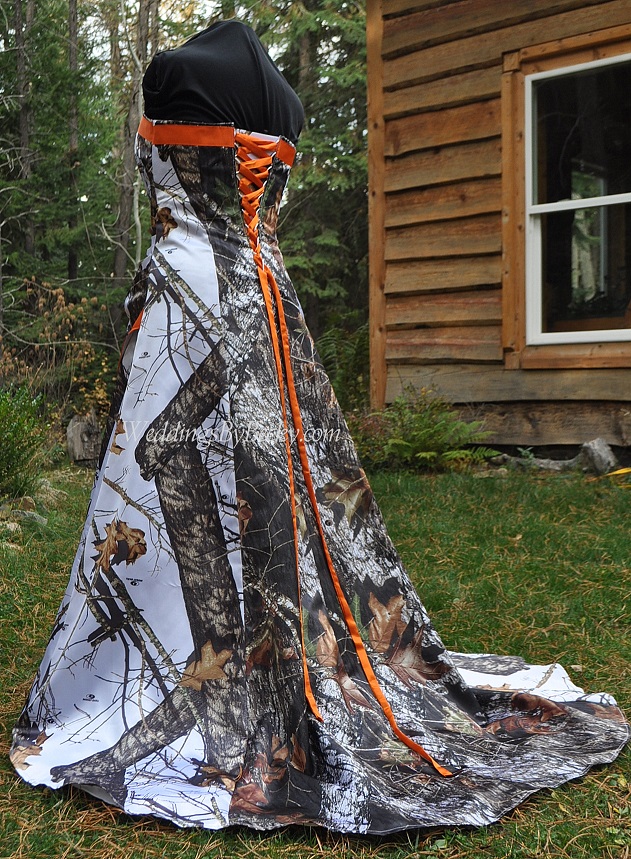 Every dress they make is also easy to alter, if needed. No other company offers this to their customers. Unlike other bridal stores, they do not have a factory and everything they make is made after it is ordered. This way, they don't produce overhead or hanging stocks which increases costs to customers.
Orders, Payment, and Shipping
Affordable Elegance Bridal also offers a payment option. Customers on a budget have the option of making interest-free payments and getting what they want. Their prices are very affordable, considering that their designs are custom to your liking. They don't charge extra to change up a style!
"We make this an easy process and are happy to help our brides put it all together, as it can be a bit overwhelming." - Becky
They ship all over the United States, Canada and Europe. Some brides even send the dresses they already have to their shop so they can alter it and add camo onto it. Their shop is located at 296 W Sunset Avenue Suite 10 ~ Coeur d Alene, Idaho.
You can place your orders off of their website, www.weddingsbybecky.com or you may call their store or the number on their website which is 208-664-8847. If they are interested in the payment option, they will need to contact Becky or any of their team members via text, call or email Becky at weddingsbybecky@gmail.com.