Posted by Camokix on Jul 13th 2015
We used to think that engagement and wedding rings should be kept simple, with plain and generic styles forged with traditional precious metals like gold, silver, and platinum. Yes, this type of rings are classic and are still very much appreciated and worn. However, they only cater to women who want to have traditional styles -- but not all women want that. Tradition isn't for all the ladies out there, especially those who prefer to have a more personal, meaningful, contemporary, and unique wedding or engagement ring. Thankfully, there are now countless ways to make your wedding jewelry more you!

We know you want something that's not only unique, but also speaks lots about who you are and what you're made of! And we know you love the outdoors and all things camo! So why not get a ring that shows just that, right? Heck yeah! Well, good news for y'all camo lovin' country girls out there! You can choose a camo ring that's as unique as you are!
Camokix has a wonderful selection of camo rings for women and we're sure you'll see one that suits your style and your personality. There are classic, elegant, bold, dainty, chic, sexy and sweet styles, all with a touch of your favorite camo! Whether you're looking for a wedding or anniversary ring, or you're a guy searching for an engagement ring she'll love, you're sure to find one that's perfect for you.
Have a look at our beautiful and unique camo ring options for country girls:
Diamond Camo Rings

They say that diamonds are a girl's best friend, but a country girl's best friend is definitely more than that! A diamond ring just won't cut it, it needs to have a splash of camo too! If you give her a diamond ring, she'll probably like it, but give her a diamond camo ring and we're sure she'll love love love it! Diamond camo rings represent love and passion. They are a combination of beauty, class, elegance, tradition, passion and personality.
If you love a country girl who loves camo and the outdoors, consider getting her a diamond camo engagement ring. There are styles that have princess cut diamonds, round cut diamonds, bezel set diamonds, tension set diamonds, and even Cubic Zirconia stones (the look and feel of a real diamond but definitely a more affordable option).
If you're considering getting a camo wedding/anniversary ring or a set for you and your partner, we recommend hers to have a diamond.
f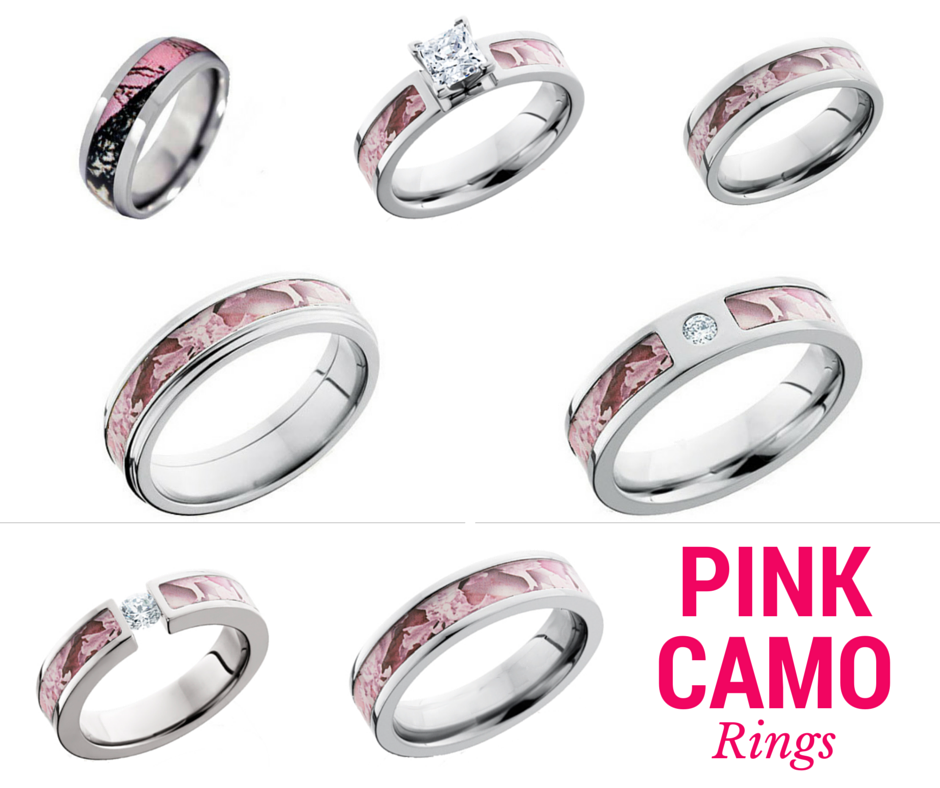 Pink Camo Rings
If you love wearing camo and you have a passion and love for the outdoors, then you'll want a pink camo ring! These rings are specifically designed so that country girls can rock camo all day, everyday! Pink camo is perfect for ladies because it has a softer, more feminine look compared to other camo prints. Depending on the style of the ring and/or if it has a diamond or Cubic Zirconia stone, it can create various looks that are chic and contemporary, sexy and flirty, classic and elegant, bold, or simple and dainty. You can have it as a wedding/anniversary ring, engagement ring or promise ring. Or you can get one simply because you love pink camo so much!
f
f
f
Black Camo Rings

Now the huntress can match the hunter with these black camo rings! The popularity of black camo wedding rings have spiked and more and more women have chosen to go all out and match their man's wedding band! The camo, together with black metal, creates a two-tone effect that allows the camo pattern to pop out nicely.
These rings are made from Zirconium, a very light yet tough metal that can only be cut using diamond tooling. Once this metal undergoes the process of oxidation, it gives a shiny black polished finish, otherwise known as Black Zirconium. The black coating also serves as a strong protective layer. Its black color is guaranteed to last forever. Go bold with a Black Zirconium camo wedding ring!
You won't have to worry about bends, chips, and cracks with all these rings. They are made from the finest, lightest, and toughest alternative metals used in the jewelry industry today -- Cobalt Chrome, Titanium and Black Zirconium! If you want a mixture of elegance and country style blended together in one ring, and one that's sure to stand the test of time, go for these awesome rings.
All camo rings have an inlay of officially licensed camouflage patterns, either King's Shadow, Mossy Oak, or Realtree. The camo is guaranteed to have stunning detail because of the manufacturer's high definition process and proprietary protective layer.
For your orders, take note that your ring will not have exactly the same camo pattern as pictured because it will depend on the camo section you will get. The prices will vary depending on the metal used, the style, and/or the stone's carats (if there's a diamond or CZ stone). It will probably take around 2-5 weeks to reach you (depending on the manufacturer) because these rings are custom made just for you.
So don't settle for an ordinary ring when you know you're a camo lovin' country girl who deserves more. Dare to be different and add a touch of camo to your ring!