Posted by Camokix on Nov 20th 2013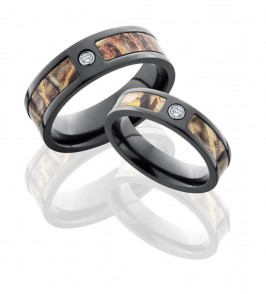 Unique Weddings Call for Unique Wedding Arrangements
When a couple gets ready for their wedding, there are certain things they must do, no matter what the theme of the wedding is. The same is true of camo wedding themes, if not more so because of the unique nature of the wedding and theme surrounding it.
PixelAnarchy / Pixabay
Whether you are having a hunting theme wedding, a military theme wedding, or a natural themed wedding, a camo wedding is unique, and requires a bit of creativity to get the details just right.
From finding a wedding cake baker and florist to finding the perfect camo wedding bands and photographer, planning for your wedding can be difficult, but it is always fun. Following are some tips that will help you make choosing your various wedding services providers easier.
Floral Arrangements
There are a ton of people who don't understand the camo wedding theme, which is why it is crucial that you find a florist who understands the theme, and how to create the perfect camo bouquet and floral arrangements for your dream camo wedding.
The only way to find the right florist for the job is to ask around, and interview a number of them. During your question and answer session, make sure to ask whether they know what a camo wedding is, and ask if they would understand how to incorporate your specific camo type into the arrangements.
If you don't ensure the florist knows what camo weddings are about, you might end up with someone who thinks they can go to the forest and pull up some grass, break some twigs, and collect some leaves and tie them together,
Choose the Right Photographer
When choosing your photographer you should keep in mind where you think you'll be having your wedding, and
where you'll want your wedding photos to be taken. Because all photographers specialize in different types of wedding photography, choosing one who can handle your specific wedding photo needs is crucial to the success of the photo sessions – and the outcome of the photos for your album.
Choose the Wedding Cake Baker
This is why you should research your cake baker options. Try to find friends and see if they can refer you to someone, or do some online research to see if there's a cake baker in your area who can handle your camo cake. If you can get the research done, and maybe if you get a little lucky, you'll eventually wind up with the camo wedding cake of your dreams to go with the wedding of your dreams.
While crafting a wedding cake is a traditionally simple task for professional cake bakers, getting camouflage icing and patterns right takes skill and practice. Unfortunately, not every baker can get it right, and some couples have ended up with something that looks like a blend of the color scale instead of the distinct camo patterns they requested.
Did you have a a camo wedding? Tell us about it!