Posted by Camokix on Oct 18th 2013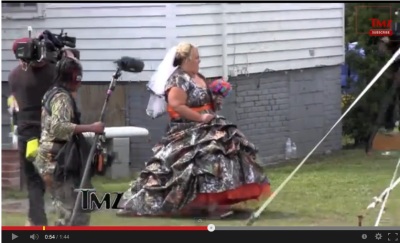 Weddings are supposed to be special days for both the bride and groom – and celebrity weddings are no different. Well, no, that's not entirely true. Celebrity weddings are different, even if those "celebrities" are the stars of reality television shows. In this case, we're talking about Mama June and Sugar Bear, parents of Honey Boo Boo, all of whom are the stars of the TLC hit reality television series called, "Here Comes Honey Boo Boo." (screenshot via ABC- Youtube)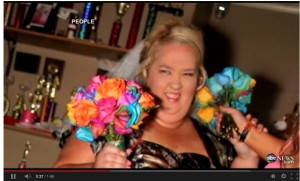 Why are celebrity weddings different?
Because the bride, groom and wedding party's special days usually end up punctuated with live television coverage, paparazzi, scandals, rumors, and a ton of criticism.
The beautiful camo inspired wedding ceremony that Mama June and Sugar Bear held for their special day was indeed punctuated with rumors, scandals and paparazzi, some good and some negative, which is a shame really.
However, no matter how much TMZ might have criticized them and their reception food menu, this ceremony is a testament to the fact that love does conquer all.
When Mama June and Sugar Bear finally unknotted their personal issues long enough to plan and hold a wedding ceremony, they tied a knot of a different sort when they held what Mama June preferred to call a "commitment ceremony," according to the Huffington Post.
Both Mama June and Sugar Bear wrote their own vows for the day, and Mama June was quoted as saying:
We've been together nine years, we've been through a lot. I'm not saying that none of us are perfect … I do love you, I do care about you.

When it was Sugar Bear's turn, he said:
I just want to start over fresh. Make this family a whole family.

Fans loved the fact that Sugar Bear showed his true love for Mama June when he broke into tears while saying his vows, plus it made for one of the greatest TV moments of all time.
Screenshot Via TMZ on YouTube
For the Love of Camo!
The icing on the cake was the fact that they were both wearing camouflage.
Mama June wore a camo wedding dress and he wore a tux accented with camo. Mama June said that they wanted to keep the ceremony true to the couple's roots – and they certainly did that with this attire.
To top it all off, the couple roasted a pig for the reception, gave candy favors, in addition to the mason jars-turned wine glass wedding favors for the adults.
In any case, whether the claims about the wedding being staged are true or not, it really was the perfect camo wedding, from the camo attire to the wedding favors. Don't fret if you missed it though, because you can watch the episode on TLC.com